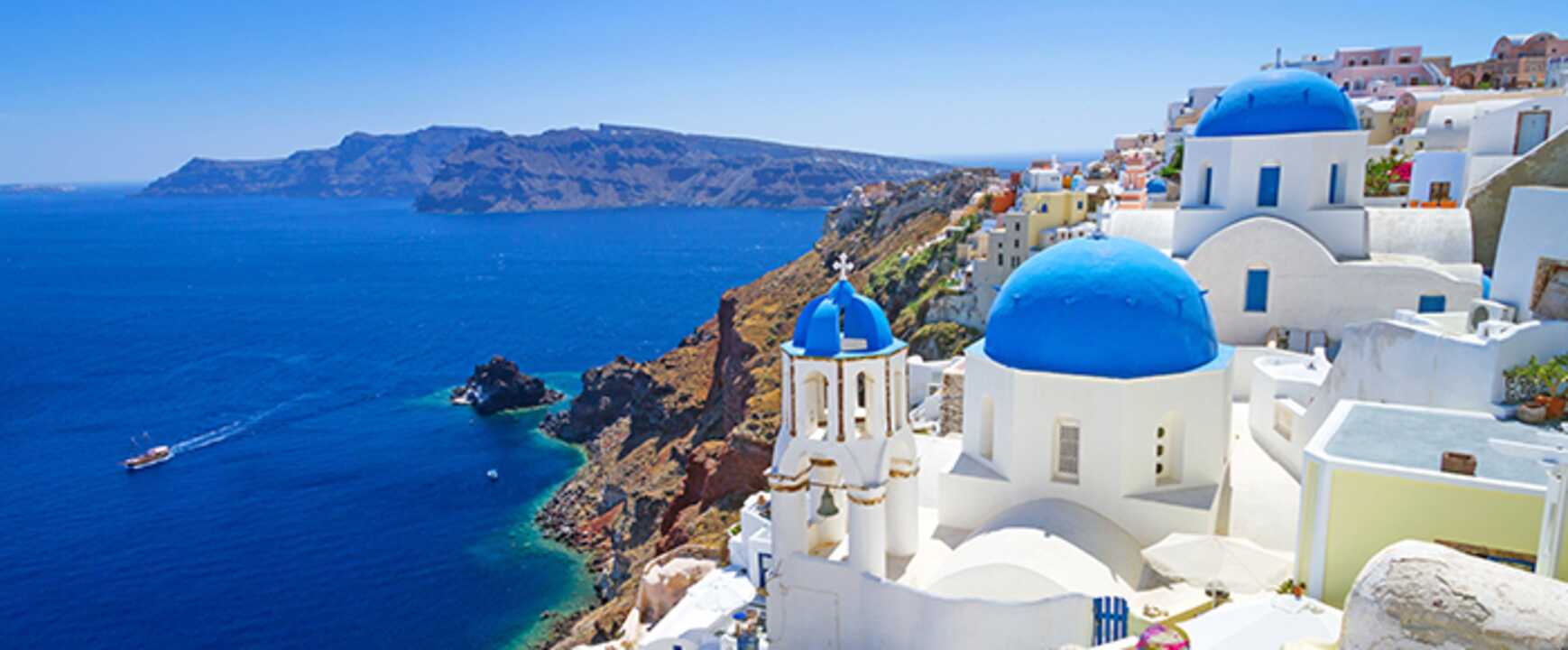 Greece is fringed by the balmy waters of the Mediterranean, Ionian and Aegean Seas, making it the perfect destination for mermaid-wannabes, beach-lovers and thrill-seekers alike. Athens, the capital city, melds ancient history with modern lifestyle, and islands such as Zante, Crete, Santorini and Corfu each offer a different take on Greek traditions. Whether you plan to explore the mainland or island-hop, make sure you have your camera at the ready – this country takes Instagram-worthy to a whole new level.BeachesWith well over 13,000km of coastline, Greece has a seemingly endless list of beautiful beaches and hidden coves to discover, from pebble to soft sand. For something a bit different, head to the pink sands of Elafonissi Beach in Crete or Red Beach in Santorini.Food & DrinkBegin with a meze sharing platter and never look back. Greek cuisine is fresh and flavourful, using olive oil, lemon juice, seafood, cheese, grilled meats and vegetables to create distinctly Mediterranean dishes. For a teatime tipple, try sipping a glass of authentic ouzo.CultureKnown as the cradle of Western culture, Greece has a backstory full of philosophy, mathematics, literature and theatre. Present-day Greece is the perfect blend of good food, good company and good times.NightlifeMalia. Kavos. Falaraki. Need we say more? Greece is home to some of the world's most iconic clubbing destinations, combining all-night parties with beachside bliss. This isn't the whole story though; there are plenty of low-key options to discover such as the laid-back tavernas of Santorini or evening performances at Athens' open-air amphitheatres.Important InformationFlight Time: 4 hoursTime Difference: +2hrsCurrency: EuroOfficial Language: Greek
View destination on a map
Greece Weather
Crowned Europe's sunniest country, with an average of 250 days of sunshine per year, Greece is a great choice for a holiday in the sun. July and August are this destination's hottest months, with temperatures sometimes reaching upwards of 36°C. Cooler weather is expected between November and March, when the thermometer drops to 11°C on average.
Things To Do on Greece Holidays
Shipwreck BeachNavagio Beach, also known as Shipwreck Beach, is a unique cove on Zante's western shore. Only accessible by sea, boat tours will take you from Porto Vromi or Saint Nikolas Harbor to see the impressive wreck of a smuggler's ship that ran aground in 1980. Alternatively, you can drive to the clifftop platform for great views and a photo opportunity fit for a postcard.The AcropolisWhilst the Acropolis itself is stunning, its location on top of a hill makes it a mainland must-visit due to the site's panoramic views over Athens. You can visit the museum on the way up or even take part in a private tour of the Parthenon and other ancient monuments. As the sun sets the Acropolis is lit up, signalling the start of another exciting night in the capital city.Melissani CaveMelissani Cave is an underground cavern on Kefalonia island that opens up to a clear, partially-covered lake. Take a rowing boat trip into the cave to see the sunlight stream in through a large natural skylight, illuminating the blue water beneath – it's not hard to see why it's known as the Cave of the Nymphs in Greek mythology. Island-hopping TourIf you're spoilt for choice of places to visit in Greece, we don't blame you. Don't worry, there's no need to miss out – why not take part in island-hopping tours or an island daytrip excursion? Boat trips and tours are available from many of the larger ports, and you can even visit islands such as Santorini from Athens.
Greece Resorts