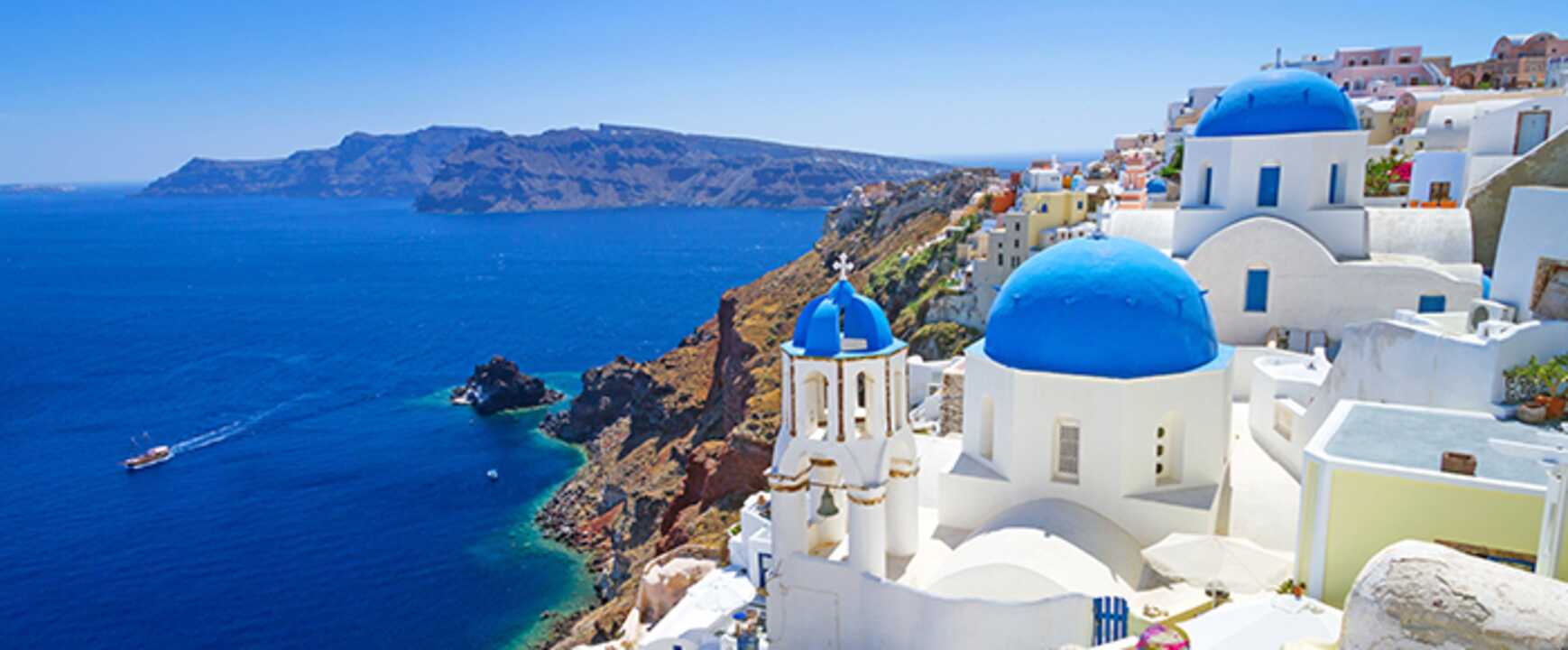 From the soft-centred beach resorts dotted along the coastline to the addictive Greek islands of Crete, Rhodes, Kos and Corfu, there is something for everyone in Greece. There's even the option of a city break in the capital, Athens, for those with an appetite for history and shopping.
Whether you're looking for a beach holiday centred around sunbathing and scenic fishing villages, head to Santorini or if you fancy a break full of beach-side parties and energetic water sports Rhodes is the place to go.
There's accommodation to tick every box and every budget too, which is why Greece holidays are always high on the list of affordable summer holidays. Enjoy a cheap and cheerful break at one of the popular 3* hotels or for something more luxurious take a look at one of the beautiful 5* hotels. Whatever your choice you can expect to enjoy beautiful blue skies, clear waters and soft sands, making Greece the perfect setting for an unforgettable holiday.
View destination on a map
Greece Weather
Generally, the weather in Greece follows a typical Mediterranean pattern with hot, dry summers and mild winters.
Summer peaks in July and August with temperatures averaging somewhere in the 30s on the Greek Islands – ideal for perfecting that golden tan. Luckily, the sea-breeze that blows in from the north and north-west acts as natural air-conditioning, so for the most part, makes the high temperatures bearable.
In comparison, mainland Greece can rocket to above 40ºC and doesn't benefit from any coastal winds, so if you're planning a city break in Athens and don't want to be uncomfortably hot, it's advisable to skip the summer period.
If it's a cooler climate you're on the lookout for, head to the north and east of mainland Greece or the mountainous regions found on the cluster of Greek Isles, where a higher altitude results in lower temperatures.Although winters in Greece can mean rain and cold snaps, it is generally mild and the mainland continues to remain a popular holiday destination all year round.
Things To Do on Greece Holidays
Greece holidays can vary from beachside breaks, cultural expeditions or even two weeks of island-hopping.
A fantastic country for families, couples and party people, if you like resorts that aren't overly-developed but offer enough activities to keep you entertained from dawn 'til dusk, holidays to Greece are a great option.
For those who like the beach there'll be no problem finding a blue-flag beauty to meet your needs on any of the Greek islands. The crystal clear waters and soft sands also offer plenty of opportunities to go snorkelling and scuba-diving.
Other activites that you can enjoy in Greece include mountaineering, horse-riding, canoeing, rafting and famous wetlands such as Prespa Lakes and Nestos Delta that have great bird watching credentials.
For more man-made attractions, history heroes will love Olympia – the site of the first ever Olympic games, the Acropolis in Athens, and the sacred city of Dion which lies at the foot of Mount Olympus. You can also enjoy a trip to the Temple of Zeus or a journey to Delphi – set high up on the cliff-side, the village is said to have been the navel of the Greek Gods.
Culture
Customs and traditions are still taken seriously in Greece, although you might have to travel off the beaten track to experience them.
Most Greek national holidays take place towards the start of the year, but art and music festivals continue throughout the summer so you might be lucky enough to experience a slice of Greek culture firsthand on holidays in Greece.
Made up of fresh fruit, vegetables, olive oil and a bounty of dairy products, meat and fish, signature dishes include Greek salads laden with feta cheese, moussaka, Mezedes (similar to Tapas), a fish dish called Burdeta and lobster or shrimp based dishes. You'll also get the customary helpings of fresh olives, pitta and dips, and for drinks, make sure you choose one of their fine local wines, or for a punchy pick-me-up, a shot of Raki.
Nightlife
Faliraki in Rhodes, Laganas in Zante, Kavos in Corfu, Kos Town and the island of Mykonos are all hubs suited for the late-night tourist. With bars, clubs, pubs and world-famous DJ's stopping off at several of the hot-spots, if you want to sleep all day and rave all night, you won't be disappointed.
Greece Resorts