The secret is finally out. For years, visitors to Croatia have kept this stunning stretch of European coastline to themselves – but now up to 10 million tourists a year descend upon its shores. This is mainly due to the sun-drenched beach resorts, the medieval cities and its growing reputation amongst clubbers looking to dance until dawn. All these factors combined to make Croatia a flawless mix of old and new. The thousands of uninhabited islands which float offshore mean you can experience rural Croatia in peace, or immerse yourself in local history around the enclosed city of Dubrovnik on the mainland. There is something for everybody here, so why not start your journey of discovery and find a Croatia holiday today.
Croatia is the home of water sports. Most of the beach fronted hotels (of which there are plenty) pride themselves not only on their idyllic location, but also the amount of activities available. You can go sail boating, waterskiing, jet skiing, scuba diving or a whole host of other exciting water sports. Thanks to the abundance of caves, coral reefs and shipwrecks Croatia is fast becoming one of Europe's top diving destinations, and the shallow waters of the Istrian Riveria are a great place for divers of all abilities to explore. If you're more comfortable on dry land, then most hotels offer bike rentals and horse riding as a way to explore your surroundings.
The variety of accommodation across Croatia means you really can holiday your way. For example, you could choose from one of the many luxurious spa hotels scattered across the coastline or the offshore islands. Not quite your thing? Maybe one of the refurbished medieval buildings is more for you. Most of these charming old buildings can be found on the cobbled streets of Dubrovnik, providing a real taste of this medieval city.
View destination on a map
Croatia Weather
Croatia is blessed with a beautiful Mediterranean climate, which means long hot summer days with a cool evening breeze. Temperatures in the summer months range from around 20°C to a peak of about 30°C in August, and never get uncomfortable as most of the accommodation is coastal and welcomes a tender breeze.
Croatia Resorts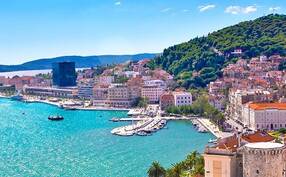 A city for everyone, Split has the beaches, nightlife, culture and cuisine to create an unforgettable holiday to Croatia. Explore the rustic streets o…