The secret is finally out. For years, visitors to Croatia have kept this stunning stretch of European coastline to themselves – but now millions of travel-hungry wanderers descend upon its shores every year. This is mainly due to the sun-drenched beach resorts, the medieval cities and its growing reputation amongst clubbers looking to dance until dawn. All these factors combined make Croatia a flawless mix of old and new. The thousands of uninhabited islands which float offshore mean you can experience rural Croatia in peace, or immerse yourself in local history around the enclosed city of Dubrovnik on the mainland.
Beaches
From islands bordered by vast expanses of golden sand to alabaster-white pebble beaches, Croatia is a beach lover's dream. Some of the best sandy beaches Croatia has to offer can be found in the Pakleni Islands - a stretch of Adriatic Sea littered with tranquil, sandy islands offering shallow turquoise waters and postcard-worthy views. Just a short taxi boat from party island Hvar, these islands are a little slice of heaven. Another beach worth of an Instagram post is Zlatni Rat or Golden Horn on the island of Brač. Ever shifting with the current, this long pebbled stretch of headland is one of Croatia's most iconic and idyllic beaches. While Split offers a mix of sand and shingle beaches popular with families, Dubrovnik stelas the show with its moon-grey pebbled beach and medieval walled-city backdrop.
Food & Drink
Croatian cuisine is a visual feast, packed full of colour and bursting with flavour. As varied as the many cultures that have influenced this region, Croatian cuisine is a fusion of hearty Balkan staples with strong Middle Eastern, Ottoman and Mediterranean influences. Coastal towns and cities benefit from the rich Adriatic Sea life and this is reflected in the menus here. Typical dishes along the coast include octopus salad and black risotto made with cuttlefish ink. Meat-lovers will also rejoice in Croatian cuisine. A famous Dalmatian dish, ćevapčići, is a minced meat dish similar to the kofte kebab and is served throughout the country. We recommend trying the selection of meats and cheeses available from this bountiful country including Istrian pršut (cured ham) and Pag sheep's cheese. Last but not least, don't forget to wash it all down with a good glug of rakija. Rakija is a spirit made from fruit with popular flavours including herbal, honey or plum.
Culture
The Croats are traditionally religious and peaceful people with a heavy influence on strong family bonds. With an emphasis on family being at the centre of the social network here, it is not uncommon for a lot of Croats to take in elderly relatives once they are unable to live alone. This also means it is important for them to spend their free time and weekends with extended family. If you are invited into a family home it is customary to take the hostess a small gift of wine or flowers – but ensure the flowers are not chrysanthemums and that they have an uneven number of stems. It is unlucky to give flowers of even amounts here. Customs and traditions are important here and most Croats follow the Roman Catholic religion. In terms of architecture, you will see this reflected in the amount of churches dotted across the country.
Nightlife
The nightlife varies across Croatia from town to town and island to island. For those looking for a laid-back and relaxing break, coastal towns with seaside beach bars provide a relaxed setting and the perfect place to sip a cocktail as the sun sets. For those looking for something a bit livelier, bigger towns and cities such as Dubrovnik and Split offer exclusive VIP bars and famous clubs open till dawn. Hvar is Croatia's party island. With a host of late-night bars, clubs, beach bars and boat parties galore, this island is a one stop shop for all things party. Finally, if you're travelling in summer months, be sure to check out what music festivals are on as Croatia is quickly becoming one of the best festival destinations.
Important Information
Flight Time: 2hrs 45mins Time Difference: +1hourCurrency: KunaOfficial Language: Croatian
View destination on a map
Croatia Weather
Croatia is blessed with a beautiful Mediterranean climate, which means long hot summer days with a cool evening breeze. Temperatures in the summer months range from around 20°C to a peak of about 30°C in August, and never get uncomfortable as most of the accommodation is coastal and welcomes a tender breeze.
Things To Do on Croatia Holidays
Wander the ancient city of DubrovnikLying on the Dalmatian coast, the Old City of Dubrovnik is affectionately known as the 'Pearl of the Adriatic'. Officially declared as a UNESCO World Heritage site in 1979, this earthquake-damaged town still oozes Gothic charm with an abundance of Baroque churches, monasteries and landmarks galore. As you walk through the meandering cobbled streets you'll find a number of quirky shops and restaurants waiting to be discovered. Before you leave for the day, don't forget to stop at the Dubrovnik Maskeron. Lying barely half a metre above the ground, this gargoyle head is said to bring luck in love to those who can balance on its head while removing their shirt. Museum of Broken RelationshipsA seemingly melancholy subject, this popular museum is located in Croatia's capital Zagreb and attracts some 1000 visitors every day. The museum hosts a sombre collection of sentimental mementoes of relationships past and old flames that didn't last. Some think of it as a place to heal, others find it wildly confusing. The only way to see for yourself is to pay this place a visit. Marvel at the architecture in SplitWith heavy Greek and Roman influences, Split is rich in culture and bursting with breath-taking architecture. Right at the heart of Split you will find Diocletian's Palace. Declared a UNESCO World Heritage site, this fortress-like structure is full of streets with plenty of restaurants and shops. Another noteable piece of architechure is the Temple of Jupiter. Dedicated to the Roman God and father of Diocletian, this temple is one of three which originally stood here.Take to the seaCroatia is home to over 1,000 island, islets and crags, making it the perfect place to explore the coastline. Sail around the larger islands, hop between deserted islands or snorkel in the azure-blue waters. No holiday to Croatia would be complete without experiencing this stunning and picture-perfect coastline.
Croatia Resorts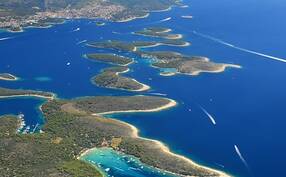 A city for everyone, Split has the beaches, nightlife, culture and cuisine to create an unforgettable holiday to Croatia. Explore the rustic streets o…