What can you expect from a holiday to Croatia? Unspoilt natural landscapes, shimmering sapphire waters and blissful golden bays that meet urban cityscapes, with an invigorating cultural atmosphere like no other. Jump into a world of relaxation and wonder, as this glittering jewel in the Adriatic is the gift that keeps on giving. Embark upon an explorative city escape in Zagreb. Head over to Hvar Island for a magical nightlife scene promising the most unforgettable nights of your life. Unwind on the unspoilt beaches of Split or take a cultural trip to Dubrovnik and learn about the fascinating history of this sea-battered city… there's more to Croatia holidays than first meets the eye. Beaches You can find endless sandy spots of serenity dotted across the Dalmatian coastline just waiting to be explored. From iconic island favourites like the Zlanti Rat Beach, or 'Golden Cape' as it is better known to some. To shallow bays such as Paradise Beach, which stretch out for miles, offering warm safe waters that the little ones will love. If natural caves and craggy coastlines are more your thing, take a trip to Istria, where you'll find a frenzy of fragrant fruit trees meet spectacular crystal waters at Cape Kamenjak Bay. If you're feeling brave, there are some great spots to plunge into the sea from the rocky shores here too! For incredible open-air nightclubs, a world-famous festival scene and 24-hour celebrations, Zrće Beach is a vibrant party paradise with a spine-tingling, energetic atmosphere and breathtaking sunset views. Food & Drink When it comes to Croatian cuisine, you'll be delighted by mix of cultural influences from neighbouring Italian and European cities. That's not to mention the flavoursome fresh seafood eateries that are scattered across the coastline. Expect plenty of pan-fried schnitzels and tasty Italian-style pizzas. If you find yourself wandering the streets of Zagreb, be sure to try some speciality štrukli (baked dough parcels filled with cheese). Croatian culture embraces a good get together and there are plenty of Croatian tipples to check out while you're there. Wineries dotted around the mountains produce excellent crisp white chardonnay and rich red Refošk. Local liqueurs are popular too, from fruity flavours like cherry and plum to the mistletoe-flavoured spirit Biska that can be found in the southern peninsula of Istria. Culture The story of Croatia's rich history is still told today in the enchanting architecture that stands boldly across the various landscapes that make up this incredible country. You can find magical historical sites like Diocletian's Palace in Split, a fortified white stone town that still acts as the hub of the city to this day. Discover the magnificent Roman amphitheatre of Pula. This bold structure offers a home for plenty of events such as the Spectacvla Antiqva each summer, which celebrates Roman culture with gladiator fights, food and drinks. Head to Dubrovnik for a glimpse down at the old town from the spectacular city walls, originally built in the 14th century, this fort still stands tall and offers a stunning Adriatic Sea view. NightlifeCompared by some to be an up and coming Ibiza-style nightlife hotspot, Croatia is renowned for its eccentric clubbing scene. Unreal vibes, unique locations and world-famous DJs await across the vibrant Croatian islands that never seem to sleep. Experience the thrill of electric summer sunsets at Zrće Beach's famous open-air clubs. Bask in blissful summer tunes, with tropical cocktails and a choice of incredible party venues at the Novalja strip. If you're looking for a more laid back vibe, head to Dubrovnik. From cheap beer and classic karaoke to classy coastal cocktail lounges – there's a bar for every occasion. Looking for a stylish nightlife scene? You'll feel right at home in Hvar, where chic clubs like Carpe Diem attract those who like to dress up and dance the night away. Important InformationFlight Time: 2h 30mTime Difference: +1hrCurrency: KunaOfficial Language: Croatian VaccinationsPlease check with your healthcare provider for all up to date vaccination advice before booking your holiday.
View destination on a map
Croatia Weather
Expect a typically Mediterranean climate during summertime, with hot and dry weather averaging around 22-25°C from June to September. The months of March, May and October see milder temperatures from 13-15°C. Winter months are cooler, although temperatures never really get below 5°C.
Things To Do on Croatia Holidays
Visit Lokrum Island For a peaceful escape from the bustling streets of Dubrovnik, hop on the ferry for a day trip to Lokrum Island. This little gem has plenty to offer. Its stunning rocky shorelines and bountiful botanical gardens make it an enchanting hideaway for long summer days. Game of Thrones fans are also in luck as here you can snap a picture on the original Iron Throne and explore the monastery, which featured in the filming of the well-loved series. Plitvice Lakes National Park Walk along the wooden pathways in wonder at crystalline lakes that tumble into sparkling turquoise pools and mesmerising crashing waterfalls. Experiencing the outstanding diverse nature of Plitvice Lakes National Park is a must if you're stopping in Zagreb. From dense, leafy forests to fascinating rare birds – a visit to this natural park offers a glimpse at the true beauty of Croatia. Blue Cave Boat Tour Take a boat trip out to the Bisevo Coast and explore the beaming blues of the rocky caves. Small boats will take you through coves in the craggy coastline to radiant blue caves, which reflect the shimmer of the sunlight for breathtakingly beautiful scenes. So if you're passing through Split – be sure to book your spot. Walk the city walls in Dubrovnik Not only do the spectacular city walls hold hundreds of years of history, they also offer incredible views of the red-tiled roofs and traditional old churches that sit below. With viewing platforms that look out onto the vast Adriatic Sea and an interesting war museum along the way, it's a sight that you simply can't miss.
Croatia Resorts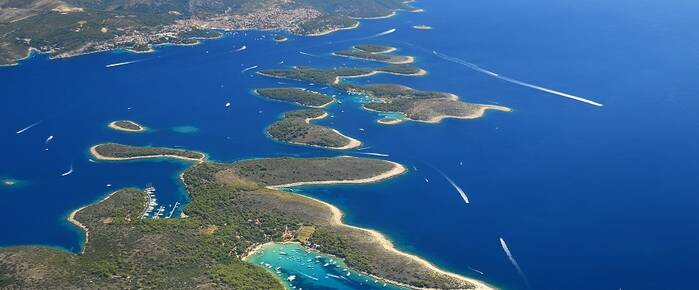 A city for everyone, Split has the beaches, nightlife, culture and cuisine to create an unforgettable holiday to Croatia. Explore the rustic streets o…