Get your summer '24 jolly in the bag!
You might have heard the phrase 'good things come to those who wait'. Well, whoever said that had no idea what they were talking about. When it comes to booking flights for your summer '24 holibobs, there's no time like the present. Especially when you can get first dibs on SunExpress flights that'll get you there in a jiffy. It goes a little something like this...
Whack down a £30pp deposit now

Spread the rest of the cost with flexible payments

Get 20kg of baggage included on your flight!
There are only so many seats on a plane though, so you'd better get booking before we beach you to it.
---
Turkey holidays are your one-way ticket to mega beaches, sizzling sunshine and delish kebabs you'll want to write home about.
---
Destination Highlights
Over 480 Blue-Flag beaches (wowzer)

Scorchio weather

Food for every mood (you can't go wrong with a kebab)

Bargain-filled bazaars (AKA, the coolest markets ever)
Where is the best area to stay in Turkey?
Türkiye (or Turkey to you and me) is huge. With so many holiday resorts to choose from, it's hard to know where to go. Well - don't you worry. We've got all the answers, including some budget-friendly options if you're looking for a cheap holiday to Turkey.
Family holidays - an all-inclusive holiday to Antalya is your best bet for top-tier, kiddo-approved action with all the kids' clubs and waterparks they (or you) could want, and loads of them are right by the beach too, which means sandcastle-building is always on the agenda. Antalya and Belek are top dogs for a family jolly, but you'll find some great spots in Dalaman too. If you've got the older kids in tow, then first of all - sorry, and second of all - do yourself a favour and book a stay in Kusadasi (near Bodrum) for a lively centre and fam-friendly nightlife.

Getting the squad together - if you're looking to party with your pals, then Bodrum and Marmaris are Turkey's top two nightlife spots. You'll have a ton of bars and clubs to pick from, so pack your dancing shoes. (That's what the kids do, right?)

Cute vibes with bae - Olu Deniz is #couplegoals if we've ever seen it. There are loads of activities to get competitive over, sandy beaches to sprawl out on, and - most importantly - bags of top restaurants to wine and dine yourselves stupid at.
What are the best beaches in Turkey?
Olu Deniz Beach - a sweeping beach that meets the famous Blue Lagoon - the perfect Insta-worthy spot for a cheeky swim

Sarigerme Beach - a gorg beach that's a hit for both family jollies and couples' breaks thanks to its soft sand, calm water and green backdrop

Lara Beach - an ideal sunbathing spot in Antalya, with sun loungers, parasols and plenty of spots for food and drink. Oh, and it's Blue-Flag certified, so y'know...winning.

Konyaalti Beach - a 7km-long stretch surrounded by rugged mountains - this one's a firm fave for tourists staying in Antalya

Belek Beach - gold sands stretching as far as 16km (steady on), this is the place to be for family beach days, sunny swim sessions and watersports galore

Gumbet Beach - one of Bodrum's best spots for diving or trying your hand at other watersports, perfect for sea-lovers
---
Read all about it!
Check out our handy blog on the best beaches in Turkey, and if you're heading for Antalya then we've got you covered with our Ultimate Book-it List for Antalya - with everything from white-water rafting to exploring the town's winding streets.
---
What are the top hotels in Turkey?
This place is known for its all-singing, all-dancing resorts and it's cute, family-run boutiques (get you a destination that can do both), so it's hard to go wrong when choosing a hotel in Turkey. They've got more flavours than your fave ice cream parlour.
Popular Turkey hotels
Beachfront location

Relaxing spa centre

24-hour Bowling Bar
Beachfront fish restaurant

Beautiful gardens for outdoor-living vibes

Waterpark with 7 slides for the kids and 7 for the adults
Marmaris, Dalaman, Turkey
Right on the beach

Watersports like jetskiing

Two restaurants to choose from
Marmaris, Dalaman, Turkey
500m from the beach

3 swimming pools

Plenty of on-site activities
Beachfront location

On-site aquapark

Ultra all inclusive concept
On-site waterpark

Turkish bath and sauna

Three restaurants and nine bars to choose from
By the beach

A variety of dining venues

Lagoon-style pool
FREE access to Eftalia Island Beach Club

Waterslides for all ages

Buffet and a la carte options
Waterslides

All-ages entertainment

Beachfront location
Marmaris, Dalaman, Turkey
Choice of outdoor pools

Daily sports

Turkish bath
Right on the beach

Outdoor pool area

BBQs and Turkish-themed nights
Located on its own private beach

Three swimming pools to choose from

Night club and full entertainment programme
Aqua park with 11 exciting slides!

A choice of 5 a la carte restaurants to choose from

Private beach for guests to enjoy and relax
Pet-friendly hotel that's popular with the local cats!

Choice of 5 bars including an authentic British pub

6 a la carte restaurants to choose from
Marmaris, Dalaman, Turkey
Buffet restaurant and poolside snack bar

Indoor and outdoor kids' pools, plus waterslides

Hairdressing salon
Marmaris, Dalaman, Turkey
Marmaris, Dalaman, Turkey
Short stroll from the beach

Pool with a waterslide for the kiddos

On-site massages
Seafront location

On-site aquapark

Turkish bath & spa
Overlooks the beach

Aquapark on-site

9 A La Carte Restaurants!
Stunning Turkey resorts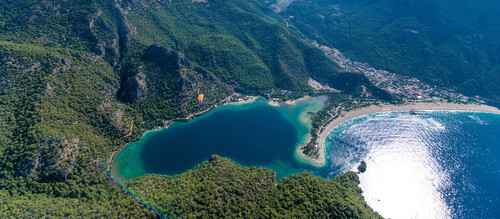 Dalaman
Dalaman sits on the shimmering southwest coast of Turkey and boasts incredibly scenic views, tranquil deep blue waters and gorgeous vibrant greenery....cheap holibobs to Dalaman really is on the cards.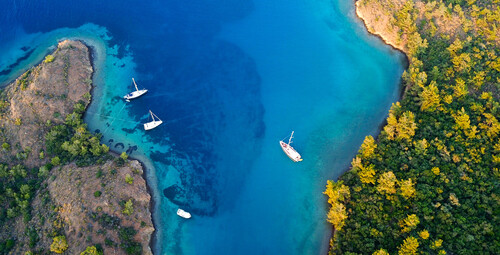 Bodrum
Bodrum is a family-friendly beach destination with vibrant nightlife, fantastic history and activities for all - a holiday to Bodrum will put a smile on...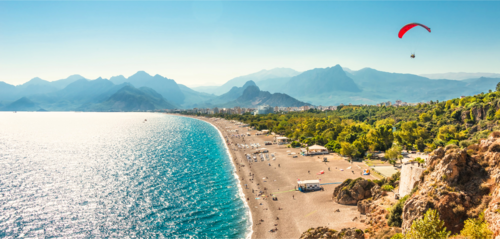 Antalya
The holiday destination with ever-growing popularity, Antalya is an ideal place for a sunny getaway full of indulging in the local culture.
Popular Dalaman destinations
Weather in Turkey
In summer (June to August), it's hotter than a pepperoni pizza in a brick oven. Temperatures flirt with the 30s and 40s °C (that's scorching, by the way). If you're all about those sunkissed beach days and don't mind a bit of a sizzle, this is your jam - but be ready to share the shoreline with fellow sun-worshippers!
Spring (March to May) and autumn (September to November) are like the Goldilocks seasons – not too hot, not too cold. Temperatures are in the pleasant 20s °C range, and it's the best time to explore ancient ruins, bustling markets, and enjoy those balmy evenings with a glass of local vino.
Now, winter (December to February) is when Turkey takes a bit of a breather. Coastal areas remain mild, but inland, it can get chilly. Think cosy sweaters and hot tea by the fireplace vibes. Not the best for beach bums, but perfect for culture vultures.
So, when's the best time to visit? Spring and autumn are definitely the sweet spots. It's like nature's way of saying, "Come on in, the weather's just right!"
View destination on a map
Reviews
At On the Beach, we've sent many satisfied customers on Turkey Holidays for a bit of sunshine. But don't just take our word for it, read some of their 5-star reviews below.
On the beach in Turkey
We Just got back from a fantastic holiday in Antalya, Turkey. We had a brilliant 10 days with the kids and would definitely use on the beach again. Any issue I had, the customer service team messaged me straight back and put my mind at ease. The flights, Resort and transfers were all perfectly planned to make a perfect family holiday.
Turkey here we come
Just booked our holiday to Turkey super fast response and communication...can't wait to get there.
Great last minute booking to Turkey
Great last minute booking to Turkey ! On the beach rang apologising as they had to change my return flight home - hardly surprising given how last minute the booking actually was! Lovely hotel Club Tuana just outside Fethyie! Great price and great value
FAQs
How long does it take to fly to Turkey?

It takes about four and a half hours to fly to Turkey from the UK.
What's the time difference between the UK and Turkey?

Turkey is two hours ahead of the time in the UK.
What currency do they use in Turkey?

The official currency of Turkey is the Turkish lira.
What language do they speak in Turkey?

The official language spoken in Turkey is Turkish.
Which part of Turkey has the best beaches?

You're in for a treat, because Turkey as a whole is recognised for its golden sands and Blue Flag stretches of coast. But if you're looking for some of the best, then the aptly-named Turquoise Coast is your best bet. Stretching all the way from Antalya to Bodrum, this picture-perfect region is where you'll find vibrant blue waters and soft sands perfect for laying down a towel for the day.
When's the best time to visit Turkey?

If you like it hot, then July and August are the best months to guarantee yourself a scorching trip to Turkey, with temperatures often soaring well into the 30s. If all that's got you feeling a bit too hot and bothered though, then you can always head out in spring or autumn when the sun will definitely still be shining, but you might be a bit less sweaty.