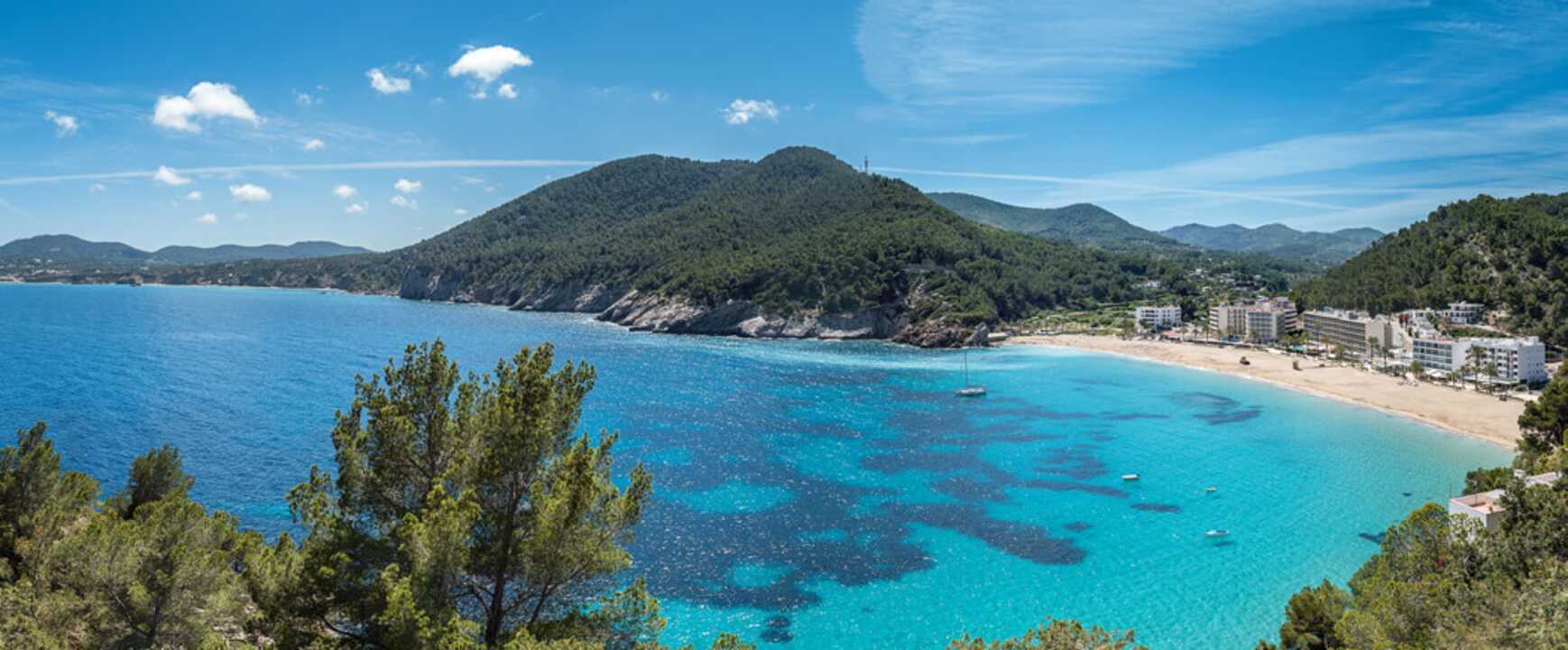 Located off the coast of Spain, the beautiful island of Ibiza is the third largest of Spain's Balearic Islands. It is also famous for vibrant, pulsating nightlife, especially in the town of San Antonio, which is home to some of Europe's biggest and best super clubs such as Pacha, Space and Ushuaïa.Ibiza is also a fantastic option for a beach holiday with quaint coves and sandy beaches such as Cala Salada and Cala Xarraca, lapped by wonderfully warm Mediterranean waters. So what floats your boat - beaches or bars or both? Either way, a holiday to Ibiza can be as relaxing or as full-on and party fuelled as you could wish for.
Away from bustling resorts like San Antonio Bay and Playa d'en Bossa, you will find beautiful and peaceful retreats full of culture and tradition, unspoilt by the party scene. Whatever you want from your holiday, you'll find it on the wonderful 'White Isle' of Ibiza.
View destination on a map
Ibiza Weather
Ibiza enjoys a Mediterranean climate with long hot summers and mild winters. From June to September, the temperature ranges between 25°C to the low 30s and evening temperatures rarely fall below 20°C. Rainfall during this period is minimal.
The autumn months remain warm with temperatures reaching the mid 20s. The evenings in winter are much cooler and see an increase in rainfall so it may be best to pack some warmer clothes. Ibiza winters are mild, with temperatures averaging at around 11°C.
Landscape
Surrounded by long stretches of golden beaches and rocky cliffs, Ibiza is best known for the beautiful pine forests, from which it derives its name. The very word, Ibiza, is taken directly from the island's original name, Ibshim, meaning 'island of pines'.
Dotted throughout the island are beautiful, historic churches and landmarks from a forgotten age. One of many purported places of Christopher Columbus's birth, there is even a monument known as 'The Egg' erected in his honour.
Things To Do on Ibiza Holidays
Depending on what you want to get from a holiday to Ibiza, you should consider whereabouts on the island you're going to stay. Mix it up with a few crazy nights out, relaxing days on the beach, cultural sightseeing trips, exciting water sports and discovering the breathtaking views of the island. Pack your holiday with lots of variety to ensure you come home feeling you have made the most of your holiday - and the island!
Culture
Ibiza is home to many museums so if you fancy a break away from the busy streets, take some much needed time to enjoy one of these popular activities.
The Archaeological Museum is a great source of resource if you are interested in the ancient history of Ibiza and neighbouring Formentera. The Museum of Contemporary Art is a small gallery boasting an excellent sample of permanent and touring contemporary art.
We would also recommend a visit to the Santa Maria Cathedral which includes a museum, chapels, a tall bell tower and a holy cross made from gold and silver over 600 years ago. The Can Marça Caves are a labyrinth of caverns which were once used for alcohol and tobacco smuggling and are over 100,000 years old. Today, you can take a tour around the caves to see these breathtaking caves in all their natural glory
Adventure
If you're a sports enthusiast, you'll love Ibiza. From tennis to horse riding in Talamanca and golf to mountain biking in Cala Llonga, you'll find it all here. Ibiza also offers several luxurious gyms should you want to keep in shape on holiday. The Mediterranean also offers great watersport opportunities including waterskiing and scuba diving.
Nightlife
Ibiza is one of the most popular destinations in Europe for people looking for a holiday with world class nightlife. Home to some of the biggest and best nightclubs in the world, the White Isle draws thousands of people each summer. The music here is unlike any you will find elsewhere; Ibiza has her own sound known as the Balearic Beat. Popular among musicians around the world, DJ's often come to Ibiza to introduce their new dance music tracks.
Ibiza town is where the main "super clubs" are, however San Antonio also has many popular clubs and bars whilst Santa Eulalia is more casual and attracts families and couples who want a busy resort without the heavy nightlife.
Relaxation
With nearly 60 beaches to choose from, many with sunbeds, watersports, beach side cafes and restaurants, Ibiza beaches are the best place to relax during the day.Santa Gertrudis is located in the centre of the island, and is much quieter and remote than the popular Ibiza resorts. This is where locals go during the summer months to distance themselves from the tourists, so if you are looking for a quiet and peaceful day then Santa Gertrudis is perfect.
If you want to get away from the hustle and bustle of the busy Ibizan mainstays, then take a water taxi to some of the different coastal resorts, where you will find some beautiful untouched towns and villages to relax in. Cala Llonga is a popular resort and is ideal if you are looking for a beautiful setting with idyllic views, away from Ibiza itself, yet still with facilities such as shops, bars and restaurants.
Ibiza Resorts