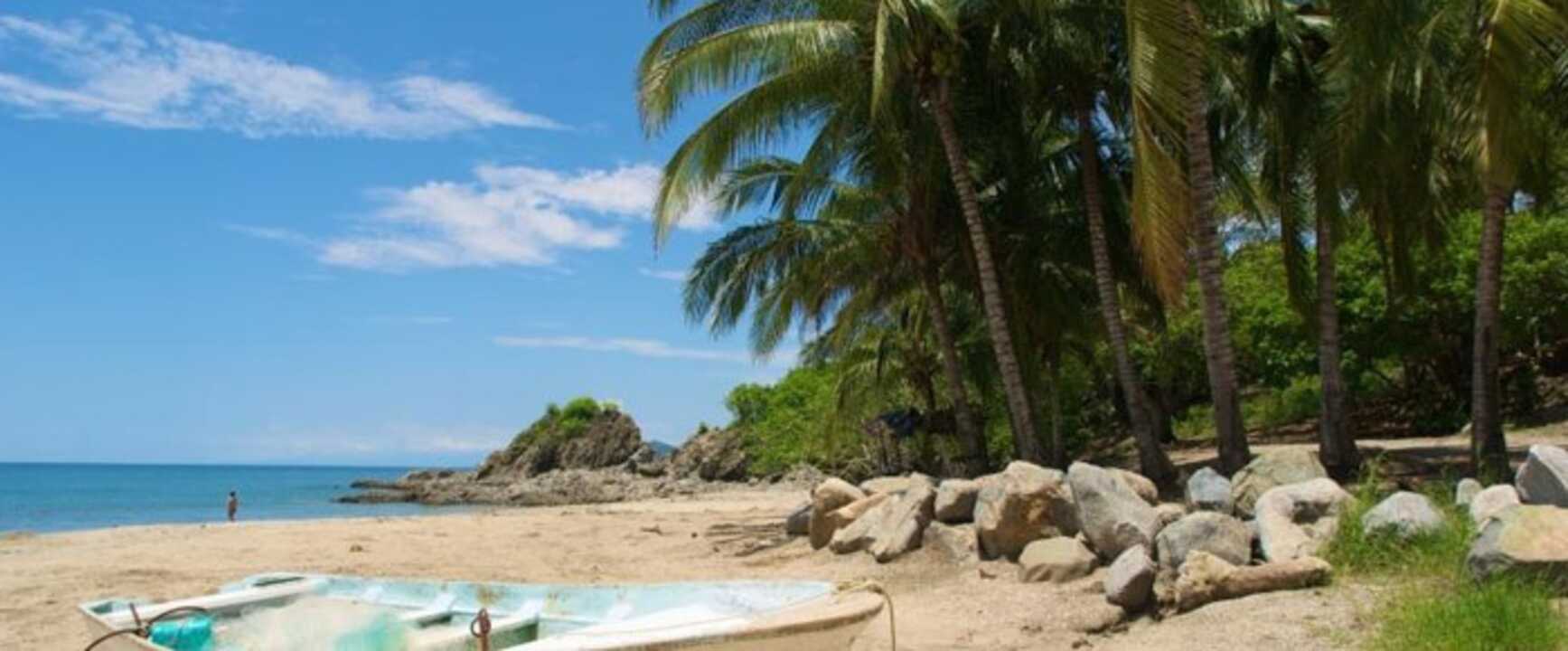 A popular long haul destination with plenty to offer, Mexico welcomes beach lovers, revellers, history buffs, families and couples alike. From mysterious, ancient ruins, to world class beaches such as Playa del Carmen, you are sure to be won over by the sights and delicious smells of this vital, dazzling country.BeachesMexico's sandy beaches are the picture of paradise, whether you want to dip your toes in the South Pacific or relax on the shores of the Gulf of Mexico. Consider Playa del Carmen for a beach that has it all: stunning views, plenty to do and a tropical, laidback atmosphere.Food & DrinkSpice up your life at Mexico's street stalls and restaurants with tortas, tacos, tostadas and more filled with beans, colourful veg and flavourful meat. Fresh seafood, including shrimp and octopus cocktails, is abundant in coastal regions, and for a health kick be sure to visit jugerías stands for fruit juices and salads. To sample the country's alcohol try a cerveza (Mexican beer), cerveza clara for a lighter option, or the celebrated spirit, tequila.CultureWith a rich culture to match its rich history, Mexico offers enough vibrant and diverse Latin American music, salsa dancing, festivals and sport to keep every holidaymaker happy. For a true slice of local culture why not head to a Lucha Libre wrestling match or try your hand at a game of pelota vasca.NightlifeFrom larger than life nightclub venues such as Coco Bongo in Cancun, to intimate salsa dancing clubs, Mexico after dark will ensure that the night of your life carries on until the sun comes up.Important InformationFlight Time: 10.5 hoursTime Difference: +6hrCurrency: Mexican pesoOfficial Language: Spanish
View destination on a map
Mexico Weather
Mexico has a varied climate, with an average temperature of 22C in winter and 28C in summer. Its rainy season lasts from June to September, so this tropical destination is a great option for some winter sunshine.
Things To Do on Mexico Holidays
Día de Muertos
The Day of the Dead is an iconic festival that celebrates and honours the return of the dead, and Mexico's streets become a colourful mass of sugar skulls and papier-mâché skeletons between 31st October and 2nd November. Head to downtown Cancun in particular to discover traditional performances, decorated altars and themed food.
Cozumel
Visit the island of Cozumel by boat, and experience white sandy beaches alongside an underwater kingdom of shallow reefs and marine life. It's perfect for scuba diving and snorkelling, though the stunning seascapes can also be enjoyed from the comfort of a boat.
Cobá
Venture deep into the heart of the jungle and explore the Cobá Mayan ruins. Guided tours are offered on foot or by bicycle, and the tropical setting and atmosphere of adventure make this an experience not to be missed.
Museo Subacuático de Arte
An underwater world of artistic wonder, this museum consists of submerged sculptures and monuments that are just waiting to be explored by snorkelling, scuba diving or glass bottom boat. Each piece on display merges art with environmental aims, and is made from materials that encourage coral and other important sea life to flourish.
Culture
Mexico has experienced a colourful political climate in the past few years, with a close fought presidential election and the left-wing losing rival setting himself up on his own TV show to mock the winning candidate.
Mexicans regard friendships as the most important thing in life apart from religion and are not afraid to show their emotions, so you may make a new friend or two.
As for religion, the majority are Roman Catholic at 89% with 5% protestant and 6% various other religions. Visitors should always respect local customs and traditions.
Service charges are rarely added to your bar, hotel or restaurant bills and many staff depend on tips for their livelihood. Aim to pay 15% normally or 20% if very impressed.
Book a Mexico Holiday now!
Furthermore, On the Beach has some amazing offers to the land of tequilas and tacos, meaning that if you fell for the Met Office's 'barbecue summer' ruse and holidayed at home this year it's time to treat yourself to some tropical sunshine.
Mexico Resorts