Bodrum is one of the most popular and busiest resorts on Turkey's Aegean Coast and a true favourite for families and couples travelling on holiday. Since becoming popular in the 1970s, Bodrum has grown into a large cosmopolitan and bustling tourist resort however has been successful in keeping its exotic Turkish twist. Steeped in history, Bodrum is a favourite holiday destination to many.
Located in Turkey's south west coast, Bodrum boasts glorious sunshine, a lively and friendly atmosphere and although Bodrum does not have its own beach, you will find an abundance of stunning white sandy beaches along the coastline, and in nearby resorts such as Gumbet, Torba or Bitez, making Bodrum a great beach holiday destination.
Bodrum attracts a diverse crowd. Popular with tourists looking for a lively, non-stop holiday, Bodrum caters to all ages and budgets during the spring, summer and autumn months.
Bodrum has some of Turkey's busiest nightlife outside Istanbul. During the summer months, its narrow streets are heaving with tourists and locals either relaxing in the cafes or taking advantage of the exciting bars and clubs on offer.
The popular Bar Street runs along the seafront from the castle and is a vibrant and lively area full of bars, clubs and entertainment. Famous for the Halikarnass Disco which is claimed to be the largest open air night club in Europe and hosts laser shows and cabaret artists, this area is a definite must if you want a night to remember.
---
Thinking of going All Inclusive? Take a look at some of our top
All Inclusive properties in Bodrum
here!
---
Ramadan
Please be aware that the Islamic holy month of Ramadan will take place between 23/04/2020 and 23/05/2020. During this time, many cafes and restaurants will close during the day, restrictions on alcohol sales may be in place, and hotel dining for non-Muslim guests may take place in private rooms. Playing music, dancing, and eating in public areas may also be restricted during this time.
Visa and Entry Information
Passport Requirements: All passports must have 6 months validity from the return date of travel, two clear pages inside, and a valid return ticket. Visa Requirements: Please note that as of March 2nd 2020 British tourists will no longer be required to obtain a visa to visit Turkey. For anyone planning to travel to Turkey prior to this date, will still be required and can be obtained online through the Turkish Government website. For more information please see (
https://www.gov.uk/foreign-travel-advice/turkey
)
View destination on a map
Bodrum Weather
Bodrum is famous for its Mediterranean climate with long hot summers, pleasant spring and autumn months and mild winters.
The blistering sunshine throughout the summer months reaches highs of 30° C, however during May throughout to October Bodrum does benefit from the Meltemi wind, which offers a satisfying breeze on some of the hottest days and cools down the temperatures for a comfortable evening.
The spring and autumn months in Bodrum are popular for those wanting a bright and sunny holiday without it being uncomfortably hot. Temperatures during these months range from the low to mid 20's, meaning these months are perfect for activities such as walking and hiking, taking advantage of the beautiful scenery and bright blue skies.
The winter months see rainfall and much cooler weather, with temperatures dropping to 10°C or below, so isn't recommended as a winter sun destination.
Landscape
Bodrum is renowned for the beauties of it's climes. The scenic castle is flanked on both sides by two bays stretching out to the clear waters of the Aegean, and buffered by the giant green hills all around. For some astonishing sunset views, head to the marina, or for an all-encompassing panorama with castle, sea and town below you, the amphitheatre.
Don't forget that Turkey is a meeting point between east and west. You can clearly see numerous Greek Islands on the horizon.
Things To Do on Bodrum Holidays
Whether you are visiting Bodrum to relax and top up your tan or you are wanting to take advantage of the brilliant watersports or historical wonders, Bodrum is a perfect holiday destination for you. Take a look below at just some of the activities that Bodrum offers to ensure you have a fantastic holiday that you deserve.
If you want to sit back and relax then take a Blue Cruise along the Turkish coastline on a Turkish gulit to sail along the breathtaking coast of Bodrum and truly relax as you explore the many coves, take in the amazing views and even top up your tan as you sit on the deck. The trips usually take a few hours and are fantastic if you want to get away from the hustle and bustle. You can even take advantage of an extended route and visit a nearby Greek Island.
Culture
The Mausoleum of Halicarnassus is located in Bodrum and is one of the Seven Wonders of the Ancient World. Built for the king Mausollos of Caria, who died 353 B.C. by his wife and sister Queen Artemisia, the castle was destroyed by an earthquake between AD 1000 and AD 1400 and rebuilt in 1494 by the Knights of St. John of Malta. Although much of the castle has been damaged, the remains along with sculptured murals of soldiers and animals are still a popular attraction.
Bodrum Amphitheatre was built during the reign of King Mausollos and is situated on a hillside overlooking the whole of Bodrum. Once housing 13,000, this is a fascinating visit and offers beautiful views over the castle and harbor.
The Castle of St Peter, a medieval redoubt built by crusaders which now hosts The Museum of Underwater Archaeology is a must if you are in Bodrum as it boasts amazing sea views, a Byzantine shipwreck hall and scary old dungeons to scare yourselves in! It is a great visit and is aimed at visitors of all ages.
You really know you're in Turkey when you are holidaying in Bodrum, with a bazaar every Thursday and Friday selling the finest food and fish freshly caught. There are other daily markets such as the textile market on Tuesdays and the fruit and cheese sale - you'll likely not even know the sheer variety of fruits there are until you come to this!
Antiques and exotic baubles are also ten-a-penny here, so you'll have more with which to remember your Bodrum holidays than just memories!
Adventure
Bodrum offers many exciting activities to keep you busy on your holiday. For something really energetic, try water-skiing or windsurfing on where the peninsula beaches are perfect. The waters around Bodrum are popular with divers and snorkelers and you will find many diving schools in the area if you want some expert help. More activities include river-rafting along the Dalaman river, jet skies and for something more relaxing but still exciting, parasailing.
If you want an adventure out of the water in Bodrum, you will find jeep safaris a fantastic way to see the spectacular views of the entire region. Horse riding, walking and trekking are also very popular ways of seeing what Bodrum and the surrounding areas have to offer.
Eating And Drinking
Bodrum caters to all tastes so you will be able to find international food in most restaurants and cafes, and will even find a few McDonalds. However, if you are after a more local dish, you will be spoilt for choice. The locals in Bodrum particularly enjoy pide, which is a Turkish pizza and they dine in lokantas, which are simple restaurants serving well cooked cheap local food.
As we are romantics, we love Restaurant Alley, which is a beautiful street in Bodrum with lovely restaurants, romantic live Turkish music, vines and lanterns which really sets a romantic scene. Perfect for a memorable evening, especially if you are celebrating a special anniversary.
Book a Bodrum Holiday now!
Remember, On the Beach is first choice not only for flights to Bodrum, but also for Bodrum hotels! Our online booking system is simple, easy and fast - so don't delay - book your holidays to Bodrum today!
Bodrum Resorts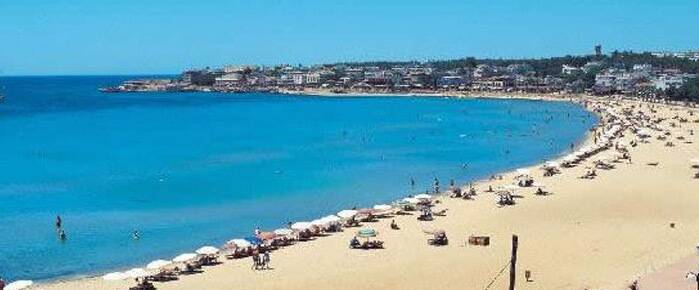 Going on holiday to Turkey? Holidays to Altinkum, which translates as 'The Golden Sands', are amazing; this paradise of a beach overlooking the Aegean…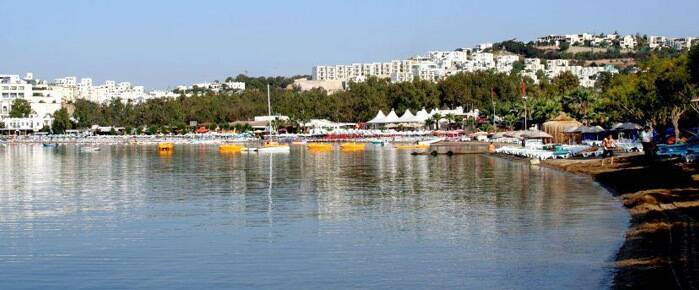 When going on Turkey holidays, you want some peace and quiet, right? Well, where better to find that than in the secluded bay of Gumbet, to the west o…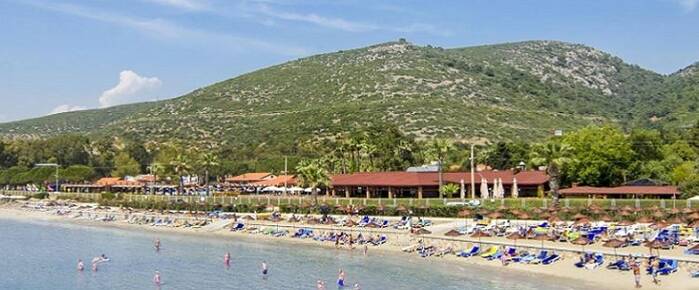 While on Turkey holidays, you can't ignore the amount of history that's around you - especially if you're in Kusadasi! Situated next to a beautifully…