Thailand is and will continue to be one of the peak experiences in travel. You can combine any different number of experiences - your holiday can be relaxing, cultural, exciting, indulgent, luxurious, adventurous, romantic and fun... or a wonderful combination of it all.
Palm fringed beaches, magnificent mountains, romantic soaring hills, Buddhist temples, herds of happy elephants, superb scuba dive sites, vibrant metropolises, lively nightlife, fabulous food (the country is dedicated to filling you up - DO NOT leave without trying the Massaman curry), and everything from budget backpacker joints to super swish resorts are all yours for the taking. Then there's the Thai people themselves - charming and hospitable, they always have time to talk and are ready to engage in a spot of 'sanuk' (fun). What more could you want? Bargain prices? Well since you ask, there's that too with a week-long Thailand holiday setting you back the same as a week-end in Britain (excluding flights of course). Hmm, tough choice...
Present day Thai society is the result of centuries of cultural interchange, particularly with China and India, but more recently with the West. Rather than shaking hands, a Thai will be greeted with closed hands and a slight bow of the head. This is called the Wai. Thai's often use it as a form of thank you.
You will see amazing shrine-like images of the Royal family virtually everywhere, they are treated with almost religious reverence so this needs to be respected, never make a derogatory comment about the King or the Royal family.
Although general informal dress is widely acceptable, beachwear should be confined to the beach, men should wear T-Shirts when walking around resorts and topless sunbathing is frowned upon.
As for Thai religion, the vast majority adhere to Buddhism (Theravada form), 5% are Muslim and there are Christian and Hindu minorities. A large Buddha sits on top of the hill above Karon and Kata beaches.
View destination on a map
Thailand Weather
The weather in Thailand is tropical and humid for most of the year. In the southern region (where all the best beaches are), there are only two seasons - wet and dry - and these seasons do not run at the same time on the east and west sides of the peninsula! On the west coast, there are heavy storms from April to October, whilst on the east coast, most of the rain comes between September and December. So the optimum time to visit Thailand's beaches and be absolutely sure of great weather is between January and March. Of course, this is also when prices are at their highest, so if you don't mind the odd shower, book in low season for cheap Thailand holidays.
Who goes to Thailand?
Thailand's position on the backpacker trail is well established and not likely to wane any time soon. However, backpackers and holidaymakers tend to stick to different areas, so you won't have to mix with the great unwashed on your Thailand holiday - unless you really want to! It's a big favourite of scuba divers thanks to its astonishingly beautiful coral reefs and tropical marine life. While Thailand might not be somewhere you'd think of for family holidays, it's actually great for children - imagine the delight on their faces as they drift down rivers on bamboo rafts or join in feeding elephants! Thailand holidays are also absolutely perfect for romantic breaks, with island beach life to enjoy by day and amazing food and bars to enjoy by night, not to mention the unforgettable experiences to enjoy together.
Book a Thailand Holiday now!
So where to start? Thailand's chaotic capital, Bangkok, is the usual starting point, with its temples and tuk tuks, cocktails and clubs. Other popular places include the 'Rose of the north' that is Chiang Mai and the tropical island paradise of Phuket, but truth be told Thailand is full of treasures and with On The Beach, you're guaranteed a good time wherever you go...
Thailand Resorts
Once people have sampled the beauty and charm of Thailand, they return again and again. Some say it is a life-changing experience and one definitely n…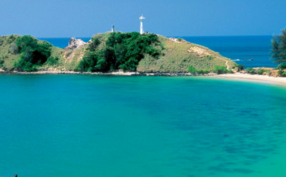 Situated opposite the busy resort of Phuket on Thailand's mainland, Krabi offers holidaymakers a tranquil, laid-back escape on the breath-taking Andam…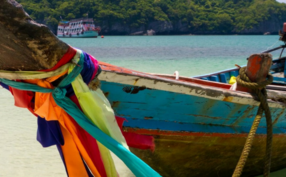 Located in the Gulf of Thailand, Koh Samui is an island paradise waiting to astound you with its picture-perfect azure waters and powder-white beaches…