The must-visit destination for back-packers and tropical beach-lovers, Thailand is a country of interesting culture and serene shores. With an array of islands sprinkled around the south coast, there's plenty of sand and sea to see! Think crystal-blue waters, towering palm trees and enough activities to last a lifetime, this is the perfect pick for anyone seeking relaxing getaway or a non-stop adventure.
Beaches
There's no doubt that you've seen 'travel inspo' pictures of stunning white sands, lush green cliff sides and clear turquoise waters… well, that's Thailand! In
Phuket
, Kata Beach is a beauty, lined with palm trees and great restaurants. Plus, between May and October, the sea is perfect for surf-lovers. One of the more famous shores, Railay Beach in Krabi, is great for families with its shallow shores and super-soft sands, whilst being picture perfect too! Over in Koh Samui, Lamai Beach is a peaceful plot of shore, but still with plenty of local amenities nearby. If you're looking for a picturesque beach only a brief stroll away from a bustling village, Nang Thong Beach in Khao Lak is the perfect spot for you.
Food & Drink
Thai cuisine is aromatic and is usually served with rice or noodles. One popular dish is Pad Thai, which features stir fried noodles with egg, tofu, shrimp, flavourings and is topped with roasted peanuts. Tom yam is another famous Thai dish, a hot and sour soup with shrimp. Massaman curry and green curry are both must-try meals, but they're not like the curries we know and love in Britain, these dishes have the staple ingredients of coconut milk, palm sugar and fish sauce. If you're feeling adventurous, Thailand is also known for its consumption of insects, including deep-fried grasshoppers and crickets.
Culture
Culture in Thailand is heavily influenced by religion, with an estimated 95% of the population being Theraveda Buddhist. Wherever you choose to visit, you'll surely come across a statue of Buddha or one of the beautiful temples. One tradition in Thailand is 'The Thai Wai' greeting, a movement of bowing to someone whilst holding your hands together as if you were in prayer. Festivals are also a large part of the culture, which are all celebrated with a 'go big or go home' attitude. 'Songkran' (Water Festival) is the celebration of Thai New Year, taking place in April. It consists of water being poured on Buddhas, young people and elderly people to wash away any sins or bad luck. In November, Chiang Mai hosts 'Yi Peng' (Lantern Festival) which, as you might be able to tell by the name, is a dazzling festival where a flock of lanterns are released into the night sky to celebrate the full moon of that month.
Nightlife
There's no denying that the nightlife in Thailand is exciting. Patong in Phuket is one of the hot spots for partying, with streets sparkling in bright lights and a buzz that never stops. Shows, clubs, music, whatever you're after for a wild night out, Patong has it! If you prefer to keep your feet in the sand for the evening, Coco Tam's in Koh Samui is a popular open-air beach bar where you can sip cocktails with friends and enjoy fire shows performed right in front of your eyes. Of course, we couldn't talk about Thailand's nightlife without mentioning the famous 'Full moon parties'. If you get the chance to visit Koh Phanghan then these parties are something else. So, prepare to be covered in illuminous paint and dance until sunrise.
Important Information
Flight Time: 17 hoursTime Difference: GMT + 7hrsCurrency: Thai BahtOfficial Language: Thai
---
Thinking of going All Inclusive? Take a look at some of our top
All Inclusive properties in Thailand
here!
---
View destination on a map
Thailand Weather
An exotic destination like Thailand needs to have the weather to match, right? Right! Throughout the year, the average temperature never falls below 27°C in the southern part of the country, a great place to escape the UK's chilly winter! Although the temperature is typically in its high 20's, Thailand's rainiest period is between July and October and the least rain falls between December and March.
Things To Do on Thailand Holidays
Visit an elephant sanctuary One of the main (and most exciting) attractions in Thailand is the elephants. You can meet, feed and observe the loveable creatures at an elephant sanctuary. Make sure to do your research before you go though, as you'll want to find an ethical sanctuary where they have rescued the animals to provide them with a life of peace and freedom. Two that advertise themselves as ethical are the Phuket Elephant Sanctuary and Samui Elephant Sanctuary. Island hopping / visit Phi Phi IslandsA holiday to Thailand is amazing in itself, but seeing more than one part of it is a trip of a lifetime. Island hopping is a popular choice for those visiting the country, but if you're not one for 'travelling' and more just relaxing on the beach then there's another way. Day trips to beautiful islands like the Phi Phi Islands are available, and are easily accessible from Phuket or Krabi.Visit temples and BuddhasAbsorb Thai culture and visit one of the local Buddhist temples or monuments. There are plenty of these famous structures across the nation, including the 'Big Buddha' in Koh Samui, Wat Tham Sua (Tiger Cave) near Krabi and The Phuket Big Buddha. The amazing detail and structure of the statues and temples can be appreciated by everyone, plus the sites are educational, and some (like The Phuket Big Bhudda) are situated on high land so offer wonderful landscape views!DivingCrystal-clear waters may make for a stunning Instagram picture, but they're also the perfect place to do some deep-sea exploring! The south-east coast is the most popular spot to go diving, where the Andaman Sea offers a selection of tropical sea creatures including turtles, Manta rays and even the majestic whale sharks. If you're not one to dive, snorkelling is always a great experience too, especially around the Phi Phi islands.
Book a Thailand Holiday now!
So where to start? Thailand's chaotic capital, Bangkok, is the usual starting point, with its temples and tuk tuks, cocktails and clubs. Other popular places include the 'Rose of the north' that is Chiang Mai and the tropical island paradise of Phuket, but truth be told Thailand is full of treasures and with On The Beach, you're guaranteed a good time wherever you go...
Thailand Resorts
Picture yourself in paradise, and you'll probably be imagining the sort of beach that Phuket has to offer – glassy water and fine, white sand fringed…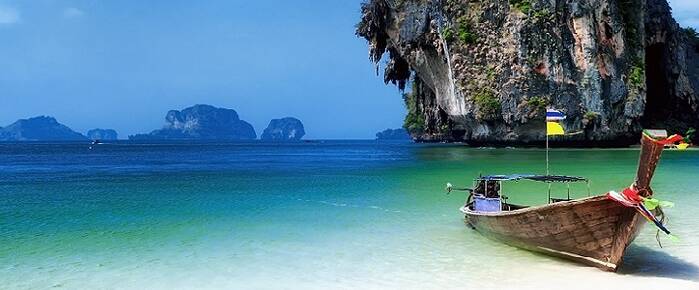 A sun-soaked Asian adventure, with awe-inspiring natural scenery, mouthwatering traditional Thai cuisine and chilled-out island culture - the sweet sc…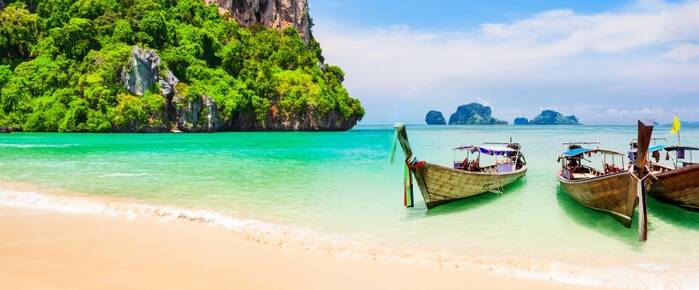 Located in the Gulf of Thailand, Koh Samui is an island paradise waiting to astound you with its picture-perfect azure waters and powder-white beaches…