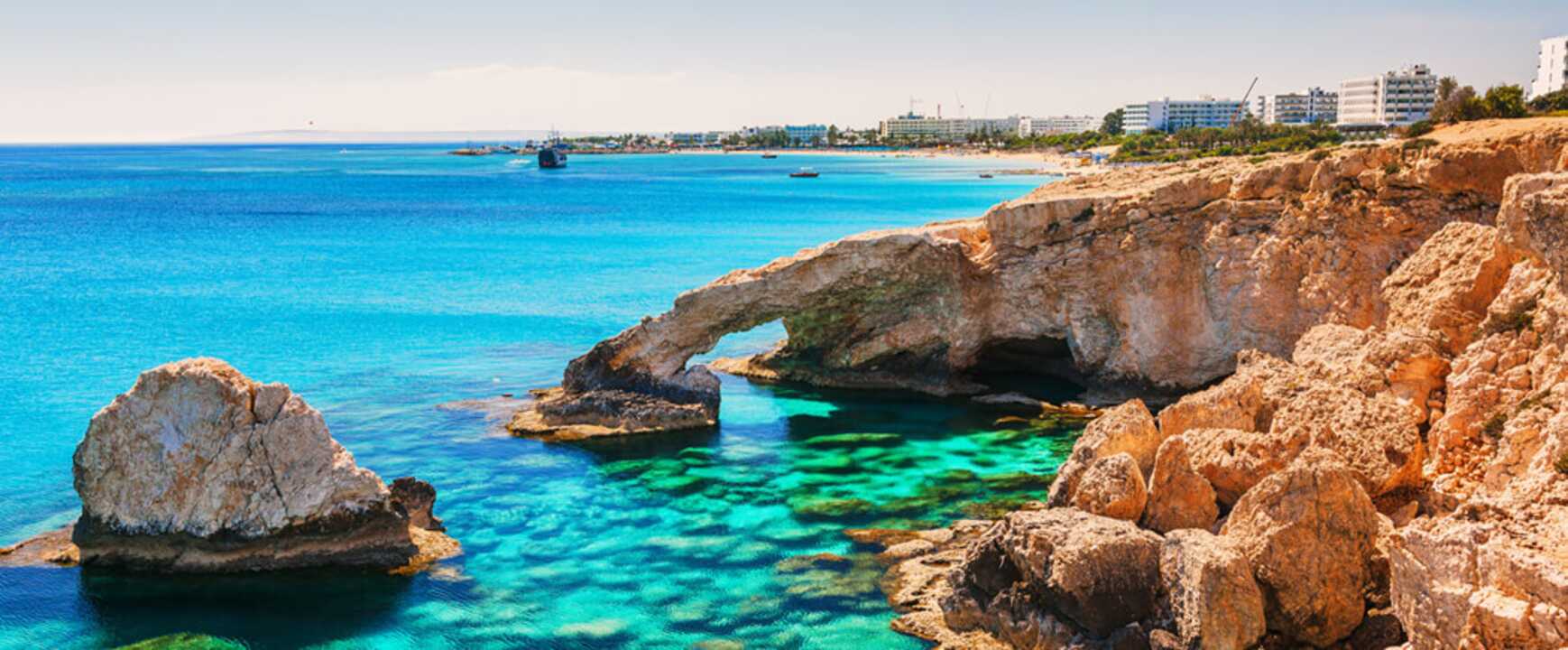 The island of Cyprus makes for the perfect 2-in-1 escape. Divided into east and west, the east is something of a tourist-mecca thanks to the lively after-dark atmosphere, plethora of watersports and activity-laden attractions, the west falls neatly into the category of family-friendly fun, complete with a healthy dose of heritage and small sprinkling of nightlife.
Oozing with charm, Cyprus and its year-round sunny disposition means you can get treated to a tan whether you're basking on the beautiful Blue Flag beaches of Limassol, Protaras and Coral Bay, or wandering amongst the traditional historic landmarks of Paphos.
Famed for its Roman baths and crystal-clear waters, Cyprus has also seen an emergence of first-class spa destinations popping up across the island. It's already attracting a flock of celebrities keen to get a little respite away from watchful eyes, so if rubbing shoulders with the glitterati sounds like your ultimate holiday, or you just want to get pampered and preened in style, Cyprus is the destination for you!
With so many attractions on offer catering for groups looking for a fast paced holiday in Cyprus or families looking for peace and relaxation, you cannot go wrong, make sure you book your perfect holiday today to get the best prices online!
View destination on a map
Cyprus Weather
Being a Mediterranean island, there's nothing too unpredictable about the weather here – think blue cloudless skies and uninterrupted bright sunshine most days of the year, with no extreme temperatures or extensive seasonal fluctuations to put a spanner in the works.
Cyprus holidays in summer kick off in mid-May and lasts until mid-October, and whilst December, January and February run the risk of succumbing to a spot of rain, there's still approximately six hours of sun a day, so nothing compared to a 'rainy day' in the UK.
Landscape
The third largest island in the Mediterranean, Cyprus is made up of stretches of sandy and pebbled beaches, sunny plains and forested mountains making for a lovely lush landscape. Very much a Greek Orthodox Christian society (except for a small Islamic following in the north), alongside the historic Byzantine churches, there are plenty of practising churches on the island which you are welcome to attend providing you check beforehand. And seeing as though English is both widely understood and spoken – despite Greek and Turkish remaining the official first languages, you shouldn't find it too pressing trying to decipher signs, menus and guides.
Things To Do on Cyprus Holidays
Drawing holiday-makers from all walks of life, a holiday to Cyprus offers something for everyone, but it's up to you whether you want to arrive with a ready-made itinerary or let the island lead you instead.
Culture
Just a short journey along the coastline you'll also find the Baths of Aphrodite – perfect if you're looking for a slice of history. Another must-see for Classics connoisseurs is Paphos - without doubt the historic epicentre of the south. On the outskirts you'll find the Aphrodite's Rock, whilst further into the town you'll be able to roam the Roman remains, visit the House of Dionysos and discover the Tombs of the Kings. However it is worth noting that Paphos splits into two – Upper Paphos which holds the history and Lower Paphos which is now recognised more for its neon lights and karaoke bars than its national treasures, but something that together makes it a great destination for family holiday.
Adventure
If you prefer walking to water-skiing, there are plenty of opportunities to go hiking around Cyprus. The Akamas National Park on the Akamas Peninsula is relatively untouched so you can take in the natural beauty of the island, admire the wildlife, wander through citrus groves and familiarise yourself with some smaller, traditional villages on the island.
Nightlife
Other party towns on the island include Limassol and Ayia Napa – probably the most famous of them all. Transformed from a small fishing village to a full-on rave resort, the main strip is lined with novelty bars and British restaurants which make for a rather indiscreet resort, but a definite must if you're looking for a frivolous trip. We've put it at number 2 in our list of top clubbing holidays!
Relaxation
Those looking for a relaxing retreat will want to head straight to the beautiful beaches. In the east, Phinikoudes beach in Larnaca is the most famous, or for a fantastic selection of water sports, why not windsurf your way over to Pernera A Beach in Ayia Napa.
Cyprus Resorts