Bulgaria may not be the first destination that springs to mind when you think of beach breaks, but it sure is a scorcher. With its coast meeting the Black Sea, the country has a wonderful selection of beautiful beaches, perfect for every type of holidaymaker. Whether you're looking for a relaxing sun-soaked break, a culture trip, a family getaway or a wild party holiday – Bulgaria has it all.BeachesSituated by the Black Sea, Bulgaria has a number of charming beaches ready for you to discover. One of the most famous beaches is Sunny Beach, a long stretch of sandy shore with an array of bars and restaurants. This beach is popular with the younger crowd, but there also areas of it which are great for families. A lush beach in St Vlas, Marina Dinevi Beach has a Blue Flag certification and is a fine choice for those wanting a relaxing day by the harbour. A peaceful pick, Pomorie Beach is located between Nessebar and Burgas, and is a wonderful clean spot of shore with a very laid-back atmosphere.Food & DrinkFresh vegetables, meats and a variety of spices, Bulgarian cuisine is known for being tasty and exciting. Some dishes are similar to those in its neighbouring countries, but with its own Bulgarian twist. For example, moussaka is a popular dish in eastern Europe, much like a lasagne but filled with vegetables, eggs, and in Bulgaria it also features nutmeg and mushrooms. You'll also find kebabs and mixed grills on most menus across the country, and if you're looking for a snack, lukanka is a salami type meat eaten in slices. One of the most traditional local foods is banitza - a delicious cheesy, buttery pastry found pretty much everywhere you'd find snacks and baked goods! Rakia is the nation's alcohol of choice, a strong spirit made from fermented fruit. Yoghurt is a celebrated snack in Bulgaria, but you can also get ayran, a chilled yoghurt drink which makes for a fantastic refreshment to cool you down in the hot weather.CultureDue to the country's diversity, Bulgaria's culture has Slavic, Greek, Persian and Ottoman influences, making it a wonderfully interesting place to be. There's a great amount of religious buildings across the country, with jaw-dropping architecture and so much history behind them. Two of the most famous structures are the Rila Monastery, founded in the 10th Century and the Alexander Nevsky Cathedral in Sofia – both of which are must-see landmarks for visitors. There are some unique festivals and celebrations in Bulgaria too. One is the Carnival of Kukeri, an ancient ritual to scare away evil spirits by dressing up (which is quite a show). They also ignore the rest of the world when it comes to Valentine's Day, as for them the 14th February is their national vine-growers day, so they show love to their wine instead!NightlifeSunny Beach is one of Bulgaria's most popular holiday destinations, not only known for its shoreline but also its wild nightlife. In the daytime, you can explore the bars on the beachfront, or head to one of the beach parties that are held in the high season. In the evenings, the streets light up with bars, clubs and discos dotted across the city. Those who are here to solely party can go on organised bar crawls, as well as paint, boat and sundown parties, all of which are organised by the 'Sunny Beach Party Crew'. For more peaceful evenings, Elenite is the perfect place to find chilled-out bars and restaurants for relaxing night time drinks. Important InformationFlight Time: 3h 40mTime Difference: +2 hoursCurrency: Bulgarian LevOfficial Language: Bulgarian
View destination on a map
Bulgaria Weather
If you're looking for some warmth and sunshine, Bulgaria's average temperature ranges from 20°C to 23°C between June and September. May and October are still mild with an average temperature of 17°C. October, November and April see cooler temperatures between 7°C and 12°C, and the coldest months are December to February with averages between 3°C and 5°C.
Things To Do on Bulgaria Holidays
Visit Nessebar
The architecture, the history and… it even has a beach! Nessebar is a must-visit area of Bulgaria for you holidaymakers. Wander the cobbled streets to discover the quirky 18th century houses, take in the views of the ancient churches or simply enjoy the town's seaside. The town, which is on the UNESCO World heritage List, is a beautiful place and exploring it is a wonderful way to spend the day.
Waterparks!
Make the most of Bulgaria's great selection of wild and wonderful waterparks. Action Aquapark and Aqua paradise are both located in Sunny Beach and neither are for the faint hearted! They offer thrilling slides, rides and pool areas for the whole family. No matter what age you are, you're sure to have a fun-filled, splashtastic time at the local waterparks. Over in Golden Sands there's also Aquapolis, which has its very own extreme section with mind-blowing attractions, perfect for the adrenaline junkies.
Boat trips
Sail away along the sparkling Black Sea on a catamaran, for an extra special cruise with VIP Catamaran Cruises in Nessebar. Embark on a journey into the sea where you can swim freely, discover what's beneath the surface by snorkelling and take in the surroundings whilst enjoying on-board food and drinks. If you're looking for a boat trip that's a little less relaxing and more upbeat, TATTOO Party Boat in Sunny Beach hosts buzzing parties around the clock.
Sunny Beach Luna Park
Another one for the whole family, Sunny Beach's Luna Park is a great place to spend the day having fun together. Rollercoasters, rides for little ones and fairground attractions await at the theme park. Whether you love big rides or prefer the bumper cars, this park is a fantastic way to keep the whole gang laughing throughout the day.
Culture
The small old town of Bourgas with its pedestrianised streets makes it easy to explore, with a few pleasant museums and galleries dotted around. Petko Zadgorski Art Gallery (ulitsa Metropolit Simeon 24), housed in the old synagogue, has three floors of paintings including 17th-century religious icons and Bulgarian contemporary artists.
Its exhibition has been arranged in a former Jewish synagogue, now listed as a cultural monument. The frescos inside the gloomily-lit Sveti Sveti Cyril and Methodius (ulitsa Vuzhrazhdane) are stunning. There are more than ten art galleries in Bourgas, so art lovers cannot fail to keep themselves amused.
Book a Bulgaria Holiday now!
Search now for our very best value flight and hotel deals to Bulgaria, we pride ourselves on offering the best value beach and city holidays for our customers. Our online booking system is simple, easy and fast and there are some great deals available right now.
Bulgaria Resorts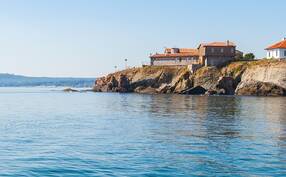 Bourgas is the second largest city on the Black Sea coast and is the home to the main tourist airport of Bulgaria. It offers the best of both worlds i…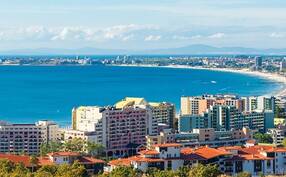 Sunny Beach on the southern Black Sea coast is the biggest and one of the most popular beach resorts in Bulgaria with an astonishing 8km stretch of go…
Read more on Sunny Beach Travel Guide