---
Whale-watching, hiking, sunbathing – whatever you're into, Tenerife has you covered. All part and parcel of being the largest, most popular Canary Island.
---
Destination highlights
Perfect for couples and family holidays

Year-round sunshine

Home to the famous Veronica's Strip

Golden sandy beaches
Read more about things to do in Tenerife and travel advice for Tenerife by clicking the tabs above!
What are the best beaches in Tenerife?
With over 40 beaches to choose from, snorkellers, sunbathers and sandcastle-makers can find their perfect spot of shore in sunny Tenerife. Here are our top Ten picks for Tenerife beaches...
1. Playa del Duque - one of the golden oldies on the island, Playa del Duque is a hit with all holidaymakers. The well-kept stretch of shore is a mix of golden sands and pebbles, and features sun loungers that you can unwind on under the sun. If you're one who likes a wander between sunbathing sessions, there are plenty of shops and restaurants nearby for you to explore.
2. Mesa del Mar - located in the north of the island, this unspoilt slice of paradise is a real hidden gem and will never disappoint.
3. Playa del Puertito - fancy escaping the crowds and getting back to nature? Then Playa del Puertito is 100% a must-visit. This unspoilt cove is usually pretty quiet and offers some a peaceful day of relaxing and swimming. Top tip - if you grab your snorkel and take a swim just by the fishing boats, you're likely to be greeted by friendly marine life including turtles and butterfly rays!
4. Playa de las Vistas - with a 1km-long stretch of lovely blonde sands and beautiful waters, there are loads of opportunities for family fun under the sun here. Beach bars are also located down the beach raring to serve up your beers, cocktails, Fanta Limon or some snacks for you to tuck into when lounging.
5. Playa los Gigantes - sat at the base of giant cliff sides, this black sand beach offers a unique beach day. With calm waters and minimal breeze, you can comfortably unwind on the volcanic sands and take in the stunning views.
6. Playa de la Nea - peace and quiet, in beach form. This one's a bit of an adventure to get to, but if you're looking for something away from the crowds, then it's worth it. Make your way down to this rustic stretch of coast and you'll be greeted by coarse lava sand and even a playground for the kids! Just be careful if you are travelling with the little ones, because the shoreline is known to deepen quite suddenly.
7. Playa de Torviscas - if you like your beach the same way we like our all-inclusive breakfast - with a bit of everything - then this is the place for you. Sun loungers and parasols grace this large tourist beach, along with a playground for the kids, plenty of watersports and a breezy promenade.
8. Playa de la Enramada - black volcanic sands and some of the clearest waters you will ever see make this beach a must-visit in this part of Tenerife. Hire a sun lounger or bring a towel and relax… maybe nip to the beach bar for a drink or two. There's also live music in an evening here, making it a great place to take a sunset stroll.
9. Playa del Médano - family beach day anyone? This inviting bay is just the place for it, with a sheltered location which means gentler waves for paddling in, and ramps for easy access. Plus, this beach flies the Blue Flag award, offers activities such as windsurfing and kitesurfing, has a dedicated swimming area AND a breezy promenade lined with bars and restaurants. Talk about the whole package!
10. Playa Diego Hernández - for the more daring amongst you, Playa Diego Hernandez is an isolated and unspoiled nudist beach that's a great spot for topping up your tan or having a lovely swim. Keep in mind there are no facilities here, so whilst you can leave your cozzy at the hotel, you might want to bring a drink and a bite to eat.
What are the top hotels in Tenerife?
When it comes to where to stay in Tenerife, we've got you covered. Our huge range of Tenerife hotels offers everything from All Inclusive resorts to budget-friendly breaks if you're looking for a cheap holiday to Tenerife.
Popular Tenerife hotels
Costa Adeje, Tenerife, Spain
A cool design in the style of a Greek palace

Fantastic entertainment

On-Site Spa for Ultimate R&R
Costa Adeje, Tenerife, Spain
Gigantic pool area

Fantastic views in Playa de Las Americas

Plenty of activities for all ages
Playa De Las Americas, Tenerife, Spain
Spacious swimming pool

On-site bar and restaurant

In the heart of the action
Playa De Las Americas, Tenerife, Spain
Swimming pools located by the sea

Arts, crafts and cookery workshops

Mini-club and treasure hunts for the little ones
Costa Adeje, Tenerife, Spain
Central location

600m from the beach

Large free-form swimming pool
Playa De Las Americas, Tenerife, Spain
4 swimming pools

On-site spa facilities

A la carte Pizzeria
Costa Adeje, Tenerife, Spain
175 restaurants and 25 attractions nearby

Adult-only hotel

Sea View rooms offer great sunset views
Los Cristianos, Tenerife, Spain
Mini golf!

Games zone and kids' club

Self-contained apartments
Golf Del Sur, Tenerife, Spain
Fairground themed restaurant

Only 10 minutes from the airport

Splash park with slides
Playa De Las Americas, Tenerife, Spain
Tropical gardens with fountains and terraces

Summer parties around the pool

2 freshwater swimming pools
Costa Adeje, Tenerife, Spain
5 swimming pools

Activities for all ages

Adult-only areas
Costa Adeje, Tenerife, Spain
Top-class all-inclusive cuisine

Clean and spacious with great service

3 swimming pools to choose from!
Costa Adeje, Tenerife, Spain
Swimming pool overlooking the sea

Set along a seaside promenade

Star Camp to Keep the Lil' Ones Busy!
Callao Salvaje, Tenerife, Spain
Cosy, well-equipped apartments

3 outdoor pools to dunk into

Activities for the whole fam
Costa Adeje, Tenerife, Spain
600m from the beach

2 swimming pools

3 kids' clubs
Costa Adeje, Tenerife, Spain
A la carte restaurant

Poolside bar

Live music
Playa De Las Americas, Tenerife, Spain
Chilled out pool parties every Saturday

Quiet location, but not far from the action!

Fun evening entertainment
Puerto De La Cruz, Tenerife, Spain
Stunning Sea View Rooms

Walking Distance to Volcanic Beach

Entertainment Programme for the Whole Fam!
Playa De Las Americas, Tenerife, Spain
500m from the beach

2 lagoon-style pools

Kids' Club AND Teens' Club
Puerto De La Cruz, Tenerife, Spain
On-Site Spa with Ice Cave

Evening Entertainment for the Whole Family!

Pool-Side Bar for Afternoon Cocktails and Nibbles
Stunning Tenerife resorts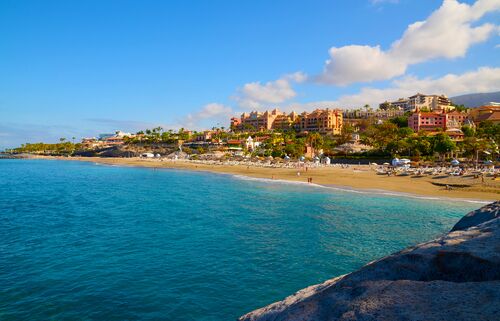 Costa Adeje
Costa Adeje has three beautiful beaches to choose from. Playa Fanabe is the largest of the three, at nearly 1km in length, which is great for paddling...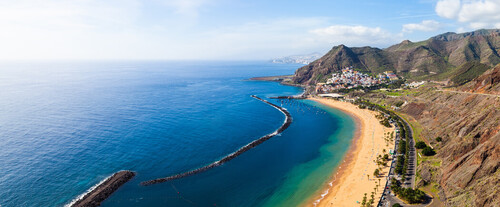 Costa Del Silencio
When thinking of Tenerife, many automatically conjure up images of gorgeous beaches, great watersports and a never-ending nightlife. Why? Because it's...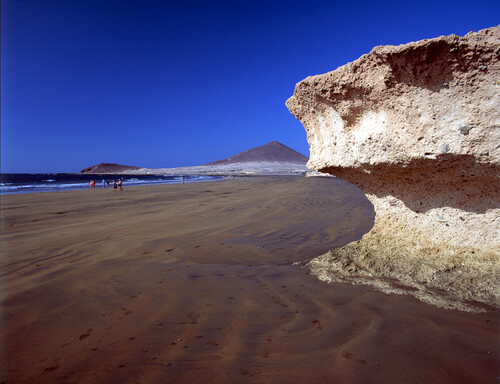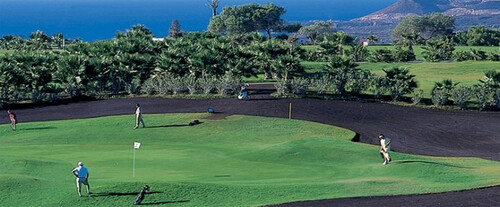 Golf Del Sur
A holiday in Golf Del Sur will find you a stone's throw away from the island's famed nightlife and great party atmosphere, but many tourists now elect...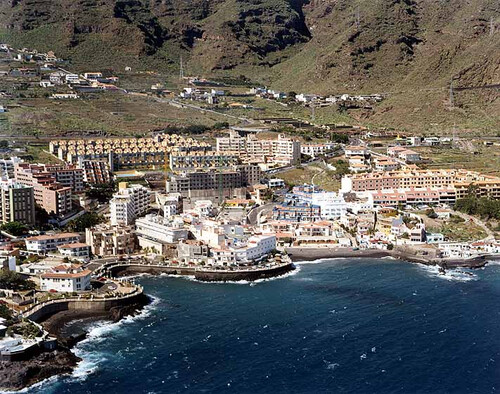 Las Caletillas
Tenerife is famous the world over for the great nightlife and all-night partying that it affords. Away from this, there's the amazing beaches, some of...

Los Cristianos
A four-hour flight whisks you to the golden beaches at the beautiful oceanic resort town of Los Cristianos, on the southwestern coast of Tenerife.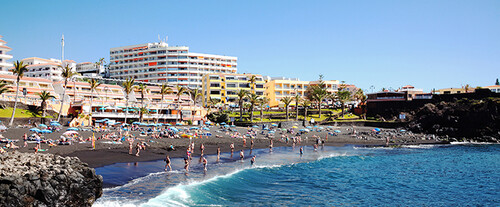 Playa De La Arena
Why, you may ask, is Tenerife top of many a tourist's hit-list? Well, it could be the permanently clear skies, the beautiful sunny weather all year round,...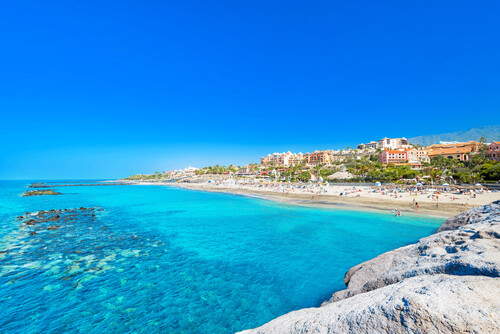 Playa De Las Américas
Sunbathe along the Blue Flag coastline by day, party on the sands by night - in Playa de las Americas, it's always beach time.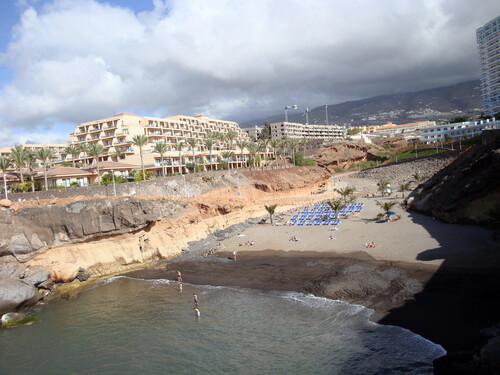 Playa Paraiso
The newly constructed resort of Playa Paraiso is the antithesis to the Club 18-30 style parties and all-night partying that many people associate with...

Puerto de la Cruz
Tenerife holidays might have you imagining a raucous nightlife with tourists merrily wending their way along what could be a sunnier, palm-ier version...

Puerto Santiago
There are some quieter seafronts in Tenerife that would befit an undiscovered resort, albeit one with all the amenities you could wish for.

Santa Ursula
A quiet, remote town on the north coast of Tenerife, Santa Ursula is the ideal holiday destination for anyone looking to spend a week lounging by the pool...
Weather in Tenerife
With a climate as welcoming as a Spaniard's smile, Tenerife is where the sun clocks in for overtime, and bad weather is shown the exit sign.
Now, let's dish about Tenerife weather in summer. Expect the temperatures to climb up to the high 20s Celsius, but never too hot, thanks to the cooling Atlantic breeze. It's like the island's personally air-conditioned, just for you!
But Tenerife doesn't take a winter break. Nope, it keeps the sun out, with temperatures staying around a snug 20 Celsius. It's the sort of winter where you'll be building sandcastles instead of snowmen, and swapping hot choc for a cold sangria.
Spring and autumn? It's all sunshine and good vibes. Mild, warm, and absolutely beach-tastic!
View destination on a map
Reviews
At On the Beach, we've sent many satisfied customers on Tenerife Holidays for a bit of sunshine. But don't just take our word for it, read some of their 5-star reviews below.
I have booked with onthebeach many…
I have booked with onthebeach many times and have had no problems what so ever, even in the pandemic when my holidays were cancelled the communication was excellent and received a full refund reasonably quick all things considered.. I have just booked my next holiday for November and look farward to some sunshine in Tenerife 😎
Great savings on the beach!!
By far the best deal for my 2 week holiday to Tenerife on the web. Saved around £300
compared to other websites.
Easy booking online and fast confirmation.
Quick and easy booking system and had…
Quick and easy booking system and had my favourite hotel of all times. Omg can't wait to get back in August.
Missed Tenerife so much and getting back has been made possible again by on the beach.
Thank you.
FAQs
How long does it take to fly to Tenerife?

It takes about four and a half hours to fly to Tenerife from the UK.
What's the time difference between the UK and Tenerife?

The local time in Tenerife is one hour ahead of the UK.


What currency do they use in Tenerife?

The official currency of Tenerife is the Euro.
What language do they speak in Tenerife?

The official language spoken in Tenerife is Spanish.