Crete: not just the birthplace of Zeus, but also the location of your next sun-drenched, feta-filled adventure! Too cocky? Keep reading, and you'll understand our confidence. From neon-lit nights in Malia to chilled family hangs in Chania, this Grecian gem is all about variety with a capital V. Need a deep dive? Grab your snorkel, 'cause the Cretan culture runs deep (and not just the-bottom-of-your-tzatziki-pot deep). History buffs, sun worshippers, and everyone in between – Crete's got a lil something for ya. And hey, no need to break the piggy bank - we've got a bunch of cheap Crete holibobs for you to have a nosy at (no need to blow your life savings), and we've got all the inspo below to get you in the mood...
Best beaches in Crete
Crete's shoreline isn't just about sand between your toes; it's a dramatic soap opera of nature's sandy goodness. Forget your beach bod; bring your beach appetite! Crete's coast is serving up sandy realness. Ever seen a pink beach? Head to Elafonisi Beach and drop that jaw. And for a touch of Caribbean in the Med (perfect for all you long-haul flight phobes), Vai's palm-tree forest beach is where. it's. at.
Best hotels in Crete
Seeking luxury without the royal price tag? We feel ya. Check out these bad boys for some guaranteed 'wow' factor:
All Inclusive holidays to Crete
Why worry about the next meal when Crete can serve it up on a silver platter – with drinks! That's what all-inclusive jollies are all about. Dive fork-first into scrummy buffet spreads where the tzatziki is bottomless and the ouzo flows like water. Trust us, once you've had a taste of an all-inclusive Crete holiday, there's no going back. Oh, and for peace of mind? Our flight-inclusive packages come with a trusty ATOL safety net.
2024 holidays to Crete
Already got those 2024 vibes? We're right there with you! Crete's gearing up for another scorching year of memories, myths, and maybe a few too many cocktails... The early bird not only gets the worm (metaphorically, relax), but also the best beach spot and primo hotel deals. Whether you've got your eye on the mainland or a cheeky island break, we've got a ton of hotels to tickle your fancy in 2024.
Family holidays to Crete
From pirate adventures on the high seas to treasure hunts in historic ruins – this Greek gem's got the whole crew covered for a family holiday to Crete. Destinations like Gouves and Chania are like playgrounds for the kiddos with top-notch beaches, while Agios Nikolaos and Elounda are decked out with action-packed resorts. Bonus: the ice creams here? Totally Insta-worthy.
Couples holidays to Crete
Thinking of reenacting The Notebook? (Minus the heartbreaking ending, obvs.) Crete's your stage. Stroll hand-in-hand through the cobbled streets of Rethymnon, share a gelato (or two) in Chania, or find a secret spot in Elounda to watch the sunset. Couple's selfie with a side of Greek charm? Yes, please! That's what couples' holidays in Crete are all about, baby.
Party holidays in Crete
Got your dancing shoes ready? Malia's ready to groove! Whether it's the electric DJ nights or the tranquil tavernas where a Greek granny might teach you how to dance like a local, Crete's nightlife is the gift that keeps on giving for all you party animals. For a mix of wild and mellow, you can explore bars in Agios Nikolaos and Hersonissos – they've got tunes for every mood.
Popular Crete hotels
Wide variety of All Inclusive drinks

On-site waterpark

Friendly entertainment team
Kokkini Hani, Crete, Greece
All-inclusive EVERYTHING

Perfect for adults and kids

Huge pool area with sea views
29 pools to choose from!

Laidback beachfront bar

Thalassotherapy spa
Adult only resort

Lagoon-style pool

Swim-up rooms
Ultra All Inclusive five-star beach resort

Home to a Creperie serving fresh crepes

7 on-site restaurants
Located on the beachfront

Outstanding evening entertainment

Sports activities and a kids' club
Unbelievable views of the Mediterranean sea

Fun-filled waterpark with seven thrilling slides

A selection of restaurants serving delicious food
FREE shuttle to the beach

Lively and relaxing pools

Kids' activities
3 waterpark areas

300m from the beach

Full entertainment programme
Right by the beach

Fantastic animation team

FREE waterpark access!
Hersonissos, Crete, Greece
Agia Pelagia (West Heraklion), Crete, Greece
Only 60m from the beach

Full entertainment programme

3 swimming pools
Adelianos Kampos, Crete, Greece
250m from the beach

Spa centre

Fitness room
Hersonissos, Crete, Greece
5 swimming pools

Kids' club and teens' club

On the beach
Olympic-sized and heart-shaped pools

Lots of activities for all ages

'Dine around' all inclusive!
Agia Pelagia (West Heraklion), Crete, Greece
Hilltop location

4 outdoor pools

Loads of sports and activities on site
Hersonissos, Crete, Greece
Outdoor pools and waterpark

Only 300m from the beach

Mini club and daily animation
Agia Pelagia (West Heraklion), Crete, Greece
Panoramic village views

2 swimming pools

Daytime and evening activities
Stunning Crete resorts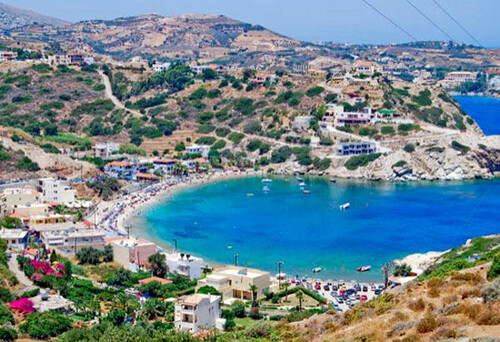 Agia Pelagia
Holidays in Agia Pelagia for all tastes, ages and budgets. We have a range of apartments and cheap hotels in Agia Pelagia ranging from 3 to 5 star suitable for all holidays in Crete. Our expert staff have a thorough knowledge of all of our properties and we can take bookings...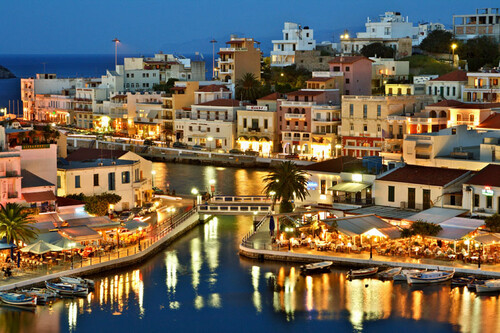 Agios Nikolaos
Agios Nikolaos- 'Agios' to Cretan islanders, or 'Ag Nik' to the many English-speaking visitors- is a beautiful harbour town in eastern Crete, overlooking...Crete holidays, a charming, upmarket town in a stunning location.

Amoudara
Amoudara is resort on a long, sandy, idyllic beach, just outside Crete's capital, Heraklion, on the island's north coast. This is where golden sands...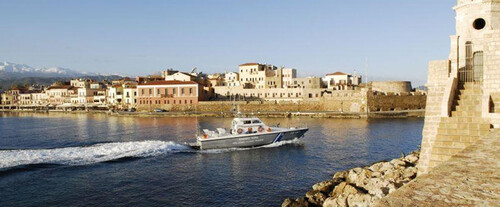 Chania
Chania is one of Crete's most attractive and appealing cities, set between breathtaking mountains and the deep turquoise of the Cretan Sea. The city is...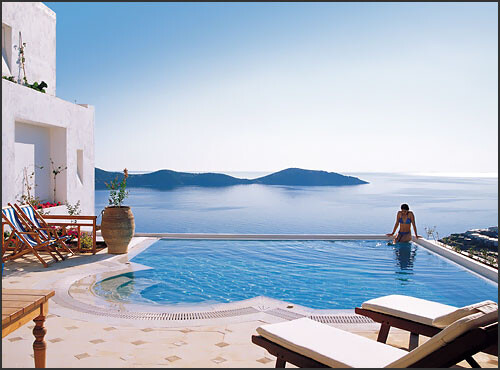 Elounda
Elounda is a beautiful resort situated in Crete's northeast, on the coast of Mirabello Bay. Approaching the village by road from Agios Nikolaos you are...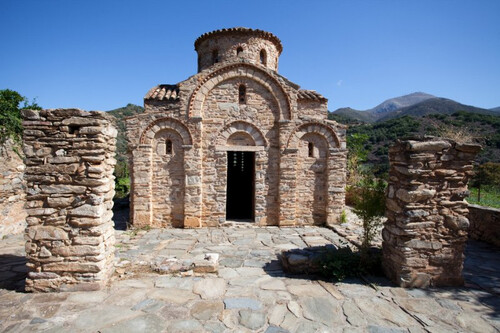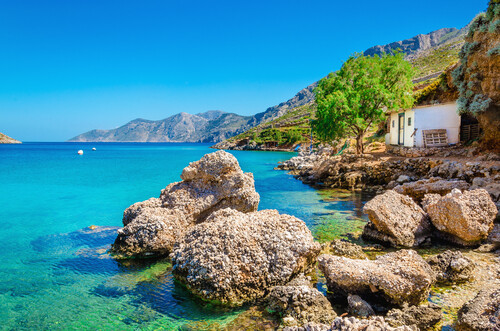 Georgioupolis
Georgioupolis is a beautiful village on Crete's north coast, between Rethymnon and Chania, set in stunning surroundings of mountains, eucalyptus trees,...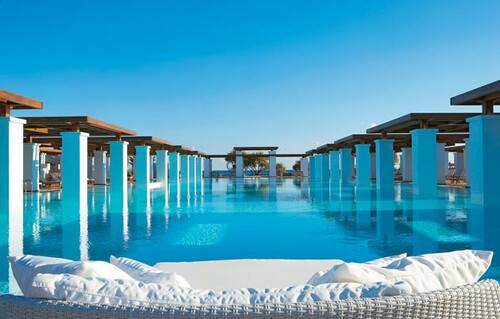 Gouves
The Crete holidays destination of Gouves is a town and municipality in northern Crete, just east of the capital, Heraklion. Here you will find everything...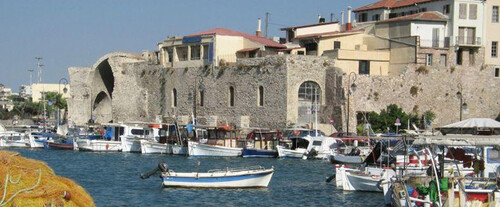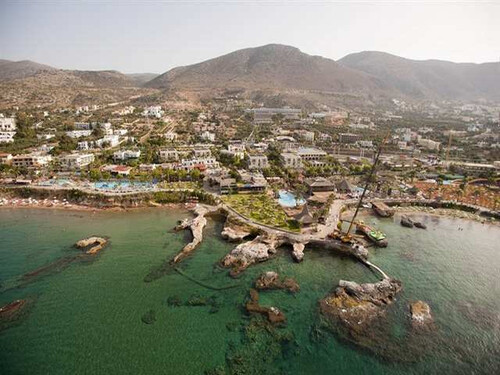 Hersonissos
On Crete's north coast, set between mountains and sea, is the cosmopolitan resort of Hersonissos. In antiquity Hersonissos was a prosperous merchant harbour...Crete holidays. This is a great beach resort, fully developed to cater for all your needs, and boasts many vibrant bars and clubs. Along with its famous nightlife the...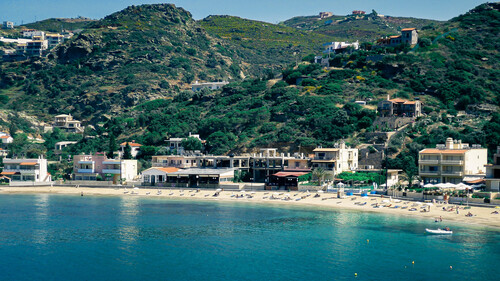 Rethymnon
Rethymnon is a vibrant resort town on Crete's north coast, the capital of Rethymnon province. The town enjoys its reputation as the cultural and intellectual...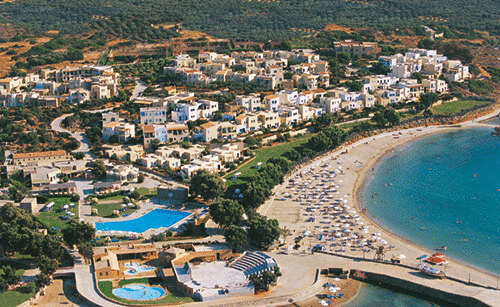 Sissi
If you're one for peace and quiet and want to get away from commercial holidays, then Sissi is the place for you. Surrounded by picturesque beaches and...
Weather in Crete
This Mediterranean stunner is a right show-off, throwing out cosy temps of 20-30°C for most of the year. Picture it: you, roasting gently under the Greek sun, the sea nipping at your toes, or chasing the ghost of Zeus around ancient ruins. What a laugh!
But here's the thing. The weather in Crete ain't all cocktails and floaty kaftans. Along comes winter (that's December to February for you sun-seekers) with temps dropping to a nippy 10-15°C. Might even be a rain shower or two. Bit of a mood killer, right? Nah, think of it as the perfect backdrop for scoffing moussaka and downing a raki or two!
When summer struts in (May to October), that's when Crete gets her glad rags on. Clear blue skies, toasty sands, and a sea that just begs you to dive in. Absolute Instagram gold, mate!
Then there's the shoulder seasons – spring and autumn. A mild 15-25°C, they're just the ticket for strolling around Cretan towns, pretending you're on a movie set
View destination on a map
Reviews
At On the Beach, we've sent many satisfied customers on Crete Holidays for a bit of sunshine. But don't just take our word for it, read some of their 5-star reviews below.
Always use On the Beach for holidays...
Always use On the Beach for holidays abroad. Just an easy and simple way to book a holiday, and always had a great time.


Excellent
Always use on the beach and always have a fantastic pain free holiday, easy to use service and friendly helpful staff when needed, 😀


Absolutely brilliant service
Absolutely brilliant service and excellent customer support 👏


FAQs
How long does it take to fly to Crete?

It takes about four hours to fly to Crete from the UK.
What's the time difference between the UK and Crete?

Crete is two hours ahead of the time in the UK.
What currency do they use in Crete?

The official currency of Crete is the Euro.
What language do they speak in Crete?

The official language spoken in Crete is Greek.