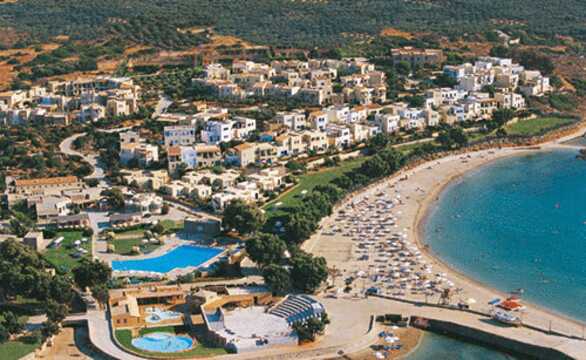 If you're one for peace and quiet and want to get away from commercial holidays, then Sissi is the place for you. Surrounded by picturesque beaches and beautiful coves, this resort feels like another world. On the north coast of Crete, Sissi is only 24 miles east of Heraklion and 3 miles east of Malia.
Although this resort is for those craving a quiet holiday, those who want a bit more action can head 30 minutes out to Agios Nikolaos where it has a more lively feel. The weather is fairly good all year round so whether you want to sunbathe on the beach or poolside at one of the many hotels then the summer months are the time for you.
Sissi's beaches are something to behold as the soft golden sand and blue seas will definitely make this a holiday to remember. Sissi beach is safe for swimming as it is protected by a wave-breaker so this is ideal for those on a family holiday.
The bay to the east of the village has a nice sandy beach with modest facilities and there is a small beach near the harbour. Those wanting to participate in some snorkelling should head to the beach next to the Hellenic Palace Hotel as the little island is off shore and perfect for snorkelling.
There are only a limited number of bars and tavernas in Sissi which to some is it's main appeal. Do not expect nightclubs open till dawn with loud music, this resort is for those craving peace and quiet. However, if peace and quiet is not your thing, you can head to Malia and Hersonissos, both of which have many bars and clubs.
View destination on a map
Sissi Weather
As expected in Crete the weather stays fairly decent all year round, much better than the UK anyway! The weather in Crete is characterised by mild, rainy winters and hot, dry summers. Months from January to May, you can expect some rainy days but there are plenty of sunny days too. The weather can be pretty unpredictable in these months so if you plan on visiting the resort in this period, make sure you bring a coat!
Those who are sun lovers will enjoy June, July and August as although it can be windy the sun is always out and the temperatures usually hit around the 30's. Expect the later months to be unpredictable with rain showers so pack your warm clothes.
Things To Do on Sissi Holidays
Those who love to stare out at stunning scenery will want to visit the port at the end of Sissi's main road. Beautiful blue waters surrounded by beach tavernas make it a perfect place to stop off, buy a drink and take in the fantastic view. The harbourage was created by the sea burrowing deep far into the land, forming a long bay which is a perfect photo opportunity.
If you fancy taking an adventure would be interested with the archaeological site in Malia or Milatos with it's seaside tavernas. Other exciting sites include, the monastry of St. George of Selinari, the traditional village of Vrahassi and historic Spinalonga.
Culture
Those wanting to get a sense of culture may want to visit the festivals held in nearby Agios Nikolaos. They hold an arts festival from late July until early September with traditional Cretan dance troupes and musicians. On rare occasions the locals sometimes throw parties for visiting foreigners who favour the festivals than nightclubs in Malia.
Book a Sissi Holiday now!
This resort is perfect for those wanting a peaceful holiday so if you want time away from the stresses of work, this is the place for you. On the Beach offers some great deals on hotels and flights to Crete so why not book now!