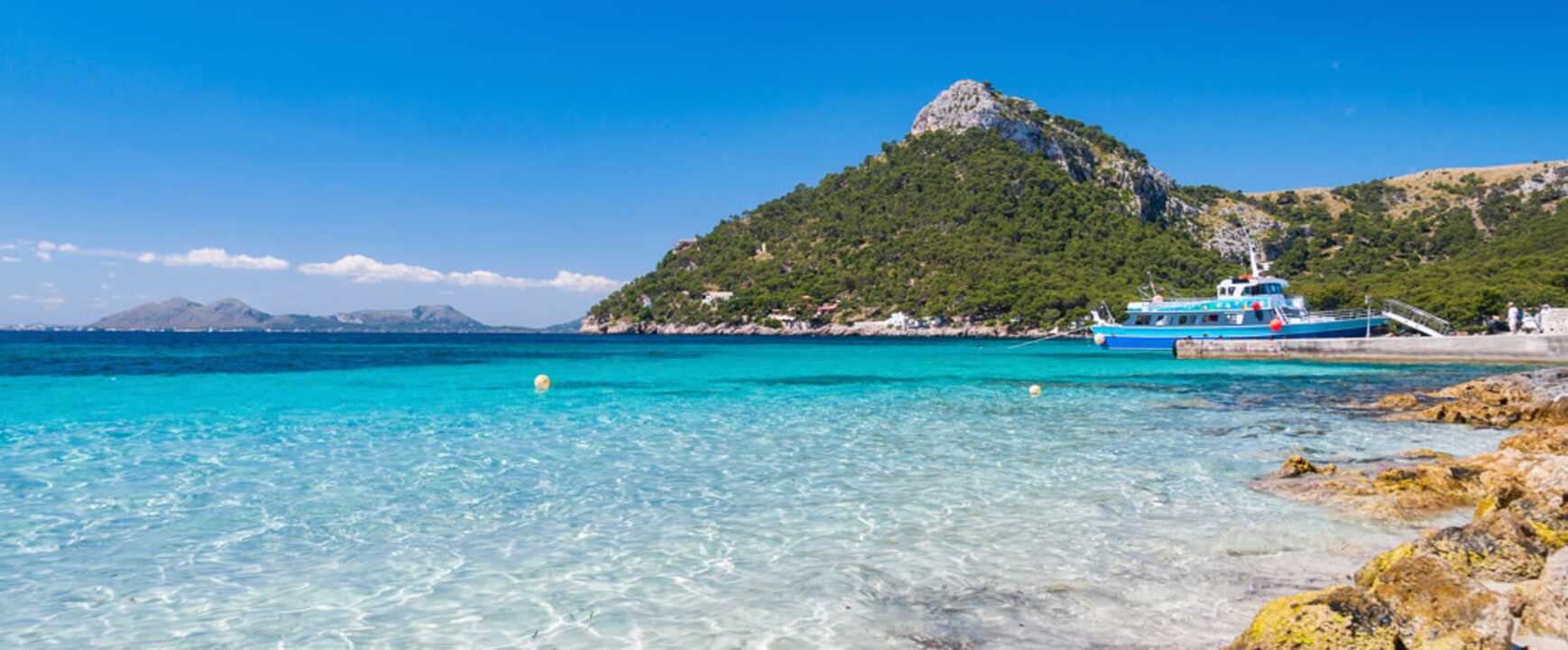 Offering an abundance of sandy beaches, wonderful sun and buzzing nightlife, Majorcan holidays are always in the top ten list for British holidaymakers. This is partly down to its short flight time of 2h30mins from the UK and guaranteed year-round warm weather. Whatever type of holiday you're looking for, On the Beach has got you covered when choosing the best cheap deal for a holiday to Majorca.
The biggest of the Balearics, for all fact fans - Majorca (or Mallorca to the locals) derives from the Latin meaning 'larger island', although you can easily drive from east to west of the island in two hours.
With popular holiday resorts in each of Majorca's four corners, take your pick from idyllic villages such as the picturesque Puerto De Soller, Cala D'Or and Alcudia dotted along the coastline, or other more lively, holiday hotspots including infamous party place Magaluf and ideal choice for a clubbing holiday. Even the capital Palma, has something different to offer and well worth a day trip, steeped in rich history, Palma is a treasure-trove of tapas bars, boutiques and of course the notable Gothic Cathedral of La Seu.
View destination on a map
Majorca Weather
Boasting a typical Mediterranean climate, Majorca is treated to an average of sun 300 days a year, so your shades and shorts will get a good airing. As expected, the hottest months mirror those of the UK with the temperatures in July and August hovering around the 26 degree mark, but blue skies and sun remain de rigueur from June right through to early September – however, it is worth noting that if you plan to explore the mountainous regions, an extra layer or two to protect you from that cool sea breeze won't go amiss.
During October and November you may get caught in a few showers, with October being the wettest month of the year, but it is still warm enough to enjoy the beach with an average high of 22°C in October and 17°C in November.
Landscape
Made up primarily of cliffs, caves and coastline, with beaches in the north and the south of the island, the Mallorcan landscape is easy to tackle whatever your age, and with a multitude of hire cars and day trips to choose from, you can easily explore the island in a day.
Things To Do on Majorca Holidays
There's more to Majorca holidays than beautiful beaches. There is so much to see and do, whether you're on a family holiday in Majorca or looking for exciting nightlife for you and your friends.
Culture
Don't be put off if you can't speak a word of Spanish – you won't need to. Completely geared up to the tourist market, Mallorcans are more than happy to converse in English, and you'll find all menus, maps and attractions will include an English translation. That's not to say that they don't follow age-old traditions though, and if you're wandering through a town or village of an afternoon, it's likely that the majority of shops and bars will be closed so the Spanish vendors can enjoy their afternoon siesta. And if you can't beat 'em, join 'em!
Primarily Roman Catholic, most Mallorcans still attend church on a Sunday morning and are not adverse to welcoming tourists along, but it's always best to verify it with the church first. The island also holds several fiestas throughout the year, one of the most popular being Saint Sebastian's Day in January.
Families
Majorca holidays are fantastic for families; there are so many family activities for everyone to enjoy. There's a choice of water parks to visit, including Aqualandia/El Foro de Mallorca in Palma, Aquapark in Magalluf, Hydropark and Aquacity S'Arenal in Platja de Palma.
Animal lovers will LOVE Majorca holidays. The Auto Safari is incredibly popular with families, introducing you to zebras, monkeys, giraffes and lots more. MarineLand in Costa d'en Blanes showcases sea-lions, dolphins, penguins and tropical fish.

Couples
Alternatively, if it's an adults-only vacation, don't miss Santa Ponsa's picturesque harbour or the capital city of Palma. Both famed for being celebrity haunts, if you want a slice of sophistication, this is where it's at. From designer shopping to flashy restaurants, castles to cathedrals and boats to bazaars, it's the perfect mix of culture and consumption.
Nightlife
After-hours you will find just as much variation. Most hotels and apartments offer evening excursions where you can experience a traditional Spanish night out and get wined and dined with Sangria and tapas whilst watching Flamenco dancers and castanet players perform.
If you prefer to make your own entertainment you will find that the nightlife in Majorca varies from resort to resort. For a lively evening, head to the southern resorts as they have a wider range of bars and clubs. The northern resorts are much quieter and holiday-makers tend to spend their evenings in restaurants and quiet bars.
The liveliest resort in Majorca is Magalluf which has a huge choice of busy English themed pubs, clubs and bars aimed at those wanting to party all night, the most famous being the BCM club. Palma Nova is also busy but aimed more at families and couples.

Who goes to Majorca?
Majorca holidays are enjoyed every year by a variety of visitors, including couples, families and youngsters looking for fantastic nightlife. So whether you want to kick-back, relax and soak up the sun with your other half, party all night with your best buds or take a trip round the island with your family, you won't be disappointed - all you need to do is choose the right resort for you.
Book a Majorca Holiday now!
On the Beach, offers the cheapest Majorca holidays available. Try partying in Magalluf, watch the sunset over El Arenal, or splash about in the Mediterranean Sea at Puerto Pollensa.
Majorca Resorts