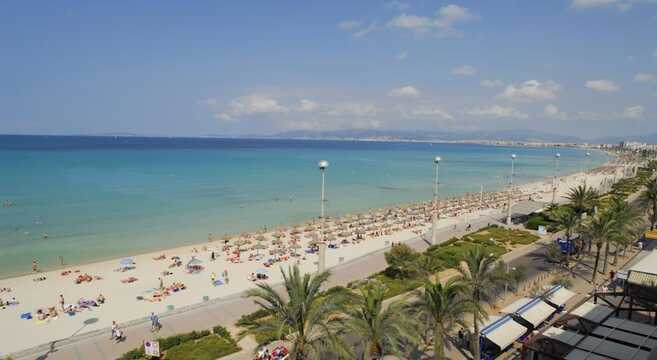 Read more about El Arenal
El Arenal is situated along the central south coast of Majorca and is approximately 6 miles east of the capital, Palma. The resort lies at the eastern end of the stretch of beach running from C'an Pastilla through Playa de Palma to El Arenal. Beautiful coasts and stunning scenery make this a perfect holiday for those wanting to be active.
The beach in El Arenal is extremely popular, now more than ever as it has been awarded with the blue flag for cleanliness and facilities available. It is perfect for anyone wanting to take a dip in the warm Mediterranean or just relax on a sunbed toping up their tan.
One feature on the coastline that deserves a mention are the Balnearios which run the full length of the resort. These beach huts usually have toilets, showers and a kiosk which will definitely prove useful on your stay. Wherever you head in El Arenal you will be greeted by the gorgeous coastal scenes that surround you.
For nightlife, there are plenty of bars and restaurants for those looking for a more quiet affair. The restaurants serve different cuisines ranging in price with everything from Chinese and Indian to English and Spanish cuisine on offer.
While there is no shortage of clubs in El Arenal, it is well worth the trip to the party resorts of Magalluf or Santa Ponsa.
View destination on a map
El Arenal Weather
Sun lovers should head on holidays to El Arenal in July and August as the temperatures are at their highest during these peak months. There are plenty of sunbeds and umbrellas on the beaches if you need some shade when the Mediterranean sun gets a bit too much. Temperatures in the winter months are in around 20 ° Celsius so bring some warm clothing for the evenings. Regardless, there's still plenty of sun and blue skies on El Arenal holidays!
Things To Do on El Arenal Holidays
Exercise fanatics will enjoy the walk between the three resorts of C'an Pastilla, Playa de Palma and El Arenal as they are joined by a wide and pedestrianised promenade. If you want a change of scenery, take a 15 minute bus trip to Palma as there is plenty to keep you occupied for a day. Palma has a depth of history, culture and nightlife but if you want to see most of Palma in a day, there is a number 50 sightseeing bus which takes you to all the major sights in the city.
Back in El Arenal why not practice your golfing skills at the Golf Fantasia mini golf course where you can test your skills over 54 Jurassic Park themed holes. If you still have energy left, the biggest water park in Majorca is situated just on the outskirts of the resort. Aqualand el Arenal is open through the summer months until October but be aware of queues if you visit in the summer. There's plenty to keep you occupied whether you're on holidays in El Arenal by yourself, as a couple or with your family.
Culture
Majorca's history is diverse to say the least. Throughout history the island has been subject to occupation by various empires, each leaving a distinct footprint in terms of architecture, culture, language and traditions. This is what we can see today, even if tourism is now a big part of the island's culture.
There is a street market in El Arenal held every Thursday offering many unique gifts for you to take home and plenty of bargains too! Those who want to indulge in Majorca's culture should head to nearby Palma.
June is a great time to take your Majorca holidays as there is a fantastic festival held every year in Cala Millor called the Son Serva Fair that isn't to be missed. If you are visiting in August, head to nearby Palma and spend a day drooling with envy at the international yachting regatta.
Book a El Arenal Holiday now!
El Arenal is definitely one for the party animals as the nightlife is much more lively than a lot of the other resorts in Majorca. However, El Arenal is also suitable for families due to the long beaches and ample family-friendly facilities.
On the Beach has some great offers on flights to Majorca and accommodation in El Arenal. Make sure you do not miss out on our fantastic offers - use our live booking system to create your own customised holiday in El Arenal today!