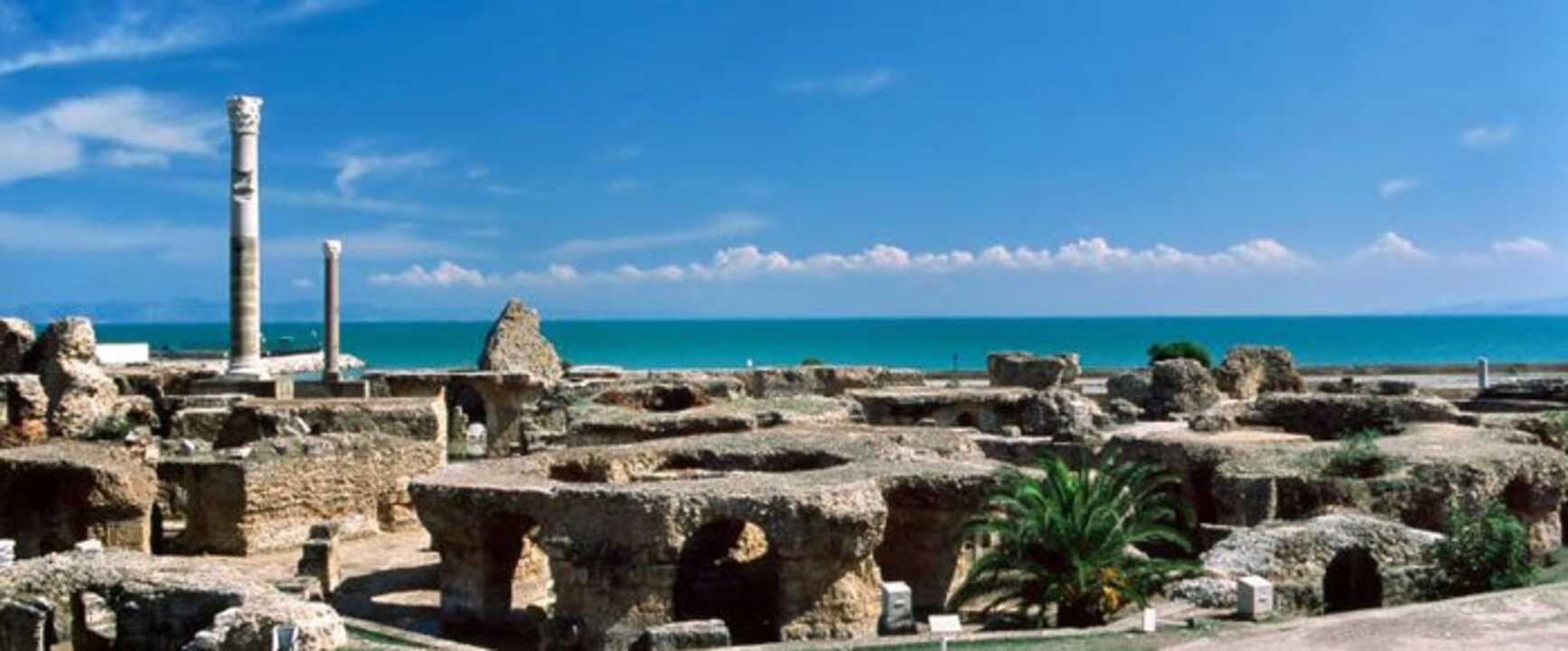 We do not currently sell holidays in this destination
View destination on a map
Tunisia Weather
The weather in Tunisia varies significantly depending on the region you are visiting. You will find cooler weather in the mountains and hotter and dryer weather in the southern regions which border the Sahara.
The popular beach resorts in Tunisia are hot and sunny and are often referred to mimic Mediterranean weather rather than an African climate. Averaging at approximately 33ºc during August, the summer temperatures are comfortable and you will normally find a pleasant breeze to cool you down. The temperatures are usually much higher as you go inland and the desert south can be incredibly hot.
During the autumn months you will find temperatures in the mid 20s, making it an ideal holiday destination during these months if you prefer a more relaxed heat.
Things To Do on Tunisia Holidays
To truly unwind in Tunisia, take a hammam which is a Turkish bath, popular with both tourists and locals. You will find these Turkish baths throughout Tunisia, with many of them dating bath to the Roman and Punic times.
Take time to enjoy Tunisia'sbreathtaking natural beauty and visit the mountain regions to get away from the busy resorts and cities, or sunbath on one of the stunning beaches sitting alongside the crystal blue clear seas. Djerba is a popular secluded island, perfect if you want to sit back and relax, and for amazing beaches, you should visit Hammamet and Yassmine Hammamet, Sousse and Monastir.
Culture
Tunisia is full of history and culture to investigate with many ancient sites to visit including Roman ruins and French colonial architecture. If you want a holiday which is full of historical remains then you will not be disappointed with Tunisia.
Tunisia is home to two World Heritage sites which are definitely worth a visit while you are in Tunisia. The archaeological site of Carthage is an ancient Roman city which is famous for its baths from the reign of Roman Emperor Antoninus, ports and an amphitheatre. Tunis Medina was considered one of the greatest and richest cities in the Islamic world, and is now popular for its winding streets crammed with history alongside souvenir shops and markets.
The Bardo Museum in Tunis is in itself a spectacular architectural landmark, housing the finest collection of Roman mosaics including pieces from all the main stages in Tunisia's history.
In El Jen you will find the world's third largest Roman Coliseum which was constructed between 230 and 238 CE and is where the gladiators battled to their death watched by up to 30,000 spectators.
Families
Friguia Animal Park in Port El Kantaoui, Sousse is part of a world program to save endangered species and houses more than 30 species for you to enjoy and with wooden walkways you can get so close to animals like lions, tigers and cheetahs that its not for the faint hearted!
For water fun, head to Park Flipper which is Hammamet's only aqua park boasting 13 huge toboggan slides, large swimming pools and sun loungers for mum and dad to relax.
Adventure
For an amazing adventure, go desert trekking from Douz which you can do either bycamel or in a 4-wheel drive. If this isn't adventurous enough for you, why not go dune skiing, desert go-karting or take a flight in a light aircraft over these beautiful dunes.
Tunisia's desert isn't only beautiful, its also very famous! The English Patient and the Star Wars films were both filmed here, so don't miss out on visiting this blockbuster movie location!
For golf enthusiasts you will find fantastic courses at Port el Kantaoui near Sousse, Monastir, Monastir, Tabarka, Carthage at Tunis, Tozeur, Djerba and Hammamet.
Nightlife
Traditional dishes in Tunisia mostly consists of Arabic, Mediterranean, Middle Eastern and also has French influences. National specialities include couscous (ground semolina served with meat, fish or vegetable sauce), Harissa (chilli paste), Salade Mechouia (roasted vegetable salad), Tajine (a kind of omelette) and Brik (a tasty filling, using tuna, egg, onions, capers and parsley, deep-friend in pastry).
For those who enjoy a glass of wine with your supper, you will be glad to hear that although Tunisia is an Islamic country, alcohol is not prohibited meaning you can get a fantastic range of local table wines, sparkling wines, beers, aperitifs and local liqueurs.
Who goes to Tunisia?
Tunisia is the perfect destination for those looking to relax on the beach, and investigate the countries history and culture. We wouldn't recommend it to those looking for a lively nightlife as most of the evening entertainment is centred around the hotels.
Book a Tunisia Holiday now!
With On the Beach you can book your holiday to Tunisia now with the assurance you are getting an amazing holiday at the best, unbeatable price. By using our online booking system you can create a Tunisia holiday tailored to your need and budget to ensure you get that holiday of a lifetime!
Tunisia Resorts