Natural beauty, historic monuments, delicious cuisine and local hospitality are just a handful of the attractions that have made Portugal such a hotspot for holiday destinations. From the rustic cities of Lisbon and Porto to the country's rugged coastal scenery, both urban getaways and beachside lounging can be catered for. Comprising seven diverse regions, holidaymakers can experience the range of landscape and culture blended throughout the country. BeachesThe southern region of the Algarve boasts Portugal's finest beaches. Popular holiday destinations include Albufeira and Lagos, with plenty of Blue Flag and accessible beaches to choose from. Whether wide golden sands or hidden rocky coves float your boat, there's endless coastline to choose from. The wilder waves found heading north provide ideal surfing conditions, while the Portuguese islands of Madeira and the Azores offer shores ranging from white and black sands to pebble beaches. Culture Being one of Europe's oldest states, rich culture can be witnessed in many forms throughout the country. History and heritage are found in Lisbon, from Moorish castles to unique architecture and urban art lining the cobbled streets. Meanwhile a more laidback way of life takes precedence in rural and coastal areas. There is strong bond between Portuguese culture and the country's maritime history, as can be seen from its food to its architecture to the local festivities. Food & Drink Hearty, fresh and Mediterranean. Portuguese cuisine typically consists of seafood stews and meat dishes, amongst a plateau of cheese, olives and grilled sardines. And when it comes to wine, the Portuguese have got it down to a T. Go for the light and crisp Vihno Verde or sip on strong and sweet Port. Meanwhile, the famous Pastel de Nata (egg tarts) make for a delectable dessert or snack. NightlifeWhether you like your nightlife chilled out or loud and lively, you'll find it in Portugal. Lagos or Albufeira in the Algarve offer a dynamic party scene, with the marinas playing host to a number of bars and dancing venues. It's hugely popular with tourists and has a great holiday atmosphere. More chilled out vibes can be found in the cities, be it in hip bars, local clubs or Lisbon's live Fado performance hotspots. Important InformationFlight Time: 3hrTime Difference: 0hrCurrency: Euro Official Language: Portuguese
View destination on a map
Portugal Weather
Weather
Enjoying a Mediterranean climate, Portugal benefits from balmy summers and mild winters. In the southern parts of the country, particularly the Algarve region, the weather is hot and dry during the high season. The southern regions are dry with little rain while the north is cooler and gets a little more rainfall, due to the area's mountainous landscape.
Things To Do on Portugal Holidays
Listen to Fado music Combine an evening out with an insight into Portuguese culture, by listening to some of the most heartfelt folk music you're ever likely to hear. The expressive sounds of Fado can be found in the dimly lit bars of Lisbon's Bairro Alto and Alfama districts, the taverns of Porto or the student venues of Coimbra. Attracting a mix of locals and tourists, these traditional performances will make for a memorable and authentic cultural experience. Castles in SintraHistory, adventure and striking architecture can be found in the charming town of Sintra. An easy day trip from Lisbon, you can roam around the gothic Regaleira Palace and colourful Pena Palace, before exploring the Moorish castle ruins with panoramic hilltop views. Be sure to stop off at one of the town's quaint pastry shops for a delicious Pastel de Nata to keep you going. Praia da MarinhaRecognised as one of Europe's most beautiful beaches by the Michelin Guide, this has to be on our recommended bucket list when visiting Portugal! Its golden sands meet with rugged rocky cliffs that tower above the aquamarine Atlantic Ocean. The crystal clear waters make for idyllic snorkelling conditions, while there's even more to be seen with a boat trip to the surrounding caves. If you're dreaming about that iconic Portuguese beach, you can't beat Praia da Marinha. Douro Valley Set just outside of Porto, you can witness the lush landscape of Douro Valley. It is one of the world's oldest wine regions – providing the nearby city with its namesake Port wine – and is also a UNESCO world heritage site. The gorgeous scenery alone makes these wineries worth the visit, but taking the opportunity to taste Port and visiting the informative Douro Museum are also on the menu.
Portugal Resorts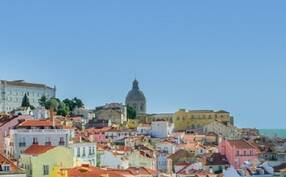 Soak up the sun, appreciate the culture and experience copious amounts of delicious cuisine in Portugal's capital city. Spend your days wandering thro…
Read more on Lisbon Travel Guide
Sunshine and seafood are the Algarve's main claims to fame. And, with over 150km of coastline, it's no surprise that this region of Portugal offers mo…