Stunning coastline and beaches in the Algarve, a taste of island paradise in Madeira and vibrant city life in Lisbon – Portugal has so much to offer. It's no wonder that this country was home to some of the world's first explorers and adventurers, as its landscape is perfect for cycling and hiking, and its waters are heaven for surfers and scuba divers. It's not all get-up-and-go though, Portugal's great weather makes it the perfect place to relax on the beach or unwind by the pool, too. Feeling romantic? Portugal's stunning scenery makes the perfect backdrop for a dreamy couples getaway, with the beautiful beaches, delicious dishes and dazzling sunshine.
Beaches
Portugal's beaches are what dreams are made of. On the Algarve coast you'll find long, sandy beaches nestled between rugged stretches of rocky coast, as well as an endless array of caves and coves to discover. Head to Praia da Oura in
Albufeira
if you're looking for a pretty beach with great amenities – you'll find watersports, sun loungers, restaurants and a great selection of All Inclusive hotels here. Alternatively, combine a Lisbon city break with some laidback lazing on Praia de Santo Amaro, a stunning beach just 20 minutes from the capital by train.
Food & Drink
Although piri piri spices have taken the world by storm thanks to a certain cheeky chicken restaurant, Portuguese food has much more to offer. Hearty and fresh, the cuisine here is overflowing with flavour and passion. Expect to see menus starring local seafood catches, cheese and olives, as well as cured meats and chourico – spicy sausage. When it comes to wine, Portugal has it down to a T. Go for the light and crisp vino verde or sip on strong but sweet port. Meanwhile, the famous pastel de nata (egg tarts to me and you) make for a delectable dessert or snack.
Culture
Portugal is Europe's oldest nation-state, so it's no surprise that it's rich in culture. A really good way to get to know the country is to attend some of its vibrant festivals. From the Sardine Festival in Portimao, to the Carnaval celebrations each May in Lisbon and many towns along the Algarve coast, there's an event to highlight every part of Portuguese heritage and history to choose from.
Nightlife
Are you after chilled vibes or wild nights? You'll find whatever you're looking for when the sun sets on Portugal. Lagos and Albufeira in the Algarve offer a dynamic party scene, with the marinas playing host to a number of bars and clubs. Check out Steps Bar in Albufeira Old Town for dancing till late, or MJ's Bar in Lagos for happy hour. In Lisbon, head to Noobai Café for a special-occasion sangria with a great view.
Important Information
Flight Time: 3hrsTime Difference: 0hrsCurrency: EuroOfficial Language: Portuguese
Vaccinations
Please check with your healthcare provider for all up to date vaccination advice before booking your holiday.
Visa
British Passport holders don't need a visa to visit Portugal. Holders of other passports are advised to check with their national embassy for any visa requirements.
Is Portugal the place for you? Check out our All Inclusive Holidays in Portugal!
View destination on a map
Portugal Weather
Enjoying a Mediterranean climate, Portugal benefits from balmy summers and mild winters. In the southern parts of the country, particularly the Algarve region, the weather is hot and dry during the high season. The southern regions are dry with little rain while the north is cooler and gets a little more rainfall, due to the area's mountainous landscape.
Things To Do on Portugal Holidays
Listen to fado musicCombine an evening out with a step into Portuguese culture by listening to some of the most heartfelt folk music you're ever likely to hear. The expressive sounds of fado can be heard in the dimly lit bars of Lisbon's Bairro Alto and Alfama districts, the taverns of Porto or the student venues of Coimbra. Attracting a mix of locals and tourists, these traditional performances will make for a memorable and authentic cultural experience.Castle-spotting in SintraHistory, adventure and striking architecture can be found in the charming town of Sintra. An easy day trip from Lisbon, you can roam around the gothic Regaleira Palace and colourful Pena Palace before exploring the Moorish castle ruins with panoramic hilltop views. Be sure to stop off at one of the town's quaint pastry shops for a delicious pastel de nata tart to keep you going. Beach day at Praia da MarinhaRecognised as one of Europe's most beautiful beaches by the Michelin Guide, this stretch of sand makes the top of our beachy bucket list - the golden crescent meets with rugged rocky cliffs that tower above the aquamarine Atlantic Ocean. The crystal clear waters make for idyllic snorkelling conditions, while there's even more to be seen with a boat trip to the surrounding caves. If you're dreaming about that iconic Portuguese beach, trust us, you can't beat Praia da Marinha. Douro Valley Set just outside of Porto, you'll find the lush landscape of Douro Valley. It is one of the world's oldest wine regions – providing the nearby city with its namesake port wine – and is also a UNESCO world heritage site. The gorgeous scenery alone makes these wineries worth the visit, but taking the opportunity to sample some port and visit the informative Douro Museum is also a must.
Portugal Resorts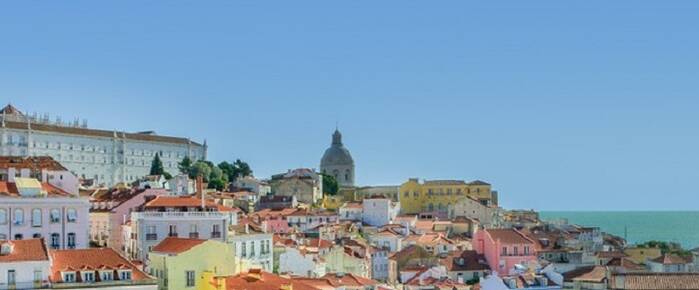 Soak up the sun, appreciate the culture and experience copious amounts of delicious cuisine on a city break to Portugal's capital city. Spend your day…
Read more on Lisbon Travel Guide
Sunshine and seafood are the Algarve's main claims to fame. And, with over 150km of coastline, it's no surprise that this region of Portugal offers mo…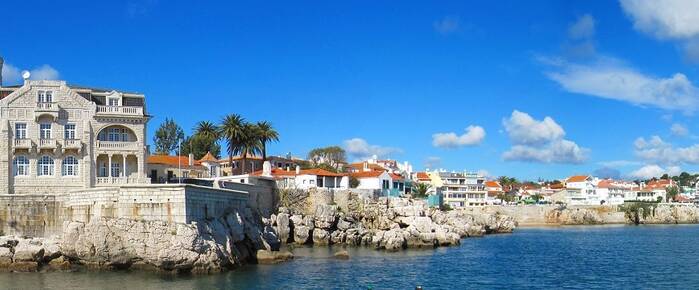 If Cascais isn't on your wanderlust radar, it should be. This Portuguese resort offers the perfect mix of beaches and bars; it even was awarded the ti…