Incredibly popular all year round, a holiday to sunny Portugal, offers hot, dry summers and warm winters. One of the oldest and smallest countries in Europe, with a rich marine heritage and a number of beautiful beach resorts, fascinating towns and charming whitewashed villages, not to mention wonderful hospitality, Portugal just oozes character!
The majority of cheap Portuguese beach holidays tend to be based around the south coast, collectively known as the Algarve with its popular resorts of Lagos, Luz, Albufeira and Vilamoura. The sunkissed Algarve coastline is home to a number of lovely resorts, fantastic golf courses, lots of water sports, and, of course, incredible weather. Portugal is a great choice for a winter sun holiday too, with mild temperatures hovering around 17c or 63f.
The Costa de Algarve is by far Portugal's most popular holiday destination. The fantastic championship golf courses scattered along the Algarve coastline makes is a golfer's paradise. Inland, the wooded mountains of Serra de Monchique show another side of the this beautiful region. Remote villages mingle with olive and orange groves, fig, quince and carob trees and the Algarve's famous almond trees laden with blossom.
The island of Madeira is an all year-round holiday destination and combines a rugged coastline, volcanic caves, traditional villages and gorgeous beaches. The island is popular due to its natural beauty including a multitude of gardens and parks showcasing the best of Portugal's flowers. However, for beach lovers there are only a few sandy beaches such as Praia da Jamaica with the majority being pebbled such as Madalena do Mar. For those wanting some culture the capital, Funchal will keep you occupied with its picturesque squares, charming old streets and historical monuments.
For those wanting a cosmopolitan city break mixed with beautiful beaches and historical charm, Lisbon is for you. The Portuguese capital is on the north banks of the River Tagus and has plenty to see including many renovated palaces, churches and rich cultural heritage.
Capital: Lisbon
Currency: Euro
Time Zone: GMT
View destination on a map
Portugal Weather
Portugal is one of the warmest and driest countries in Europe, so any time you book a cheap holiday in Portugal you're pretty much guaranteed sun! During the summer the weather is hot and dry with some areas seeing temperatures as high as 45°c. Enjoying a Mediterranean climate, the different regions of Portugal enjoy different variations of this beautiful weather.
In the southern parts of the country, and the Algarve region in particular, the weather can get very hot. Winters are cooler but still very mild. The southern regions are dry with little rainfall while the areas in the north of the country get a little more rainfall.
Northern Portugal is a little cooler due to the high rise of the mountains, as the higher you are the cooler the temperature and higher the rainfall. The weather by the coast is hot in the summer and mild in the winter.
Things To Do on Portugal Holidays
Portugal is one of the top holiday destinations because it is jam packed full of things to do which will suit everyones needs! Take a look at our activity guide below to see exactly what a holiday in Portugal can offer!
Culture
If you like historic architecture, you can't go far wrong with a holiday in Portugal. Silves, near the town of Carvoeira is home to the ruins of a medieval castle. Meanwhile in Tavira you'll find a stunning Roman bridge and the Misericordia church in the town centre which dates back to 1541.
Portugal has a rich history and culture, particularly when it comes to religion. The country hosts many religious festivals throughout the year so you're likely to witness one no matter what time of year you choose to go on holidays to Portugal. There are also various town fairs during which the whole town gets together to celebrate. Monte Gordo for example plays host to the October Fair, Faro features the Senhora do Carmo Festivities and Fair while in Castro Marim you can take part in medieval days. The country's rich history is also apparent in the fantastic architecture and many historic monuments and ruins.
Adventure
Surfing, windsurfing and sailing are fantastic activities in Portugal which will add a little adventure to your holiday! Taking advantage of the 500-mile long coastline that Portugal offers, the more expert surfers should head to Lisbon as it offers more challenging waters than in the Algarve, where you will find tamer seas. You can also enjoy canoeing and kayaking along Portugal's rivers, and will find lots of equipment hire centres around to help you.
Portugal has a proud equestrian tradition and the Lusitano horse is world famous. Facilities include famous riding schools where experts can hone their dressage skills to stables where less experienced riders can take a horse out to enjoy the beautiful scenery and landscape that Portugal offers.
Nightlife
Have you decided on your next holiday yet? The nightlife in Portugal may persuade you... Whether you like your nightlife relaxing and chilled out or loud and lively, you'll find it on holidays in Portugal. Of course, eating out is also a great way to enjoy an evening out and luckily Portugal is well catered for! There is a fabulous choice of restaurants offering traditional Portuguese fare and cuisines from all over the world.
If it's a big night out you're after, we recommend Lagos. The marina is a bustling area with plenty of cocktail bars, restaurants and pubs. It's hugely popular with tourists and has a great holiday atmosphere.
The bustling town of Vilamoura is renowned as a night destination. Head to the marina and take in the sights of the huge yachts moored here before an evening meal in one of the many classy restaurants.
Relaxation
The main attraction that keeps bringing people back on Portugal holidays are the absolutely beautiful beaches. There are plenty to choose from on the Algarve and western coasts from quiet secluded alcoves to large lively beaches offering a host of watersports to enjoy or simply lie back and relax while sunbathing on the beach! Head to Praia da Rocha or Praia da Luz for some of the best stretches of beach in the Algarve.
Book a Portugal Holiday now!
We make holidays in Portugal affordable. On the Beach has made things even easier by offering some of the best deals around on holidays all across the region. Whether it's a chilled out break you're after or a fortnight of partying you're sure to find what you want – not forgetting fabulous beaches, great attractions and a rich culture to boot.
If you're looking for a holiday that has it all but you don't want to get yourself in the red paying for it then check out On the Beach and you could be jetting off to Portugal before you know it!
Portugal Resorts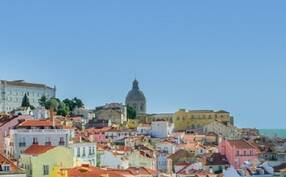 Soak up the sun, appreciate the culture and experience copious amounts of delicious cuisine in Portugal's capital city. Spend your days wandering thro…
Read more on Lisbon Travel Guide
Imagine gorgeous beaches, quiet sandy coves, quaint cobbled villages and glorious hospitality, and you've summed up Portugal's prime holiday destinati…