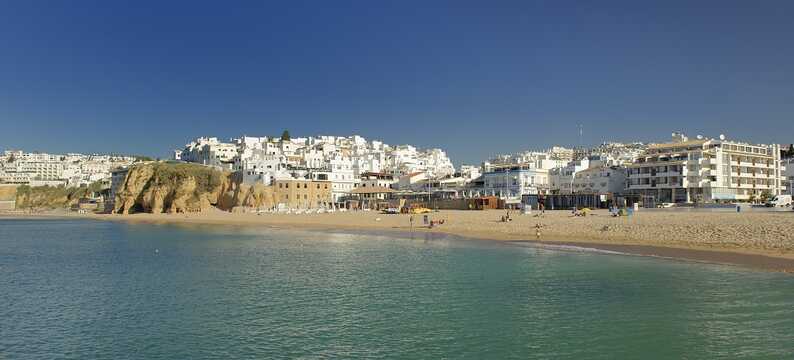 Read more about Montechoro
What are you looking for in a holiday? Fancy restaurants? Plenty of culture? Fabulous beaches? Great nightlife? Or how about all of them? Montechoro holidays in the Algarve has a little bit of everything making it the ideal holiday for families, couples or friends!
More destinations
Albufeira, Almancil, Altura, Alvor, Balaia, Cabanas, Carvoeiro, Faro, Lagos, Monte Gordo, Portimao, Praia da Luz, Praia da Oura, Praia da Rocha, Quarteira, Quinta do Lago, Tavira, Vale do Lobo, Vilamoura
View destination on a map
Montechoro Weather
The weather in the Algarve is nothing short of perfect. Summers are hot and dry so there are plenty of opportunities to work up your tan on Montechoro holidays. Winters are mild with little rainfall, which is why tourists flock on holidays to Montechoro all year round, with summer obviously the most popular time.
Landscape
As you might expect from an Algarve holiday, the most spectacular attraction in Montechoro is the nearby beach at Praia da Oura. The beach is just 10 minutes from Montechoro and is known as The Golden Beach because of its beautiful golden sands. It is surrounded by sandstone cliffs and is one of the most beautiful beaches on the island. For a quieter beach, head to Praia dos Aveiros.
Things To Do on Montechoro Holidays
There is plenty to while on holidays to Montechoro – including indulging in some fabulous shopping. Antique shops are particularly popular in the Algarve resort so you're sure to find something special and unique to take home.
But if shopping is not for you, don't worry, there's plenty more to do on Montechoro holidays. Watersports are a huge attraction for people who come on holidays to Montechoro. If you've always wanted to try scuba diving or water parachuting you can get the chance on one of the several beautiful beaches in the area.
Montechoro has seen a lot of development in recent years and now has a vibrant nightlife. There are plenty of bars and restaurants so visitors can quite easily enjoy a good night out in the town on their Monetchoro holidays. However they also have the choice of heading to nearby Albufiera which is famous for its clubs, pubs, bars and restaurants including Kiss, one of Portugal's most famous nightclubs.
Culture
The Algarve has a rich culture that still remains in the region despite the modernisation and developments that came with the tourism boom. The Algarve calendar is full of feast days and festivals that the region celebrates in style. During August for example there are several agricultural and seafood shows across the region.
During October there's an international car rally while if you visit on holidays to Montechoro in September you'll find the Thanksgiving for Wine Harvest.
Book a Montechoro Holiday now!
Montechoro is ideally situated in the Algarve to give you everything you could want in a holiday. You have the choice of quiet secluded beach or busy, romantic evenings in a nice restaurant or a night of clubbing in Albufiera, and you can even time your holiday to coincide with whatever festival you fancy.
If it's sun, fun and fiestas you're after then this is the place for you. Check out On the Beach now for great Montechoro holiday offers!