Jamaica is fast becoming one of the most popular holiday destinations, not just in the Caribbean but in the world. The combination of beautiful scenery, rich culture and laid-back lifestyle has holiday-makers coming back for more time and time again. Just one holiday in Jamaica and you'll see why. There's little to find fault with on the island so a Jamaican holiday is sure to be memorable one!
Jamaica has plenty of bars and clubs where you can dance and drink the night away but you cannot go on Jamaica holidays without attending one of the beach parties. Most resorts will host a beach party during your stay so you'll always get the chance to experience one, and what an experience they are! A buffet meal on the stunning white sand beaches followed by great music, delicious cocktails and dancing under the stars until the early hours.
Music is a huge part of Jamaican culture with reggae its biggest musical export and musical festivals with dancing and bands take place throughout the year. Of course the most famous aspect of the Jamaican culture is the wonderfully laidback lifestyle of the locals. The friendly atmosphere is famous the world over and is one of the many reasons tourists flock back on holiday to Jamaica every year.
View destination on a map
Jamaica Weather
Jamaica's climate is typical of the Caribbean with warm weather all year round. Of course it also has the typical wet season so be prepared for some rain. September and October have the most rainfall but the wet season lasts from May through November.
Landscape
Jamaica is most popular for its beaches which are out of this world. White sands and crystal blue waters adorn the coastline and lush forests cover the island giving it a truly spectacular landscape. Stunning mountains add to its beauty making it one of the most visually pleasing islands in the Caribbean. It'll be a holiday to remember.
Things To Do on Jamaica Holidays
There are lots of attractions on holidays to Jamaica and most involve the natural landscape. Watersports are particularly popular with deep sea fishing one of the most well-liked pastimes, especially with families. You can spend the day or just a few hours out on the water with a captain who'll teach you the art of deep sea fishing.
With such stunning surroundings in Jamaica it's no surprise that walking is another popular activity. Guides are on hand to show you the true beauty of the island with walks through the Rio Grande Valley. If you want something a little more energetic on your Jamaica holidays try one of the hiking tours which take in the stunning Blue Mountains. You'll get to witness nature at it's most beautiful and it's the perfect way to pass a sunny afternoon.
Culture
One of the most popular historic sites to visit while on holiday in Jamaica is Devon House, a mansion built in 1881 by George Stiebel, who was one of the first black millionaires in the Caribbean. Spanish Town is also a popular sight for history lovers on holiday in Jamaica. Situated on the outskirts of Kingston, it was the capital of the island when it was under Spanish rule 17th and 19th Century.
It's also worth checking out St James Cathedral on your Jamaica holidays, which was built in 1523 and is renowned for it's beautiful architecture. The Town Square is a must-see as you'll get the chance to see the house where both Captain Bligh and Lord Nelson once stayed.
Jamaica is a wonderfully diverse island with influences from many different cultures that can be seen in everything on the island. If you're a food lover you'll be on cloud nine on holiday in Jamaica. There are a wide variety of restaurants, bars and cafes and all serve a huge range of delicacies from Spanish dishes to Indian, from Chinese to African.
Book a Jamaica Holiday now!
On the Beach offer dream Jamaica holidays at affordable prices so you could be jetting off to Jamaica this year and experiencing the delight of the Caribbean for yourself. Check out On The Beach for all the latest cheap holiday deals now and get ready for the holiday of a lifetime.
Jamaica Resorts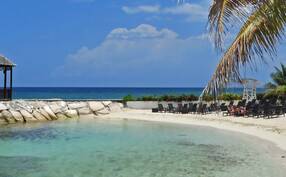 Montego Bay is the perfect introduction to Jamaica with its reggae-infused culture, spicy cuisine and tropical, white sands. The resort is the second…