Jamaica is a one-of-a-kind Caribbean island that moves to its own beat. Full of culture, brimming with character and chock-full of white sand beaches, this unique island has has it all. Whether you're a beach bum looking for the ultimate beach break, a culture vulture looking to explore or a foodie looking to eat their way across the island, Jamaica has something for everyone. And hey, they even have a bobsled team!
Beaches
Close your eyes and picture the most perfect beach imaginable – white sands, bright turquoise waters, palm-fringed sands, blissful hot sun… and plenty of rum. Okay, so maybe the rum is one of our top reasons for heading to Jamaica, but you get the picture. Jamaica is the epitome of picture-perfect beaches and Instagram-worthy views. From secluded stretches hidden off the beaten track to popular beaches with a built in reggae soundtrack, if you're a beach lover then you're sure to find your idea of heaven on this lush, tropical island.If you're looking for a lively beach with more amenities than you can shake a stick at, then head to Negril Beach. This five-mile stretch of alabaster sands is hugely popular with tourists and brimming with beach bars, restaurants, loungers and watersport huts. Find your favourite spot on the hot sands and relax with a drink in hand and a background of Jamaican beats. Winnifred Beach is the place to go for snorkelling, Jamaican-style. The calm waters and easily accessible coral reefs here are perfect for exploring the colourful underwater world. Doctor's Cave Beach is a slightly quieter option, and – while you do have to pay a minimal entrance fee – you won't be disappointed. Radios and street vendors are banned here so you get a much more peaceful experience. Top tip; walk from Doctor's Cave Beach to Cornwall Beach and you'll find a more secluded bay with a lot fewer tourists.
Food & Drink
Aromatic, packed with spices and definitely hearty, Jamaican food is loved the world over – and it's easy to see why! With plenty of meat, veg and fish – plus the institution that is jerk chicken - you'll fall head over heels for this flavoursome food of the soul. For a traditional Jamaican breakfast it's got to be the national dish of
ackee and saltfish
. Dried and salted cod is fried together with ackee (a soft fruit that is first cooked before adding), onions, vegetables and scotch bonnet chilli – a perfect filling dish to start the day! Now let's talk about jerk chicken. Needing absolutely no introduction, this infamous Jamaican staple is renowned across the globe. Chicken is first covered in jerk spice (a mixture of spices including cinnamon, cloves, ginger and garlic), then barbequed to perfection over slow-burning wood. Pair this with rice and peas (which are actually beans) and Jamaican dumplings – or
festival
– and you have the quintessential Jamaican favourite. Other must-try dishes include goat curry, Jamaican
pattys
– traditionally filled with beef, these flaky pastry pockets can be stuffed with a choice of meat or veg fillings and
callaloo
– a green vegetable side dish that packs a flavourful punch. As for drinks, Jamaica isn't short of a choice or two on its liquid libations front. Emanating from this wonderful island and found today across the globe, Red Stripe is the island's most famous lager beer export. Then, of course, there's the rum! Made with the island's sugarcane, Appleton Rum is a world-renowned golden rum full of rich caramel tones and bursting with Jamaican charm. Finally, you couldn't leave Jamaica without trying the signature Bob Marley cocktail. A refreshing, frozen blend of rum, strawberry, mango and blue curacao – resulting in a mesmerising colourful drink with three separate layers.
Culture
Jamaica's rich and diverse history is reflected in modern-day Jamaican culture in many ways including architecture, religion, food, art and traditions. The majority of Jamaicans follow Christianity with a portion also believing in Rastafari, so you'll likely see plenty of ornate churches dotted across the island. In fact, The Guinness Book of World Record's declared Jamaica to have more churches per square mile than any other country in the world! With a culture based around great food and great times, the lifestyle is both laid-back and full of life at the same time. Expect to see art around every corner and hear the island's iconic reggae beats at every turn. Jamaicans are expressive and family-oriented people with music and dance being two of the main artistic forms of expression. So get ready to get your groove on!
Nightlife
From iconic thatched-roof beach bars to cliffside sunset jaunts and even nightclubs with swimming pools, Jamaica is a truly unique experience and a definite bucket list must. Watch the sunset at the famous Rick's Café in Negril – perched on top of a cliff, this quirky bar offers live music, private cabanas and memorable sunsets. With steps built into the cliff, you can watch the braver few cliff diving while sipping on a cocktail. Montego Bay is home to plenty of bars and clubs such as Pier 1 – a seafood restaurant turned nightclub that hosts top DJs and exclusive events. If you're in Kingston then don't forget to stop by Usain Bolt's famous restaurant bar, Tracks and Records. Expect great food and great music with a lively atmosphere.
Important Information
Flight Time: From 10hrs 15minsTime Difference: -5hrsCurrency: Jamaican DollarOfficial Language: English/Jamaican Patois
---
Thinking of going All Inclusive? Take a look at some of our top
All Inclusive properties in Jamaica
here!
---
View destination on a map
Jamaica Weather
Boasting a hot, humid tropical climate, the temperature remains fairly consistent throughout the year. The hottest months are June to September with temperatures tipping the mercury at 30°C, while December to February show slightly cooler temperatures with averages of 25°C. September to December are the wettest months while February and March have significantly less rainfall. Hurricane season tends to run from June to November with frequent showers.
Landscape
Jamaica is most popular for its beaches which are out of this world. White sands and crystal blue waters adorn the coastline and lush forests cover the island giving it a truly spectacular landscape. Stunning mountains add to its beauty making it one of the most visually pleasing islands in the Caribbean. It'll be a holiday to remember.
Things To Do on Jamaica Holidays
Visit Floyd's Pelican Bar
Propped up on stilts a mile out to sea, Floyd's Pelican Bar is possibly the coolest bar you'll ever visit. Accessed only by boat, this one-of-a-kind quirky bar serves up fresh barbequed fish and ice cold Red Stripe to wash it down.
See the waterfalls
Jamaica's lush green landscape is densely packed with sprawling trees, flowering plants and beautiful cascading waterfalls. Take an organised tour to one of the many sites and you won't be disappointed. Swim in the emerald-hued waters and enjoy a spot of lunch before heading back to your hotel.
Ride the Jamaican bobsled
Channel your inner Olympian and follow in the footsteps of the guys from Cool Runnings (kind of!) as you whizz through the trees about Mystic Mountain's Bobsled.
Bamboo rafting down the Martha Brae River
Take a tour to a nearby village where you'll board a 30ft bamboo raft. Your raftsman will guide you down the river and point out notable sites along the way. There are bars on-site too so you can grab a nice cold refreshing Red Stripe for the journey.
Culture
One of the most popular historic sites to visit while on holiday in Jamaica is Devon House, a mansion built in 1881 by George Stiebel, who was one of the first black millionaires in the Caribbean. Spanish Town is also a popular sight for history lovers on holiday in Jamaica. Situated on the outskirts of Kingston, it was the capital of the island when it was under Spanish rule 17th and 19th Century.
It's also worth checking out St James Cathedral on your Jamaica holidays, which was built in 1523 and is renowned for it's beautiful architecture. The Town Square is a must-see as you'll get the chance to see the house where both Captain Bligh and Lord Nelson once stayed.
Jamaica is a wonderfully diverse island with influences from many different cultures that can be seen in everything on the island. If you're a food lover you'll be on cloud nine on holiday in Jamaica. There are a wide variety of restaurants, bars and cafes and all serve a huge range of delicacies from Spanish dishes to Indian, from Chinese to African.
Book a Jamaica Holiday now!
On the Beach offer dream Jamaica holidays at affordable prices so you could be jetting off to Jamaica this year and experiencing the delight of the Caribbean for yourself. Check out On The Beach for all the latest cheap holiday deals now and get ready for the holiday of a lifetime.
Jamaica Resorts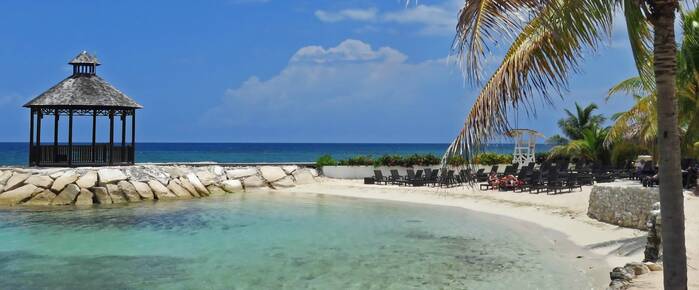 Montego Bay is the perfect introduction to Jamaica with its reggae-infused culture, spicy cuisine and tropical, white sands. The resort is the second…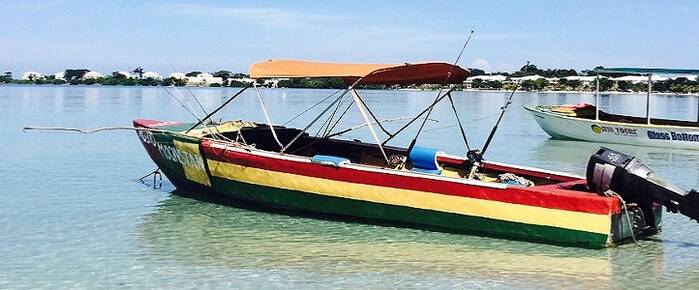 Located to the west of the island of Jamaica, Negril escapes are a great choice for families and couples alike. Negril's main draw for sun seekers of…