Holidays to the Bahamas - the very words conjure up a tropical feel. But there's much more to this Atlantic archipelago than you could expect. A coterie of seven hundred islands, uninhabited rocks and tropical cays straddling a clear blue swathe of ocean between Florida and Cuba, the Bahamas combine all the fun and excitement of a top-class holiday with a laid-back atmosphere that will leave you no option but to chill, however hot it is.
From the bustlingly cosmopolitan capital of Nassau on New Providence Island to the peace and tranquillity of the palm-strewn beaches of Exuma, there is one thing that these disparate isles truly share: sheer beauty. Holidays in the Bahamas are something you'll not forget in a hurry!
All that lounging around and sunning yourself on the spotless white beaches of the Bahamas is of course hard work, so why not relax with a Goombay Smash or coconut cocktail, and take in some brilliant Bahamian nightlife. The haute cuisine of the region consists mainly of any number of restaurant fare from French to Chinese (such as the Spring Moon in Nassau), but for a true taste of the Bahamas, sample some Caribbean grills, meaty crawfish, or freshly boiled conch chowder (a shellfish dish) in the local eateries.
If you fancy getting-down Bahamian style, there are no shortage of places to go, from English-style pubs on Freeport to Nassau's nightclubs and discos.
---
Thinking of going All Inclusive? Take a look at some of our top
All Inclusive properties in the Bahamas
here!
---
View destination on a map
Bahamas Weather
The Bahamas are 8 hours flight from the UK, but a world away in terms of climate, attitude and relaxation. Situated just north of the Caribbean Sea, on 500 miles of clearest water in the world (and we're not kidding), the climate here seems to imitate the Bahamians themselves: beautifully warm and laid back.
Those seeking cloying humidity and the chance to furiously rub Factor 50 onto their sweating brow can look elsewhere because the weather here is perfect and never exceeds the mid 30s°C in high summer, and rarely dropping below 15°C in winter. Balmy winds and omnipresent sun provide the perfect conditions for swimming, watersports, or mingling with those friendly dolphins in the transparent waters around the Blue Lagoon.
Things To Do on Bahamas Holidays
The cliche rings true here: there's something for everyone on Bahamas holidays, from Nassau's museums, such as the striking barbershop-pole lighthouse museum, to the sprawling 18th Century Fort Charlotte overlooking Paradise Island's picturesque port. Go on an amazing nature trail on Bimini to discover the islands' local fauna, or take the kids on a trip to the Aquaventure water park, with it's Atlantis theme.
On the Bahamas' main isles, such as New Providence and Grand Bahamas, you'll find no shortage of every kind of entertainment, but there's no problem island-hopping, with daily ferries and airlines (both chartered and scheduled) a mainstay here. Sailing away from the shops and forests on the big islands can lead to surprises of every kind – there's even a haunted house on Eleuthera!
Culture
The story of the Bahamas begins with Columbus' 1492 landing in San Salvador. In the 17th Century the archipelago became a haven for Britishers seeking refuge from religious persecution, and later for notorious pirates such as Blackbeard, and the even more notorious Southern-American slave owners. Remnants of every aspect of Bahamian history can be found in it's myriad museums, as well as the great coastal forts on Nassau, a reminder of the region's maritime importance.
Bahamas holidays are also known for the world-famous 'Junkanoo' celebrations, the largest being in Nassau in December and January, consisting of riotous goombay music and street parades with peacock-style costumes, face paints and giant throngs that would put any Spanish fiesta to shame! Bahamians are among the world's most tourist-friendly people, and will make you feel welcome whatever time of year you come.
Book a Bahamas Holiday now!
To ensure that you have access to the best deals available on holidays to the Bahamas, we have developed an online booking system that lets our users select from the best cheap Bahamas holidays with accommodation in hotels throughout the islands too. Book with On The Beach today!
Bahamas Resorts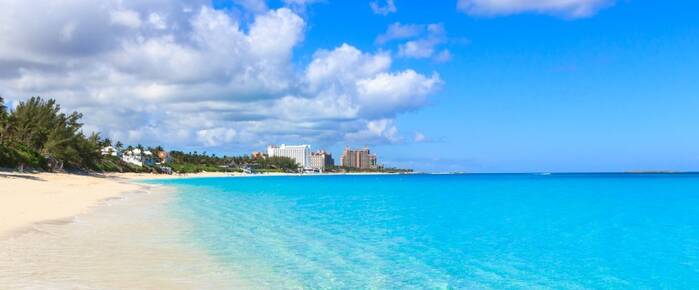 Blissful sun-soaked sands, magical crystal waters and tropical island vibes that will leave you feeling chilled out for weeks to come. The beaches of…