---
Looking to chill underneath blue skies and scorching sun? This diamond of the Caribbean offers year round sun and a beach paradise for you relax in.
---
Destination highlights
Sunshine in winter
The bluest sea you'll ever see
Laidback, beachy lifestyle
Diverse islands
Jump to...
Beaches | Hotels | Food & drink | Nightlife | Events | Things to do | Weather | Important information | Reviews |
---
What are the best beaches in the Bahamas?
The Bahamas isn't just one island - it's 700! And let's be real - when it comes to beach breaks, nowhere can compete with Caribbean holidays. So, it's safe to say that you'll be spoilt for choice where beaches are concerned. Plus, there are quite a few giggle-worthy names in there. Here are our favourites:
Love Beach – a fittingly named beach for romantic strolls and lazing in hammocks.
Junkanoo Beach – or as the locals call it - Spring Break Beach - which is enough to tell you what the party vibe is like here.
Cable Beach – with soft white sands and vivid blue waters, this one's plucked straight from a postcard.
Arawak Beach – clear and shallow waters make this an ideal spot for families and snorkellers.
Cabbage Beach – nope, there's no leafy veg in sight, but there are plenty of watersports - all within easy reach of the capital.
Jaws Beach – a piece of movie history, but it's totally safe to swim - promise!

What are the top hotels in the Bahamas?
All Inclusive holidays to the Bahamas are as much about luxury as they are about fun in the sun, with loads of resorts located right on the beachfront. There are plenty of options for more relaxing breaks by the sea, too. Here are our top picks of both:
The Ocean Club A Four Seasons Resort Bahamas - a five-star haven for travellers, complete with a restaurant overseen by a Michelin-starred chef
Margaritaville Resort - the perfect five-star choice for family holidays to the Bahamas, complete with a waterpark and beachside access
Riu Paradise Island - experience the high-life at this luxury adults-only resort, just steps away from the Caribbean Sea
The Cove At Atlantis - like to have everything on your doorstep? That's exactly what you'll find at Atlantis, with four pools, two beaches, a variety of restaurants and fab evening entertainment
Sandals Royal Bahamian Spa Resort - an adults-only resort with everything you need for a romantic, relaxing getaway - also equipped with accessible rooms and beach wheelchair use
The Island House - ideal for those who like things off the beaten track, this boutique hotel offers stylish rooms and its own arthouse cinema
What's the food like in the Bahamas?
Holidays to the Bahamas are a real treat for foodies. In Caribbean cuisine, local ingredients are key, so you'll find lots of seafood, tropical fruits, and of course - rum! Keep your eyes peeled for these specialties:
Cracked conch - a seafood dish made with the meat from the iconic swirly-shelled conch, coated in breadcrumbs and fried
Souse - a hearty stew that's served at any time, combining root veg and various meats
Pigeon peas and rice - the Bahamian take on a Caribbean classic
Old Sour - a tangy lime and chilli sauce, often served alongside fish
Guava duff - the lush tropical fruit is folded into pastry, baked, and topped with rum custard
Beach holidays in the Bahamas come complete with the finest in-resort dining, but if you fancy looking further afield, try these local favourites:
Bahamian Cookin' Restaurant & Bar, Nassau - a fun and friendly place to try the best traditional dishes close to the shore
Crabs and Ting, Junkanoo Beach - home to the freshest coconuts and seafood right on the sands
Viola's Bar & Grill, Paradise Island - a welcoming spot for families, serving all your Caribbean favourites
Eat Right Delights, Nassau - if seafood's not your thing, this takeaway counter has the best plant-based Bahamian cuisine

Where's the best nightlife in the Bahamas?
Music that makes your body move, friendly service and fresh fruit cocktails are all on the menu once the sun goes down. Check out the best nightlife hotspots across the islands:
Bahama Boom Beach Club, Nassau - considered one of the nation's best, this club has a large dancefloor and a different theme each night
Tiki Bikini Hut, Junkanoo Beach - the place to be as the beach goes from daytime paradise to party central, with local musicians bringing the beats
Rum Runners, Freeport - a totally stylish cocktail bar with live music. Top tip: Ask for a Bahama Mama cocktail before you get too tipsy to say it!
Atlantis Casino, Paradise Island - this flashy location welcomes spenders big and small, with drinks and the latest slots
Arawak Cay, Nassau - this lively beach area is most popular with locals, making it an ideal place to meet Bahamians over fish fry and dancing

What events can I go to in the Bahamas?
Junkanoo isn't just the name of a beach, it's also a special type of Caribbean carnival. You'll catch mini-junkanoos throughout the year, so keep an eye out when planning your 2022 holiday to the Bahamas.
New Year's Day (January) - one of the year's most extravagant junkanoos, showing off the event's African heritage with costumes and music
Bacardi Billfish Tournament (March–June) - keen anglers and deep-sea fishers can join in four competitions at different locations around the island
Bahamas Family Island Regatta(April) - an impressive array of sailboats race around the Elizabeth Harbour
Eleuthera Pineapple Festival (June) - another junkanoo, this time celebrating the juicy yellow fruit! Take part in pineapple eating contests and farm tours across the islands
Emancipation Day (August) - Bahamians celebrate this historical date with junkanoos beginning as early as 4am, cook-outs, and unusual customs - like climbing a greased pole!
Great Bahamas Seafood and Heritage Festival (October) - learn more about the islanders' traditions with storytelling performances and fresh fish
Guy Fawkes Day (November) - the bonfire traditions we know and love, but kicked up a notch with Bahamian flavours
Boxing Day (December) - the last Junkanoo of the year, celebrated across the island with huge colourful parades
Things to do in the Bahamas
Pig out - literally
If swimming with dolphins isn't your thing, how about swimming with pigs? Big Major Cay in the Bahamas is the only place in the world where you can take a dip in the sea with friendly piglets - now there's something to tick off the bucket list!
Go scavenging
Making history fun might seem like a hard sell, but the Nassau Native Quest hits the sweet spot. You'll compete on a downtown scavenger hunt, with friendly local hosts testing your skills. The quest ends with tasty island treats at a beachside celebration.
Lose yourself in nature
Take a calming break from the beach heat and visit the Garden of the Groves. It's a nature-lover's paradise where you'll see native flora and wildlife living freely amongst the waterfalls. Tour guides can help you spot unusual birds and turtles, and if it really ticks your boxes, you can even get married there!
Shop it, pop it, lock it
Port Lucaya Marketplace combines two of the best holiday activities — shopping and dancing! By day this colourful Freeport market is full of artsy boutiques and food stalls, whilst by night it's all about live music and DJs bringing the party.
Admire the view
Even cheap holidays to the Bahamas can be full of natural wonders. Take awe-inspiring holiday snaps at Glass Window Bridge - a narrow break between the wild Atlantic Ocean and the turquoise Caribbean Sea.

What's the weather like in the Bahamas?
The tropical climate means that the islands have two seasons. The wet summers can come with storm risks, so it's worth checking the forecast before booking any last-minute holidays to the Bahamas. The dry winter season from November–April is the best time to visit for the perfect sunny escape.
| | | | |
| --- | --- | --- | --- |
| Month | Average temp. | Sea temp. | Hours of sunshine per day |
| Jan | 21 °c | 25 °c | 7 h |
| Feb | 21 °c | 25 °c | 8 h |
| Mar | 22 °c | 25 °c | 9 h |
| Apr | 23 °c | 26 °c | 10 h |
| May | 26 °c | 27 °c | 10 h |
| Jun | 27 °c | 28 °c | 10 h |
| Jul | 28 °c | 29 °c | 10 h |
| Aug | 28 °c | 29 °c | 10 h |
| Sep | 28 °c | 29 °c | 8 h |
| Oct | 26 °c | 28 °c | 8 h |
| Nov | 25 °c | 27 °c | 8 h |
| Dec | 22 °c | 26 °c | 7 h |
Important Information about travelling to the Bahamas
How long does it take to fly to the Bahamas?
Flights from the UK to the Bahamas capital of Nassau take around nine hours.
What's the time difference between the UK and the Bahamas?
The local time in the Bahamas is five hours behind the UK.
What currency do they use in the Bahamas?
The official currency used in the Bahamas is the Bahamian Dollar (BSD).
What language do they speak in the Bahamas?
The official language of the Bahamas is English, though you may also hear a local variant known as Bahamian Dialect.
Will Covid-19 affect my holiday to the Bahamas?
We are currently closely following the Covid-19 situation and how it affects travel. You can find out the most up to date information about travel to the Bahamas on the FCDO website.
Do I need any vaccinations to visit the Bahamas?
Please check with your healthcare provider for all up to date vaccination advice before booking your holiday.
Do I need a visa to travel to the Bahamas?
UK residents do not need a visa to travel to the Bahamas for a holiday of up to 21 days. However, you'll need to show proof of UK residency upon entry.
Here are some other destinations you might be interested in...
---
Customer reviews
At On the Beach, we've sent many satisfied customers to the Bahamas for a bit of sunshine. But don't just take our word for it, read some of their 5-star reviews below.
Kirsty:
Quick, easy and very straight forward to use. Booked a holiday in 10 minutes and confirmed via email in the next 10 minutes - Super!
James Harkness:
Again another easy, enjoyable experience using On the Beach, wouldn't go anywhere else for a great holiday.
Susan Haney:
Really easy site to navigate. Managed to find the holiday I wanted and booked it within minutes! Great prices and plenty of information on hotels, location and transport options.
View destination on a map
Bahamas Weather
The Bahamas are 8 hours flight from the UK, but a world away in terms of climate, attitude and relaxation. Situated just north of the Caribbean Sea, on 500 miles of clearest water in the world (and we're not kidding), the climate here seems to imitate the Bahamians themselves: beautifully warm and laid back.
Those seeking cloying humidity and the chance to furiously rub Factor 50 onto their sweating brow can look elsewhere because the weather here is perfect and never exceeds the mid 30s°C in high summer, and rarely dropping below 15°C in winter. Balmy winds and omnipresent sun provide the perfect conditions for swimming, watersports, or mingling with those friendly dolphins in the transparent waters around the Blue Lagoon.
Things To Do on Bahamas Holidays
The cliche rings true here: there's something for everyone on Bahamas holidays, from Nassau's museums, such as the striking barbershop-pole lighthouse museum, to the sprawling 18th Century Fort Charlotte overlooking Paradise Island's picturesque port. Go on an amazing nature trail on Bimini to discover the islands' local fauna, or take the kids on a trip to the Aquaventure water park, with it's Atlantis theme.
On the Bahamas' main isles, such as New Providence and Grand Bahamas, you'll find no shortage of every kind of entertainment, but there's no problem island-hopping, with daily ferries and airlines (both chartered and scheduled) a mainstay here. Sailing away from the shops and forests on the big islands can lead to surprises of every kind – there's even a haunted house on Eleuthera!
Culture
The story of the Bahamas begins with Columbus' 1492 landing in San Salvador. In the 17th Century the archipelago became a haven for Britishers seeking refuge from religious persecution, and later for notorious pirates such as Blackbeard, and the even more notorious Southern-American slave owners. Remnants of every aspect of Bahamian history can be found in it's myriad museums, as well as the great coastal forts on Nassau, a reminder of the region's maritime importance.
Bahamas holidays are also known for the world-famous 'Junkanoo' celebrations, the largest being in Nassau in December and January, consisting of riotous goombay music and street parades with peacock-style costumes, face paints and giant throngs that would put any Spanish fiesta to shame! Bahamians are among the world's most tourist-friendly people, and will make you feel welcome whatever time of year you come.
Book a Bahamas Holiday now!
To ensure that you have access to the best deals available on holidays to the Bahamas, we have developed an online booking system that lets our users select from the best cheap Bahamas holidays with accommodation in hotels throughout the islands too. Book with On The Beach today!
Bahamas Resorts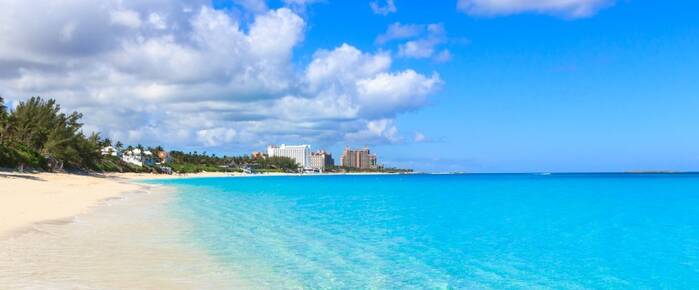 Blissful sun-soaked sands, magical crystal waters and tropical island vibes that will leave you feeling chilled out for weeks to come. The beaches of…