The Maldives has white, sandy beaches and turquoise waters that match even the most exotic daydream about escaping to paradise. Made up of almost 2,000 individual islands, this destination offers sunshine and relaxation surrounded by the warmth of the Indian Ocean.BeachesMaldivian beaches are heaven, with screensaver-worthy seascapes and long stretches of sand. Whether you are looking for a social spot such as Artificial Beach, or a secluded place to swim and relax like Bikini Beach on Rasdhoo island, you can beach-hop to your heart's content in a country surrounded by sea and sand. Food & DrinkFresh, locally-caught seafood is the basis for many dishes in The Maldives, and coconuts are another popular ingredient. Mas huni combines both of these into a tasty meal of smoked, shredded fish with grated onions and coconut. Alcohol is only sold in tourist resorts so try a refreshing sai tea to quench your thirst if you are out and about. CultureMaldivian culture is influenced by Sri Lanka and South India. Its people are warm and friendly, with a rich tradition of folklore, music and dance. The Maldives is a Muslim country, and the locals dress modestly and don't drink alcohol. If you want to wear a bikini or sip a cocktail by the beach, it's best to do so within the tourist resorts.NightlifeWith island resorts to cater to every taste, evenings in The Maldives can be a wild party or a low-key affair. For alcohol-fuelled nights, keep to the bars and pubs in the tourist resorts. Or, for alternative entertainment after dark, why not try a night snorkel with a guide, live dancing shows or even crab racing at Kuredu? Important InformationFlight Time: 13 hoursTime Difference: +4hrCurrency: Maldivian rufiyaaOfficial Language: DhivehiRamadanPlease be aware that the Islamic holy month of Ramadan will take place between 05/05/2019 and 04/06/2019. During this time, many cafes and restaurants will close during the day, restrictions on alcohol sales may be in place, and hotel dining for non-Muslim guests may take place in private rooms. Playing music, dancing, and eating in public areas may also be restricted during this time.
View destination on a map
Maldives Weather
The Maldives has a tropical climate. The dry, sunny season lasts from December to March with an average temperature of 29°C. Between May and October is the rainy season, with average temperatures of 27°C. September is the wettest month.
Things To Do on Maldives Holidays
Snorkelling SafariTake a speedboat from Hulhumale and let your snorkelling guide introduce you to the underwater residents of The Maldives. From colourful fish to manta rays, reef sharks and sea turtles, there is a vibrant world to explore just below the water's surface.Manmade BeachProtected by a breakwater with stunning ocean views, Artificial Beach is the only beach for swimming in Malé. The sandy stretch has been rescued from disappearing into the sea and is, as the name suggests, manmade. A social place for locals as well as holidaymakers, you may even stumble upon one of the many concerts and carnivals that are held here throughout the dry season. Tiny Island Marine Conservation Centre Visit Naifaru island for the chance to learn about sea turtles and other local sea life. Run by volunteers, the Tiny Island Marine Conservation Centre aims to protect the environment and wildlife of The Maldives. Make sure you get a souvenir at the centre's small, on-site shop.Walking TourExplore the Maldivian capital city on foot for a true experience of island life. Your guide will take set you on the path to discover the attractions and history of the local area, with highlights including the bustling Malé Fish Market and the tranquil Sultan Park.
Book a Maldives Holiday now!
To ensure that you have access to the best deals available on holidays in the Maldives, we have developed an online booking system that lets you easily create the best cheap Maldives holidays complete with accommodation and flights. Book with On The Beach today for the best deals online!
Maldives Resorts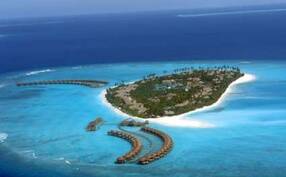 Male is the capital of the Maldives, an island city that is densely settled yet clean, friendly, and full of charm. There's plenty to explore on this…