Why holiday in the Maldives?
It's easy to see why we love Maldives holidays. If you're looking for the beach holiday of a lifetime? This is the ticket. With fine white sand, glass-like water and palm trees for days, this island nation is the ideal backdrop to a heavenly honeymoon or a take-your-breath-away getaway. If you love to explore, make sure you visit the capital of Malé to sample local food and experience authentic Maldivian life. If you prefer to flop 'n' drop in your own little piece of paradise, then opt for a beach resort on one of the 26 heavenly atolls. Fancy a bit of everything? Look out for island-hopping excursions that will take you around coral reefs and hideaway bays. Located in the Indian Ocean - close to the Equator - Maldives holidays can be romantic escapes with your partner, tropical adventures with your family and everything in between.
What's it like in the Maldives?
With a dreamy location nestled in the heart of the Indian Ocean, culture in the Maldives is heavily shaped by Indian, Sri Lankan, Malaysian, Arabic, Persian, Indonesian and African influences. Given the setting of this island nation, it's also no surprise that many of the country's customs and traditions are centred around the sea. Many of the locals are fishermen, and seafood - particularly tuna - is a popular find on most menus. Maldivians are known for their warm and friendly presence, and they will go above and beyond to make sure that your luxury getaway is one to remember. Music and dance makes up a huge part of Maldivian culture too, with a key South Asian influence. Boduberu is a traditional Maldivian dance which involves drumming, singing and dancing; witnessing one of these performances will definitely get you into the spirit of island life. The Maldives also has a rich history and a predominantly Muslim faith, which is evident through the beautiful mosques sprinkled across the islands - some of which date back to as early as the 1700s - and the National Museum in Malé's Sultan Park which offers a look into the history of the islands.
Beaches of the Maldives
There are a lot of destinations with great beach resorts, but nowhere does it quite like the Maldives. If we asked you to describe your perfect holiday setting, the chances are it would match a Maldivian beach pretty closely. This destination is made for barefoot beach days and relaxing in the sunshine. Typical bucket-and-spade spots are swapped for plush white sands dotted with swaying palms, and teal-tinted waters that are clear enough to see colourful fish flitting beneath the surface. Each atoll has a picturesque stretch of coastline with its own character, so you'll have a whole menu of beaches right at your fingertips.
Is romance the name of your holiday game? Cocoa Island in the South Malé Atoll is a great pick for soft sands and balmy waters (great for sunset walks and snapping that perfect Insta photo!), plus there's an otherworldly coral reef for year-round snorkelling and diving if you're feeling adventurous.
Looking for a quiet sunbathing spot? Stick to private sands such as Bikini Beach near Rasreef - one of the most popular tourist spots, but if you like to see and be seen, Rasdhoo Islands are for you. You can strut your stuff in a bikini here; elsewhere you may need to cover up to respect local traditions.
Alternatively, hit the beaches of Fulhadhoo Island for a laidback, no-frills feel, or check out Maafushi Island which boasts the longest coastline of all the Maldivian islands, made up of four main beaches. Need something more pocket-friendly? Check out the beaches on Veligandu in the North Ari Atoll for good value and good times.
---
Looking to go All Inclusive? Take a look at our favourite All Inclusive Maldives holidays here!
---
Popular Maldives hotels
North Male Atoll Meeru, North Central, Maldives
On-site driving range

Local scuba diving

Karaoke nights
South Male Atoll, North Central, Maldives
Overwater bungalows

Boat trips and watersports

Spa for a romantic couples' massage
South Ari Atoll, Ari Atoll, Maldives
Infinity Pool

Beachfront Spa

Seven Dining & Bar Options
Raa Atoll, North, Maldives
Private Plunge Pool

Bar with Glass Bottom Dance Floor

Inflatable Waterpark
North Male Atoll, North Central, Maldives
4 restaurants

Full-service spa

Range of on-site activities
North Ari Atol Veligandu, North Central, Maldives
North Male Atoll Bandos, North Central, Maldives
14 restaurants and bars!

Located on a private 52-acre island

Relaxing spa and kids' spa
Raa Atoll, North, Maldives
Private island resort

Villa-style accommodation

Great choice of activities
North Male Atoll, North Central, Maldives
Great for surfing

Spacious, comfy rooms

Multi-restaurant all inclusive concept
Pop-up beach BBQ once a week

Slide straight from your balcony into the ocean!

Close to the biggest waterpark in the Maldives
South Male Atoll, North Central, Maldives
5 stars

13 Bars and Restaurants

Luxury

Family Friendly

360 degree panoramic views
Beach bungalows and overwater bungalows

Romantic dinners at the resort's restaurants

A host of activities to try
South Male Atoll, North Central, Maldives
Lhaviyani Atoll, Maldives
Choice of swimming pools

Regular entertainment

Poolside cabanas
North Male Atoll, North Central, Maldives
Lhaviyani Atoll, Maldives
Stunning Maldives resorts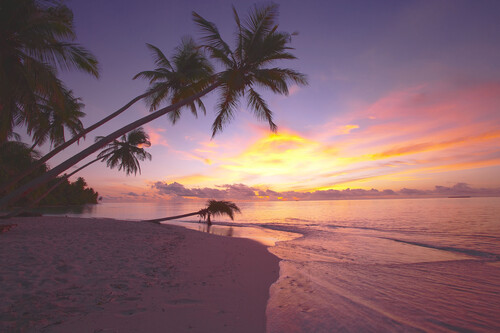 Male
Male is the capital of the Maldives, an island city that's friendly, and full of charm. There's plenty to explore on this little island, and Male holidays...
Weather in Maldives
Alright, let's dive straight into what you're really here for: the Maldives weather lowdown! 🌞
From December to April, you're in for a treat. The weather in the Maldives is as close to perfect as it gets. You can expect temperatures happily lounging between 27°C and 29°C. It's that consistent glow-up that has everyone raving. Sun, sand, sea – it's like the Maldives rolled out its VIP list, and guess what? You're on it.
Now, from May to November, let's keep it real; there's a bit of rain. But the Maldives, being the overachiever it is, makes even this rainy stint work. Sure, there are showers, but they're brief. And between those rainy moments? Yup, the sunshine is back, claiming its spot like, "Did you miss me?" 🌦️
So, the take-home message? The Maldives weather is, in a word, stellar. Whether you're up for snorkeling adventures or just chilling with a refreshing drink by the beach, the Maldives delivers. And remember, even when it's a tad wet, it's all part of the package. Pack those flip-flops, grab your sun hat, and get ready for those Maldives moments.
View destination on a map
Reviews
At On the Beach, we've sent many satisfied customers on Maldives Holidays for a bit of sunshine. But don't just take our word for it, read some of their 5-star reviews below.
Always use On the Beach for holidays...
Always use On the Beach for holidays abroad. Just an easy and simple way to book a holiday, and always had a great time.


Excellent
Always use on the beach and always have a fantastic pain free holiday, easy to use service and friendly helpful staff when needed, 😀


Absolutely brilliant service
Absolutely brilliant service and excellent customer support 👏


FAQs
What's the average flight time from the UK to the Maldives?

It takes 13 hours on average to fly between the UK and the Maldives.
What's the time difference between the UK and the Maldives?

The Maldives is GMT +4, making it four hours ahead of the UK.
What currency will I need for the Maldives?

The currency in the Maldives is the Madivian rufiyaa.
What languages are spoken in the Maldives?

Dhivehi is the official language of the Maldives. English is also widely spoken in the
holiday resorts.
How does the transfer to my hotel work in the Maldives?

Transfers in the Maldives can sound a little confusing, but don't worry. All you need to know is that your flight from the UK will land at Male International Airport (otherwise known as Velana International Airport), and from here you'll be transferred to whichever island your hotel is on.

Transfers will be via either:

Domestic aircraft (with a 20kg hold luggage allowance and 5kg hand luggage allowance)

Seaplane (with a 20kg hold luggage allowance and 5kg hand luggage allowance)

Speedboat (no luggage restrictions)

You'll be escorted to the departure point by airport staff, and your departure time will be confirmed the night before. Other flight arrivals or sudden changes in weather might mean you need to wait up to 3 hours before boarding the transfer.

If you're travelling via seaplane, flights can only operate between 09:00 and 15:00. If you land in Male after 15:00, or if there are any sudden weather changes, you'll need to stay overnight in an airport hotel. Don't worry – if this is the case then we'll be in touch to make the arrangements! It's also worth noting that, like most holiday transfers, seaplanes will stop at multiple resorts on the way.