Close your eyes, take a deep breath, and conjure up the image of Morocco in your mind. Weave through thriving markets and bazaars as the African sun soaks your skin with its warm rays. Picture the Atlas Mountains rising above the land, the almost never-ending stretches of desert, and the miles upon miles of pristine coastline laid out beneath your feet. Are you there yet? No? Well, you will be soon with our huge selection of Moroccan holidays that are just perfect for couples and right at your fingertips waiting to be booked.BeachesEnjoying a privileged location on the north coast of Africa, Moroccan beaches have that magical je ne sais quois about them. And, while Marrakech is the heart of Morocco, it's a tad bit landlocked with the nearest beach a good 100km away. Beach lovers instead should make their way over to the seaside resorts of Agadir and Essaouira, where you'll find a seemingly endless stretch of beachfront.Popular sandy spots include Agadir Beach, a six-mile stretch of sand located on the edge of Morocco's premier beach resort, the golden rolling sands of Essaouira Beach, and the beautiful Legzira Beach, framed by stunning rock formations.Food & DrinkWhere do we even begin? Moroccan food is, simply, a thing of beauty- a thing that you should get stuck into as soon as you touch down. Influenced by a whole hotbed of cultures, Moroccan food has influences from Jewish, Arab, French, African, Mediterranean cuisines and more. Have a bowl of harira (a yummy lentil soup traditionally served during Ramadan) or try a spot of tagine (a clay pot used to slow cook a huge variety of meats and veggies served anywhere and everywhere in Morocco). Take the time to munch on some makouda (deep fried potato balls served with a spicy sauce on the side), or take a bite out of a brochette (meat kebabs rubbed in spice and grilled to perfection on a smoky grill). And no Moroccan dish would be complete without a cheeky side of couscous (fluffy steamed balls of durum wheat) and khobz (traditional crusty flatbread). Those looking for sweet treats can grab some kaab el ghazal (crescent-shaped pastries filled with almond paste and topped with cinnamon and orange water) or sip on a spot of traditional mint tea.CultureColourful and vibrant wherever you go, Moroccan culture is made up of Arab, Berber and French influences from those who have called Morocco home over the years. Rich in years of history and tradition, everyday life in Morocco is deeply rooted in spirituality, family values and simply living your best life. With Islam as the country's main religion, many residents wear traditional Islamic dress as they go about their business, and the beautiful calls to prayer can be heard around the country throughout the day. Family, friendship and hospitality are pillars of Moroccan culture, with each guest viewed as a new friend and a member of the family, so prepare to be (if possible) overly cared for during your time in Morocco. Just like an overly enthusiastic Nana, don't be surprised if your new Moroccan friends insist on inviting you back to their home for a good home-cooked meal. Food is, after all, the way to the heart and dining brings people together.NightlifeMoroccan nightlife is more laid-back cocktails on a rooftop terrace or a nice glass of wine over a delicious meal than raving down the strip at 3am. And, while nightclubs and discos can indeed be found throughout the country, Moroccan nightlife is more suited to those who enjoy a more chilled-out atmosphere these days. In Marrakech, the square comes alive at night with rooftop bars, lively lounges and lantern-lined streets leading your way to live music performances and cosy cafés. Similarly, resorts like Agadir and Essaouira offer a variety of ways to spend your nights by the sea.Important InformationFlight Time: 4 hoursTime Difference: NoneCurrency: Moroccan DirhamOfficial Language: Arabic and Berber Tourism TaxesCustomers may be required to pay a tourist tax when staying in Morocco. This is usually between £1 - £3 per person per night, and is payable in local currency to the hotel.VaccinationsPlease check with your healthcare provider for all up to date vaccination advice before booking your holiday.RamadanPlease be aware that the Islamic holy month of Ramadan will take place between 23/04/2020 and 23/05/2020. During this time, many cafes and restaurants will close during the day, restrictions on alcohol sales may be in place, and hotel dining for non-Muslim guests may take place in private rooms. Playing music, dancing, and eating in public areas may also be restricted during this time.
View destination on a map
Morocco Weather
Offering a beautifully balmy year-round climate, you're in for plenty of sunshine and warm weather with a holiday to Morocco. Boasting mild winters and scorching hot summers, the African heat is not lost on Morocco, with the mercury set to soar whenever you choose to visit.
Things To Do on Morocco Holidays
Get your green fingers out
Located on the outskirts of Marrakech, the
Majorelle Garden
is a two and a half acre botanical garden created by French artist, Jacques Majorelle. Open to the public, visitors can freely wander throughout the carefully cultivated gardens and visit the Islamic Art Museum which is housed within the property's iconic blue villa.
Hit the markets
When you picture Morocco, you picture markets. You're thinking spices, you're thinking hand-woven rugs, you're sweating at the thought of haggling, and you're loving every second of it. As famous for its souks and bazaars as it is for its warm weather, you can't go to Morocco without hitting up its markets. So, put on your comfy shoes (there's gonna be more walking involved than you thought) and get ready to bag a bargain.
Traverse the desert
With a seemingly endless expanse of desert expanse at your back, Morocco is the perfect place to explore this beautiful sandy oasis. Whether you're looking to explore on foot, camelback, or something more modern (like a quad bike), there are plenty of tours available for adventurous holidaymakers like yourselves.
Channel your inner mountaineer
While snow-capped mountain tops aren't the type of thing you typically imagine when you think of Morocco, the Atlas Mountains are just that (in winter at least). Regardless of when you visit, the stunning mountain range is the perfect place to enjoy a day's hiking, biking, trekking or simply relaxing beneath the mountain's shade.
Morocco Resorts
Feel the North African heat in Agadir, the Moroccan major city that has something for everyone. If you're seeking a beachy break, you'll find a peacef…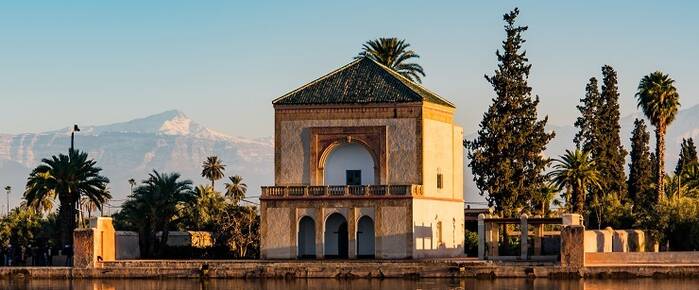 Destination HighlightsAn amazing, culture-rich cityPerfect for families, couples and friendsPlenty of luxury hotelsSo much to see and doJump to...Wate…