Read more about Cape Verde
This horseshoe-shaped group of islands has it all: blue waters, golden sand, lush hotels and sizzling sun. The most popular destinations for tourists are the islands of Sal and Boa Vista, meaning "beautiful view".
Beaches
The beaches of Cape Verde seem to stretch on forever. Expanses of perfect golden sand stretch as far as the eye can see, inviting you to take up camp and leave your woes behind. Nothing says complete and utter relaxation more than catching the sunset from the sand dunes with a cocktail in this tropical haven.
Food & Drink
Fish dishes dominate the cuisine of Cape Verde. Dine like a local with cachupa or caldo de peixe, hearty fish stews available in most restaurants. If you fancy a night out, head on down to Santa Maria where you'll find a number of bars and restaurants to try.
Culture
Despite being located in Africa, Cape Verdean culture is very similar to that of the Portuguese colonists who ruled there. You'll regularly see the community spirit of its people, strolling around greeting and chatting with friends in town. Hospitality and socialising are important aspects of Cape Verdean culture, so you'll never be far from a warm welcome and a chat.
Nightlife
Cape Verde is a pretty laid-back nation, but that doesn't mean that the locals can't party with the best of them. The majority of nightlife takes place in the town of Santa Maria in Sal, where you can hit the high notes in the karaoke bars or enjoy a dance at the disco.
Important Information
Flight Time: 6 hoursTime Difference: -1hrCurrency: Cape Verdean EscudoOfficial Language: Portuguese
Vaccination
For all up to date healthcare requirements, please check with your doctor before booking your holiday.
When is the best time to visit Cape Verde?
The climate of Cape Verde is best in April for those looking for a sunny beach holiday with March and May, also preferable. Temperatures are higher than the usual Mediterranean holiday hotspots and Cape Verde can boast around 9 hours of sunshine per day. The months of August and September are the hottest in the Cape Verde Islands, with average highs of around 85f, often pushing 90f, these are also the wettest months. Refreshingly, the location of the Cape Verde Islands in the mid-Atlantic means there's a nice breeze blowing, removing the intensity of the otherwise tropical climate. Stick to the months of March to June and you should enjoy long sunny days with temperatures averaging around 80f.Best Time to Visit Verdict: April and May.
---
Discover All-Inclusive holidays in Cape Verde
here
---
View destination on a map
Cape Verde Weather
Holidays to Cape Verde can be sure to include great weather. The average temperature for all the islands is a year round 25C. The temperature can fluctuate depending on the season, but not more than 10C in either direction. Between August and October there is, typically, a higher level of rainfall, however these are usually short sharp bursts of rain and it can go days in-between showers.
Things To Do on Cape Verde Holidays
ShipwreckedDon't miss out on the chance to visit one of the most iconic Cape Verdean sights; the Cabo Santa Maria. Located to the north of Boa Vista, this shipwrecked freighter remains trapped in the coast's sands to this day.Dune RiderFeel the wind in your hair while you take on Cape Verde's sand dunes from the back of your very own quad bike.Gone Fishin'Cast your line with the pros to try your hand at deep-sea fishing. See what you can catch or just enjoy the uninterrupted sea views while you watch the masters at work.Turtle TimeIf you're in town between July and September, you might just be lucky enough to catch a glimpse of the loggerhead turtles creeping onto the beaches to make their nests. If you're visiting a little bit later, September to December, you may even get to see the baby turtles making their way to the ocean after hatching.
Cape Verde Resorts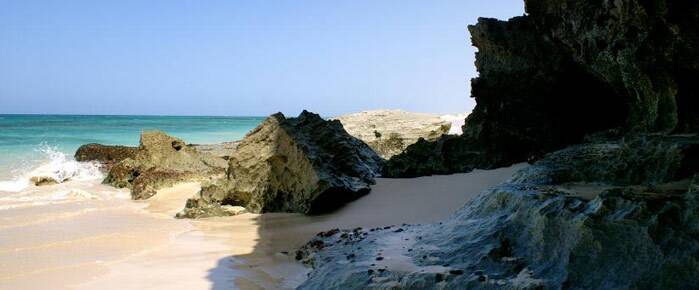 Holidays to Sal, the most popular island in the Cape Verde archipelago, are full of fun and adventure. The island was actually named Sal because it is…