If you're looking for an island with breathtaking beaches, interesting history and rich culture, then Cuba is for you. See the super-cool classic cars on the street, discover the beauty of Havana and feel the soft sand, warm waters and hot sun on your skin. A country with so much to offer and filled with friendly locals, Cuba is a perfect holiday destination for anyone and everyone.
Beaches
With its coast meeting the Caribbean Sea, you know that Cuba's beaches are going to blow you away. White sands, crystal-clear waters and a stunning splash of greenery to add to the already perfect picture await. One of the most popular beaches in Cuba is Varadero Beach, a 25km stretch of dazzling shore with plenty of activities on offer. Over in Cayo Coco, Playa Los Flamencos is pure paradise with its snow-white sand and sparkling sea. For snorkelling and diving, Playa Larga is a great spot with its calm and clear waters, as well as plenty of trees for those who need a rest in the shade.
Food & Drink
With prominent Spanish, African and Caribbean influences, you can imagine just how tasty Cuban cuisine is. You've probably heard of the famous Cuban sandwich, this consists of sliced roast pork, serrano ham, Swiss cheese, pickles and yellow mustard on Cuban bread. Meat eaters have plenty of choice from
Lomo ahumado
(juicy slow-cooked pork fillet), to Trinidad roast chicken, to
costillitas
(baby back ribs in a sweet marinade) – and that's only naming a few. If you're a fan of
paella
, you'll love Cuba's take on it, with ingredients including ham, chicken, chorizo, mussels, shrimp, lobster and scallops. If you have a sweet tooth, some of the delightful desserts in Cuba are
churros
,
Dulce de Leche
cheesecake and
pastelitos
which can be filled with guava, cream cheese and other sweet fruits. Cocktail lovers will be in heaven with
daiquiris
,
mojitos
and
Cuba libres
being on Cuba's drinks menu.
Culture
Cuban culture is mainly influenced by Europe and Africa, but is also very much unique. It's a must to learn about Cuba's interesting history when visiting the country. The
Museo de la Revolucion
is the nation's most visited museum, and tells the story of the lead up to the revolution through photographs and the vehicles used by revolutionaries. Alongside Cuba's famous colourful classic cars, there's also a fantastic art scene, which is displayed perfectly at the National Museum of Fine Arts of Havana. With the museum offering everything from historic pieces to contemporary creations, it's definitely one to put on your list of things to see and do.
Nightlife
Cuban nightlife is one of the things that attracts so many tourists each year. With friendly locals, a buzzing atmosphere and amazing dancing, it's the ideal recipe for some unforgettable nights out. Havana takes first place as the top hotspot for nightlife, with El Vedado being the place to go to discover all of the cool bars. Over in Varadero, they have their fair share of bouncing nightclubs too, with the likes of La Casa de la Musica and Mambo Club.
Important Information
Flight Time: 14+ hoursTime Difference: -4 hours in summer / -5 hours in winterCurrency: Cuban pesoOfficial Language: Spanish
---
Thinking of going All Inclusive? Take a look at some of our top
All Inclusive properties in Cuba
here!
---
View destination on a map
Cuba Weather
Situated in the north of the Caribbean, Cuba boasts year-round warm weather with average temperatures ranging from 21°C to 27°C. The warmest months to visit are June to September, which all have an average temperature of 27°C. The coolest time to visit is from December to March, when the averages are between 23°C and 21°C - still much warmer than back in the UK.
Landscape
The beaches in cuba are world famous, most notably for the fascinating sea life that inhabit the warm waters just offshore. Multi-coloured, exotic fish abound in the beautiful blue waters of the Caribbean. Two of the most popular beaches are Cayo Coco and Playa Ancon where sunbathers on holiday in Cuba flock on a daily basis to soak up the sun and enjoy the Caribbean lifestyle.
Things To Do on Cuba Holidays
Explore Havana
Cuba is a beautiful country altogether, but Havana is a city like no other and is one not to be missed. The colourful streets, the history and the art are just some of the outstanding attractions the city has to offer. Explore the cool bars, dine in the quaint cafes and take in all of the unique features that come together and make Havana the amazing place that it is.
Visit Topes de Collantes
If you're a fan of nature, want some amazing photographs or even just fancy a break from the city, Topes de Collantes is a beautiful nature reserve park located just outside of Trinidad. Situated in the Escambray Mountains the park is a picture of green, brown and blue hues. Hike through the trees and discover the caves and waterfalls along the way – it makes for a refreshing adventure and is a step away from cities and beaches for the day.
Swim in a cenote
One of nature's rare wonders, a cenote is a type of natural pit that uncovers water underneath and luckily enough, Cuba has them! They may not sound too appealing, but they feature beautiful waters that are perfect for taking a dip. Cueva Saturna and Cueva de los Peces are the two most popular cenotes in Cuba and are definitely worth a visit, especially in the sunshine.
Go Salsa dancing
It wouldn't be a trip to Cuba without a spot of Salsa dancing. If you're not a big dancer or simply have two left feet, then just watching others Salsa is a brilliant experience. For those who are a pro on the dancefloor or fancy just giving it a go, there are some fantastic spots to show off your moves. Club Salseando Chevere in Havana is a perfect pick for anyone, as it is a dance school, theatre and nightclub all in one.
Culture
Much of the architecture in Cuba dates back to the 18th Century. One of the most stunning examples of this architecture is the Basilica Menor de San Francisco de Asis, a beautiful old convent now used as a church and museum. It was built in 1734 and attracts crowds of tourists on holiday in Cuba so make sure you get there early.
If it's culture you're after, Cuba holidays more than deliver. As with all the Caribbean islands, carnivals are a major event in Cuba. The Carnival de la Habana at the end of July is a gloriously colourful affair with street performers, processions, music, food and costumes. Carnavales Santiago Espirituano also takes place in July with floats and dancing and seemingly endless supplies of food and beer!
Book a Cuba Holiday now!
Cuba is a fantastic place, brimming with colour and culture and full of great places to visit and fun things to do. If you want to experience all the charm and beauty of this fabulous island, check out On the Beach for some great deals on cheap Cuba holidays. Take a look today and you could be enjoying the sunshine in Cuba before you know it!
Cuba Resorts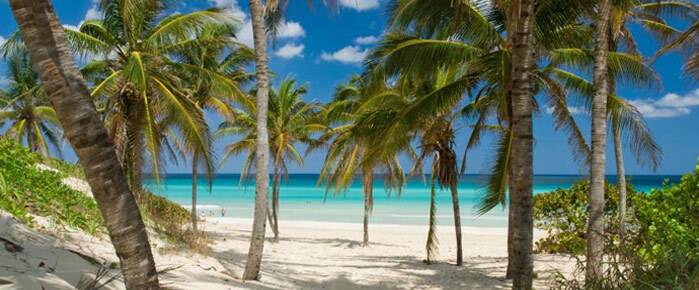 Located on the beautiful Jardines del Rey archipelago, Cayo Coco is a paradisiacal island nestled just off of Cuba's north coast. Boasting some of the…