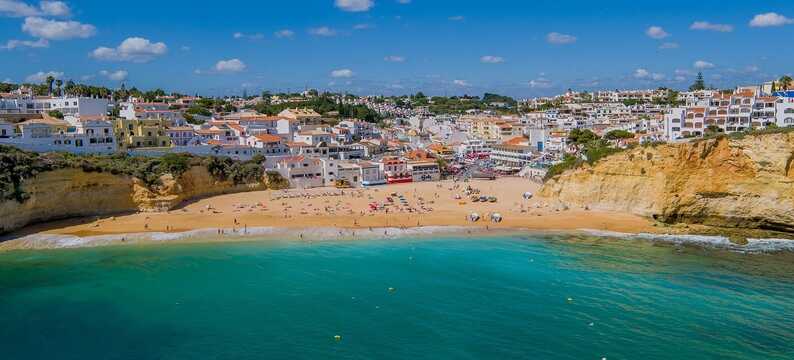 Read more about Carvoeiro
There's nothing quite like booking a holiday to cheer yourself up on a winter's day. And there's nothing quite like holidaying amongst the rich and famous to make you feel a million dollars. Carvoeiro was once a quiet fishing village, described by visitors as almost medieval. That was before the tourists started arriving and before long the sleepy village had become a thriving resort full of holiday homes of the rich and famous.
Carvoeiro holidays offer everything you could want in a holiday and is just a short flight from the UK. Great beaches, fabulous weather, excellent restaurants, quality golfing and myriad shops make holidays to Carvoeiro ideal for couples and families alike!
More destinations
Albufeira, Almancil, Altura, Alvor, Balaia, Cabanas, Faro, Lagos, Monte Gordo, Montechoro, Portimao, Prai da Luz, Praia da Oura, Praia da Rocha, Quarteira, Quinta do Lago, Tavira, Vale do Lobo, Vilamoura
View destination on a map
Carvoeiro Weather
The Algarve is famous for its fantastic weather with long hot summers and warm, dry winters. There is very little rainfall throughout the year which makes a nice change from the UK. In the summer you should come on your Carvoeiro holidays prepared for the sun, which means an ample supply of sun lotion. The beaches in the Carvoeiro are ideal for building up your tan, the cooling breeze off the Atlantic makes the often hot temperatures that little bit more bearable.
Landscape
Carvoeiro is one of the most picturesque villages on the Algarve, so much so that it is one of the most photographed resorts in the area. Its gorgeous sandy beach is backed by sandstone cliffs along the coastline. The crystal clear waters are ideal for snorkeling and boat trips are also a popular attraction that you should make a point of seeing on your Carvoeira holidays.
Things To Do on Carvoeiro Holidays
If it's a sporty holiday you're after your can't go far wrong with Carvoeiro as the resort is well known for its excellent sports facilities. It includes a 3 -hole golf and holiday complex as well as one of the most popular tennis centres on the Algarve. The resort is also home to several lawn bowling clubs.
And if sports activities aren't really your cup of tea then you can travel to the nearby city of Portimao, just ten minutes away, where you'll find some fantastic shopping on the Algarve!
Culture
Culture-vultures will feel right at home in Carvoeiro. Despite modernisation of some areas the village is still home to some quaint and fascinating architecture. The nearby town of Lagoa is the birthplace of the 11th Century poet Ibn Ammar while the village of Silves, just a few kilometres from Carvoeiro, is home to the ruins of a mesmerising medieval castle.
Nightlife
The fishing village once had one main street which was home to a couple of bars and one or two cafes. As the towns popularity grew, so too did the number of bars and restaurants and Carvoeiro now has a great nightlife. Restaurants are bars can be found scattered across the town, all serving local recipes and delicious wines. The village square is also a popular during the evenings where visitors can watch street performers while enjoying a drink at one of the several bars.
For those seeking a bigger night out the nearby city of Portimao is home to several clubs and late night bars and is very popular with tourists. Alternatively you could make the short journey to Albufeira and experience one of the most bustling resorts in Portugal.
Book a Carvoeiro Holiday now!
Why not buy a little present and treat yourself to a holiday in Carvoeira, the Algarve's fastest growing tourist resort. Carvoeiro has long been one of the Algarve's best kept secrets, now the world is catching on. Get the best deals online for Carvoeira holidays here at On The Beach, it takes just minutes to customise your holiday!