The UK is now in lockdown. We will be in touch with affected customers in departure date order up to and including 14th February 2021. More COVID-19 information.

Soak up the sun, appreciate the culture and experience copious amounts of delicious cuisine on a city break to Portugal's capital city. Spend your days wandering through the rustic city streets or take a trip to one of the sandy beaches on the coast. Whether you're seeking a sun-soaked break, party holiday or family adventure, a Lisbon city break has everything you need for the ideal getaway.BeachesAlthough Lisbon is known as Portugal's sunny capital city, relaxing by the sea is easy. Take a walk along the coast in the south of the city, or head over to one of the local beaches to enjoy the Portuguese sand. Nearby beaches include Costa da Caparica, Praia de Carcavelos and Praia da Conceição, all of which are only 30-45 minutes' bus ride from Lisbon centre. A Lisbon city break is the perfect mix of sun, sea and city.Food & DrinkTraditional Portuguese food may consist of fowl sausage, seafood and fancy egg custards, but Lisbon's food and drink scene ventures well beyond the local dishes. From Michelin star restaurants to cool back street cafes, foodies will be in their element with a Lisbon city break. Introduce exciting new flavours to your taste buds, or go back to the comfort food you love, at any of the city's countless restaurants that are waiting to welcome you in. CultureA bustling city with a laid-back Mediterranean atmosphere, a Lisbon city break provides the perfect mix of city buzz and taking it easy, all with beautiful historic architecture to admire along the way.NightlifeFilled with funky décor and even funkier music, Lisbon's super clubs are perfect for dancing the night away. Alternatively, you can experience lively atmospheres whilst sipping ice-cold refreshments in the district of Bairro Alto; somewhere that offers bar after bar along the small cobbled streets.Important InformationFlight Time: 2h 50mTime Difference: 0 hoursCurrency: EuroOfficial Language: Portuguese
View destination on a map
Lisbon Weather
Lisbon's climate varies through the seasons. The best time to catch the sun in Lisbon is between June and September with highs reaching 28°C. March, April, May and October are warmer months with average temperatures ranging between 14°C and 19°C. Even in the winter months the temperature is mild with an average of 12°C.
Things To Do on Lisbon Holidays
Santa Justa LiftOne of the city's many landmarks, the Elvador se Santa Justa is not only a piece of beautiful 19th century structure, but it also offers perfect panoramic views of the city. Catch a ride up to the viewing platform and take in Lisbon's landscapes. Tram 28Public transport like no other, the Remodelado trams of Lisbon are a part of the city's historic culture with their preserved 1930's style. Tram 28 is a public service, which runs through the popular areas of Lisbon, providing a cheap and cheerful city tour whilst sitting alongside locals.Time Out MarketFrom fine dining to authentic street food, the Time Out Market is the ultimate dining experience. With 33 food venues and 8 bars offering tastes from all over the world, it's guaranteed that each visitor's cravings will be satisfied.Castelo São JorgeBursting with medieval history, the Castelo São Jorge is the perfect way to learn about Lisbon's past whilst appreciating the beauty of the building itself. Explore the ruins of this historical landmark and experience views of the city from a different perspective.
Lisbon Resorts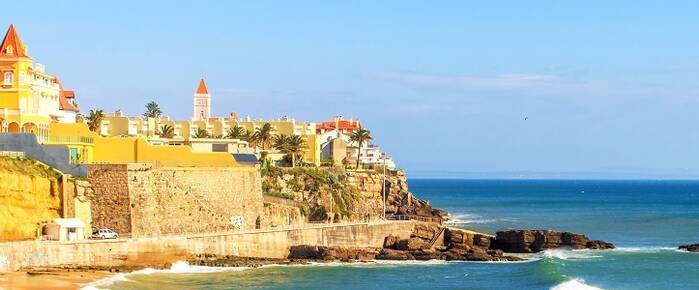 Sandy beaches, historic castles and great entertainment - Estoril may lie close to the capital, but it has its own unique character and ambience that…