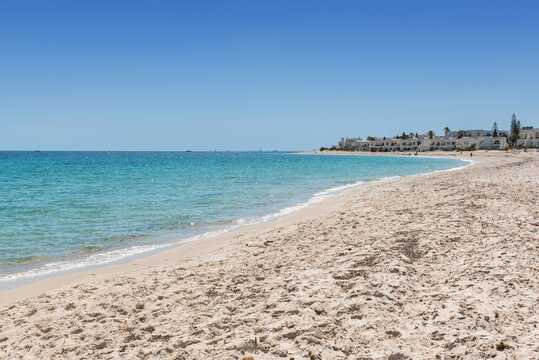 Sousse is one of Tunisia's most popular tourist cities and it's not hard to see why. Offering a mix of traditional and modern surroundings, the city also boasts great weather and some of the best beaches the country has to offer.
Beaches
Boujaffar stretches all the way from the centre of Sousse to Port el-Kantaoui, a distance of around 6 miles. Some parts of the beach are privately owned by the beachfront hotels that line the sands but there is still plenty of room to enjoy the sun and a dip in the water. Watersports are available at most beaches and usually includes wind-surfing, water-skiing and paragliding.
Food & Drink
Tunisian cuisine offers a combination of European and Middle Eastern flavours and dishes are usually flavoured with aniseed, coriander and cumin along with many others. Seafood is popular in coastal resorts, with chicken and lamb dishes among other favourites. You can't visit Sousse without sampling the popular Tunisian fruit tea, or if you fancy something a little stronger, Muscat wine is the perfect drink to wash down a nice meal.
Culture
The people of Tunisia are generally laid back and friendly and enjoy spending time with their loved ones. With historic Arabian influences and its proximity to Europe, Tunisia enjoys a fascinating mix of Arabic, Islamic, and European cultures.
Nightlife
Sousse is one of the liveliest resorts in Tunisia when it comes to nightlife. Bora Bora, an outdoor nightclub, is open until the early hours and regularly features live entertainment ranging from acrobats to fire dancers and even attracts some world famous DJs. Shows don't usually start until around 1am which gives you an idea of how long the club remains open. If you're looking for something a little more chilled out, most hotels offer evening entertainment and have bars that remain open until the early hours.
Important Information
Flight Time: 3.5 hoursTime Difference: +1hrCurrency: Tunisian DinarOfficial Language: Arabic
On the Beach offers exclusive flights to Tunisia with Nouvelair!
Vaccinations
Please check with your healthcare provider for all up to date vaccination advice before booking your holiday.
Ramadan
Please be aware that the Islamic holy month of Ramadan will take place between 12/04/2021 and 11/05/2021. During this time, many cafes and restaurants will close during the day, restrictions on alcohol sales may be in place, and hotel dining for non-Muslim guests may take place in private rooms. Playing music, dancing, and eating in public areas may also be restricted during this time.
View destination on a map
Sousse Weather
Sousse boasts great weather all year round with the hottest month of July reaching an average high of 30 °C. Due to its location on the coast, the region does not endure the hot desert winds that much of the country does. Winters in Sousse are mild with a small amount of rain but visitor numbers are lower than usual meaning you can enjoy the region without the crowds.
Things To Do on Sousse Holidays
Explore a World Heritage SiteThis breathtaking archaeology museum is a World Heritage Site in its own right. Enjoy a walk around and explore ancient monuments of the Sahel region, dating all the way back to the Antiquity period. The museum is located under the Kasbah's main courtyard and still contains the original Roman flooring. Great MosqueThe Great Mosque was built in 851 AD and is noted for not having a minaret, unusual for a Mosque of this size. Traditionally, the call for prayer was proclaimed from the top of the northeast tower, which has a domed kiosk and the tower still stands in the same place today. Market MadnessThis souq is the closest you'll come to a medieval bazaar in Sousse, and forms part of the commercial centre of the medina. If you venture down here, expect to see haggling merchants, excited tourists and locals hard at work selling their homemade goods.