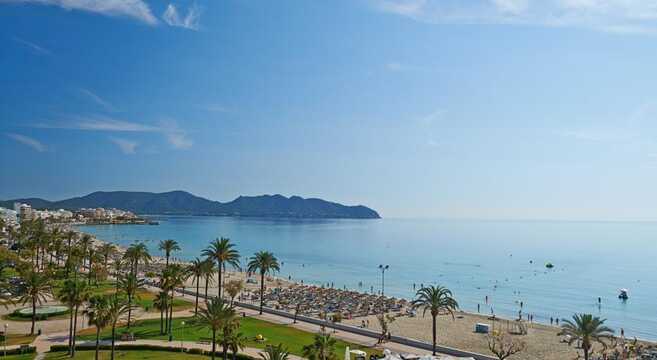 Read more about Cala Bona
Those wanting a relaxing holiday without the stresses of daily life will love the simplicity of the newly rejuvenated fishing village of Cala Bona. Not a purposely built tourist resort, this village has adapted to cater those eager for holidays in Majorca but is still one of the quieter resorts on the island.
Situated on the east coast and close to Cala Millor, the resort boasts some spectacular beaches and stunning scenery. If it's sun, sand and sea that you want for your break away with your family, then Cala Bona holidays are ideal!
A colourful harbour and beautiful beaches are the main focus points of this resort. Follow the narrow streets into the fishing village and take time to gaze in wonder at the stunning harbour. The beaches are the main attraction here as the long sandy beaches are ideal for children and those wanting to top up their tan.
Those not wanting to sit back and relax will find the Drach Caves attractive and they really show of the scenery of this stunning island. Wherever you go you will be greeted by scenery that will literally take your breath away.
Don't expect a lively nightlife on Cala Bona holidays as there are only a small number of bars but there are plenty of restaurants where you can taste the local delicacies. There is a choice of fast food restaurants with Chinese, Italian and Indian cuisine on offer. Those wanting to taste the local food should try a number of local menus which offer fresh fish which is caught daily.
For those that just want a few drinks, there are a number of British bars in nearby Cala Millor but entertainment tends to be centred on the hotels and quieter bars. If it's a night of clubbing that you want then you should head out in Santa Ponsa or Magalluf, both of which are renowned as party resorts.
View destination on a map
Cala Bona Weather
As expected in Majorca, the summer months are most suitable for sun lovers wanting to come back home from their holidays with a golden tan. Sun cream will definitely be needed as temperatures reach range from the mid 20's to 30° Celsius and above.
In comparison, the winter month's temperatures are about half that. Autumn and winter have some unexpected rainfall but usually the weather is still fairly decent and is still great for a beach holiday in the Balearics with friends and family.
Things To Do on Cala Bona Holidays
Scenic boat trips are highly popular in the area especially those which offer glass bottom boats which travel along the east coast of Cala Bona. These boats are modern and usually have bars on board so you can either relax with a beer or a glass of wine or alternatively if the captain offers, get off and have a swim in the warm sea!
Sightseeing enthusiasts on holidays to Cala Bona will enjoy the spectacular stalagmites and stalactites of the nearby Caves of Drach, which offer not only fantastic scenery but also perfect for those who love to take photos. For the children, why not head to Cala Millor's safari park or the fantasy park outdoor play area. The weekly market at Son Servera is not to be missed for those who want to pick up a bargain!
Culture
This resort has managed to maintain it's individuality and not follow in the footsteps of a lot of commerical holiday resorts. Cala Bona still remains a favourite with British holiday makers due to it's traditional feel and relaxing atmosphere.
There are no festivals in Cala Bona itself but if you travel to the nearby resort of Cala Millor then there is more to find and enjoy. Tourism Week takes place during the last week of September which features a number of sports competitions, concerts and a colourful parade of floats which go through the town. If visiting on holidays in October, do not miss the Bahia de Cala Millor which attracts over 50 hot air balloons from all over Europe. Do not forget your camera!
The weekly market at Son Servera should not be missed and after a hard days shopping, why not head to a restaurant and try the local delicacies like paella and meaty stews.
Book a Cala Bona Holiday now!
If you want to head away from commercial destinations then Cala Bona holidays are ideal for you. Create your own customised holiday in Cala Bona by combining flights and hotels using our live booking system. Get started now - do not miss out on the best deal for your holiday!