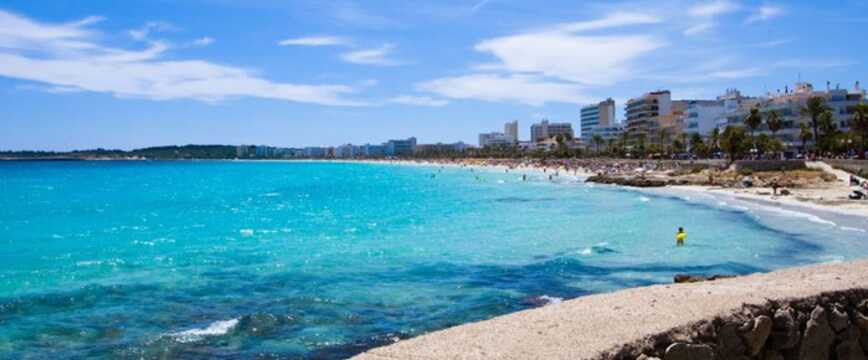 Read more about Cala Millor
The modern resort of Cala Millor is one of the best resorts along the east coast and is the perfect destination for a family holiday to Majorca rather than those looking for bars and nightclubs. The nearby resort of Cala Bona can be easily reached by a short walk and the resorts of Sa Coma and S'Illot are also close by. You can really get a taste of what life is like in the Balearics from this area.
Short flights to Majorca are perfect for those with children and the resort is approximately 37 miles from Palma airport. As soon as you arrive you will know that this resort is for you, especially once you dip your toes into the sapphire water that awaits you and get a taste for the slower pace of life here!
The beach at Cala Millor is ideal for families due to it's gentle, sloping sands which leads to worry-free swimming for children. Holidays in Cala Millor are great for windsurfing enthusiasts, all the equipment you'll need is available from the school on the beach. Scenery lovers should visit the Caves of Hams which are famous for their peculiar rock formations and spectacular underground lake. The more famous Caves of Drach are also nearby along with the Aquarium de Mallorca.
Cala Millor holidays are a lot more upbeat than the nearby resorts of Cala Bona and Sa Coma as there are a few discos and family entertainment bars. Head to Cala Bona and take a stroll along the waterfront and treat yourself to a delightful dinner by it's pretty harbour, a perfect way to top off your day. The restaurants in Cala Millor are fairly spread out along the seafront and there is plenty of choice ranging from fish restaurants to those serving international cuisine.
You should note that Cala Millor isn't a great resort for clubbing. Should you want to let your hair down then the places to be are Magalluf and Santa Ponsa where the parties last through the night. Many of the self catered apartments and hotels in the area will also lay on evening entertainment.
View destination on a map
Cala Millor Weather
If you come on holidays to Cala Millor in the high season expect sun-filled days with temperatures in the high 20's which leads to busy beaches, so get there early! Those who want to be in the shade can head to the promenade which is palm-shaded or buy an umbrella for the beach. Fortunately the beaches are close to shops and bars so a cooling drink is never too far away.
The weather in Majorca over winter does tend to cool off significantly with occasional rainfall and cloudy days. If you want a nice combination of pleasant temperatures and peace, the best times to book a very cheap holiday in Cala Millor is early or late season. The months of April and late September are ideal times to get away for some much need rest and relaxation.
Things To Do on Cala Millor Holidays
At nearby Cala Bona, Rancho Willy is a local stable which offers you the chance to get away from the hustle and bustle of the resort and take advantage of the beautiful countryside. In the summer the shortest ride lasts around 90 minutes but if you visit once summer is over, two or three day treks are available.
Those wanting to get a better view of the coast on holidays to Cala Millor should take a trip on a glass bottom boat trip and maybe even enjoy a swim if the captain allows. On dry land there are some boutiques and jewellery shops but if you would like more impressive shopping you should check out the Monday market in Manacor. While you're there, have a look round the pearl factory!
Children will enjoy the selection of rides available at the Fantasy Park outdoor play area which is next to the Parc de la Mar gardens in the centre of Cala Millor. If it is excitement you want from your Cala Millor holidays then head to the karting track on the Avda for a spot of adrenaline-fueled racing. Animal lovers will enjoy the Auto Safari Zoo situated on the outskirts of Sa Coma.
Culture
Like most Majorcan resorts, Cala Millor has a history which is reflected in it's old buildings and culture. Buildings such as the 17th Century watchtower and the historical mansion, La Granja offer an insight into this island's history.
If you head on holidays to Cala Millor in late January you'll be lucky enough to see the festival held in recognition of Sant Antoni Abad who is the patron saint of animals. Small bonfires are lit and traditional songs are sung by the locals with a colorful parade held on the following day. The Son Servera Fair is a week of festivities which is held during the second fortnight of June each year in nearby Son Servera featuring an agricultural and handicraft fair.
Cala Millor organises a 4 day event held in the first week of August with sporting, musical and other cultural activities. There is also Tourism week in September and the famous Bahia de Cala Millor in October.
Book a Cala Millor Holiday now!
Cala Millor holidays have plenty to offer families and couples looking for a peaceful and relaxing break as it has a number of attractions to suit everyone's needs, not least the stunning beach!
To find the best deals use our live booking system to create your own customised holiday to Cala Millor by combining cheap flights and accommodation. There are great deals available every day so get started - customise your holiday now!