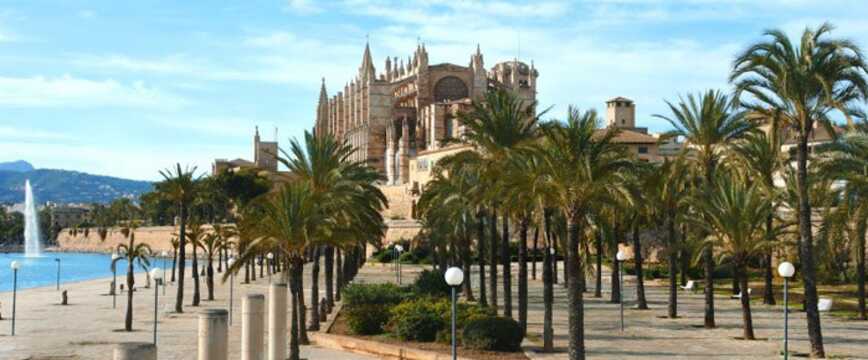 Craving some adventure from your next escape? A city break to Palma provides all the excitement you could ever wish for, without compensating on those palm-tree studded golden sands and fresh Sea breeze that we all catch ourselves daydreaming of every now and again. A city simply oozing with culture and history, authentic Majorcan cuisine and a feel-good nightlife scene. A pleasant surprise awaits you on every street corner, from astounding gothic architecture to hidden coffee shops on street corners and incredible Spanish sunsets – this ever-giving city is sure to win a special place in your heart.
Beaches
One of the beauties about this sunny city is that it takes only seconds to go from the sights to the beach. Palma City Beach sits right in front of the Cathedral, so there's always time for a quick stop off to top up your tan or cool off with a refreshing dip. Crisp white sands meet crystal-clear blue waters at this stunning Blue Flag beach, offering a break from the city life with all the ingredients of a peaceful Mediterranean paradise. Tuck into some gorgeous seafront grub at one of the nearby restaurants or stop off at one of the stylish beach clubs and treat yourself to a pińa colada. There are plenty of ways to make the most of the beaming Majorcan sunshine. Food & Drink
In true seaside fashion, fresh fish dishes flow through many restaurant menus by the shores. So it's perfect for seafood fans and you probably won't find much fresher than this! If the thought of traditional tapas dishes gets your taste buds tingling, make your way over to the Old Town where you can feast on a true taste of island cuisine. Pick from rustic bruschetta's piled high with seasoned tomatoes and fresh basil, or opt for a crunchy croquette with a soft centre of potatoes and smoked ham. The city is also home to some of the finest orange juice of all, and with the perfect orange-growing temperature, a citrusy glass of the good stuff has never tasted so good- especially when you're seeking something cool off from the gorgeous Mediterranean sunshine. Wine fans are also in for a treat as this city's wine selection certainly won't disappoint. The nearby wineries are known for producing some of the finest varieties of white and red wines across the island, so it would be rude not to!
Culture
Striking, gothic-style buildings stand proudly over these city streets. Incredible architecture surrounds you everywhere you go, from the city's cherished Santa Maria Cathedral to the breathtaking Bellver Castle. Art lovers can dive into a world of wonder at the Es Baluard modern art museum, exploring a treasured collection of contemporary pieces. If the theatre is more your thing, you'll be spoilt for choice with the musicals and shows hosted across the city. From moving opera performances to unique dance shows, it's a great way to get a glimpse at the culture here on the island! Nightlife
Start your evening of Palma adventures with a trip to the Old Town, where you can discover little, yet lively venues that are always a hit with the locals. These guys know how to throw a party, so join in with the Flamenco as you cherish the cheap drinks and live music. Next stop, the cocktail bars. Palma offers quite possibly one of the coolest collection of swanky cocktail bars that Majorca has to offer including Bar Abaco, Chapeau 1987 and Waikiki, to name a few. For those late-night revellers out there, there's no shortage of nightclubs to tick off the list. Experience the legendary line-ups that play the Pacha Mallorca stage each night, or opt for more of a backstreet kind of vibe with a trip to Brooklyn Club, where the funky soul tunes play into the early hours of the morning.
Important Information
Flight Time: 2hrs Time Difference: +1hrCurrency: EuroOfficial Language: Spanish
Vaccinations
Please check with your healthcare provider for all up to date vaccination advice before booking your holiday.
Visa and Entry Information
Passport Requirements: All passports must have 6 months validity from the return date of travel, two clear pages inside, and a valid return ticket.
Ramadan
Please be aware that the Islamic holy month of Ramadan will take place between 23/04/2020 and 23/05/2020. During this time, many cafes and restaurants will close during the day, restrictions on alcohol sales may be in place, and hotel dining for non-Muslim guests may take place in private rooms. Playing music, dancing, and eating in public areas may also be restricted during this time.
View destination on a map
Palma Weather
Palma boasts a sunny Mediterranean climate, that reaches anywhere between 27-30°C from June to September. The months of April, May and October are slightly milder with temperatures ranging from 19-24°C.
Things To Do on Palma Holidays
Party on the seas
What could be better than all day dancing, free flowing drinks and live music sessions? Palma boat parties offer all that and much more, as you cruise across the stunning bay and set sail for the south coast of the island. Here you'll get the chance to discover idyllic virgin coves, dive in headfirst with your pals or soak up the sun on deck with a glass or two of sangria. You're sure to enjoy an unforgettable party experience aboard this lively ship.
Ocean exploration
If you fancy taking the little ones out for a spot of fun, why not explore the incredible collection of ocean life at Palma Aquarium? This amazing aquarium is home to a whole range of fascinating fish, fierce sharks and captivating marine life. You can also catch the sharks being fed throughout the day and there's even an outdoor splashpark that will keep the kids entertained for hours.
A walk along Passeig des Born
When wandering along this street you'll be warmly greeted by the smell of freshly ground coffee that flows from the small cafes dotted on either side. Keep strolling along and you'll stumble across quaint tapas eateries, high-end shops and classy cocktail bars. Whether you're after a spot of mid-morning brunch or you fancy a nice early evening stroll this pretty little avenue is a must see!
Underground adventures
Climb deep down underground and discover the great Caves of Genova, with a walking tour around the small coves that lie quietly underneath this busy city. Your guide will talk you through the history of the caves as you wander through beautifully lit up caverns and explore another side to Palma unknown to many!