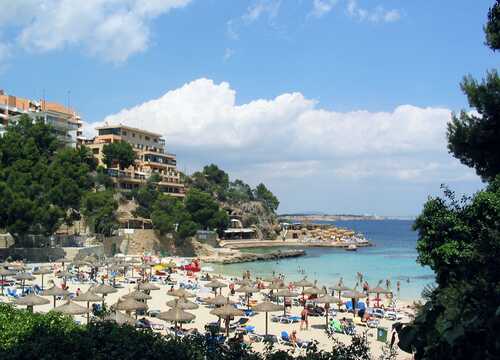 Only a short distance from the airport, Illetas is one of the most easily accessed resorts in Majorca. Situated on the south west coast, this resort is still relatively undiscovered. A little more pricey than other resorts, there are plenty of smart hotels which has even led to the resort being compared to such lofty destinations as Monte Carlo!
Expect shops for the girls and a mass of professional golf courses to keep the men happy on holidays in Illetas! This resort is perfect for young couples who have money to spend and anyone that is looking for more upmarket Majorca holidays.
View destination on a map
Illetas Weather
As you would expect with the Balearics, summers in Majorca are hot with wall-to-walll sunshine and temperatures peaking above 30° Celsius. Winter is a little more different as the temperatures are about half that with the occasional cloudy day and sporadic rainfall. Make sure you pack your case accordingly for whatever time you visit. And don't forget your tanning lotion!
Landscape
The coastline here is simply breathtaking, especially at sunset. The best way to soak up the atmosphere is by taking a walk along the seafront early in the morning or late at night, something that is highly recommended for anyone on holidays in Illetas. If you do not want to stay on the beach in the resort, why not hire a car and venture along the north west coast and find hidden coves so you can take a secluded swim.
The beach at Illetas can get very busy in the summer due to the amount of tourists in the area but some hotels do have their own private beaches for you to enjoy, depending where you stay. Whether you snorkel or swim, the clear, blue Mediterranean will be delightfully warm and magical.
Things To Do on Illetas Holidays
Those who are fond of diving should visit Hippocampes Divers on La Solona beach in Illetas. Open all year round, not only is it a great place to dive but in cooler months you can relax and get tips from other divers who congregate here. Golf fans will love the amount of golf courses scattered around, the nearest being Bendinat or Son Vida. Why not tee-off early in the morning then head to Palma in the afternoon to see what delights the capital offers. Palma offers a range of designer label outlets, more than what the resort has to offer but if shopping is not your thing why not take a tour of Palma on one of the buses.
To keep the children entertained on Illetas holidays head to the popular Marineland, located near Portals Nous - it's a great for all the family. Inside the park you will find performing dolphins and sealions and occasionally during the show, small children are picked at random to be pulled around the pool in a small dingy. Marineland is not open all year round so make sure you check dates if you plan to visit.
Culture
Majorca has a long history as ownership of the island has been fought over ever since the dawn of civilisation. With a prime location in the Mediterranean, Majorca has been used by the Romans, Byzantines and Moors as a vital trading post down through history. This diverse tapestry is now on display in the many museums, cathedrals and castles in Majorca.
If you want to explore the local culture, we suggest heading to nearby Palma to visit the local market and the different festivals that are held throughout the year. One of the oldest festivals in Europe is held in December at Palma to commemorate the arrivals of the troops of Jaume I the conqueror. In July, Festival Isladencanta takes place which is an annual music festival that covers the main genres including rock and pop and features some of Europe's best DJs.
The party spirit isn't just limited to the island's capital though, Cala Millor has an excellent 4 day festival held every year in August that is well worth the trip.
Nightlife
The nightlife on Illetas holidays is fairly sophisicated but mainly hotel based. Unlike El Arenal, Illetas is not full of bars open till dawn but there are a few bars where you are able to get a quiet drink to wind down after a day on the beach. The only nightclub on the resort is called the Virtual Club which opened in 2003 in the natural caves of Illetas. Note that this is a very exclusive club that comprises a nightclub, restaurant and cocktail bar. Those wanting a quiet meal should head to the few restaurants on offer where you can try the local delicacies and have a relaxing drink.
If it is a night of partying that you want then the place to be is Santa Ponsa.
Book a Illetas Holiday now!
Illetas is the perfect destination for those looking for a more exclusive Majorca holiday as the hotels tend to be of a higher quality, most are 4 star rated and above. If you head out of the resort, there is plenty of attractions on offer in nearby towns and with easy access to Palma, you will have the best of beach and culture on tap.
On the Beach is offers great deals on flights and hotels in Majorca year round. To book your customised holiday in Illetas, use our live booking system to combine flights and accommodation. Don't delay, your holiday is only a few clicks away!