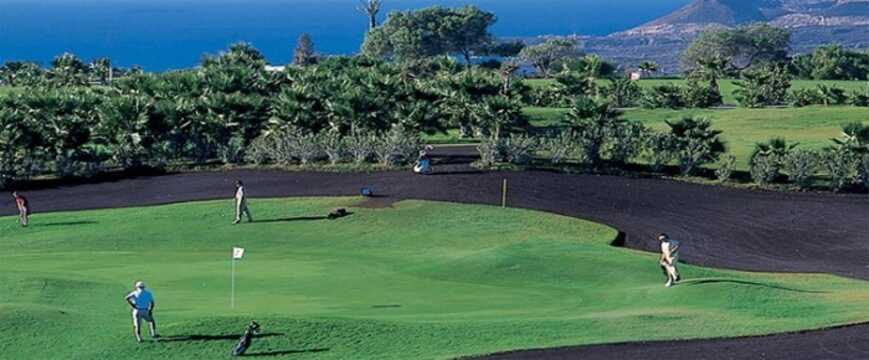 Read more about Golf Del Sur
A holiday in Golf Del Sur will find you a stone's throw away from the island's famed nightlife and great party atmosphere, but many tourists now elect to find a paradisiacal pocket away from the frolics in which to base themselves on their Tenerife holidays. The southern resort of Golf Del Sur is just that: beautiful, quiet and strewn with laid-back bars and a huge golf course, the perfect locale for those who need to get away from it all! Book your Golf Del Sur holidays with On The Beach and find yourself in one of the island's finest resorts in four hours flight-time!
View destination on a map
Golf Del Sur Weather
Forget the rain! Temperatures in Golf Del Sur here range from a 15° Celsius average over winter to summer highs around 30° Celsius; so heed our advice and leave your woolly socks at home in favour of the sunscreen! The pool is waiting!
Landscape
Golf Del Sur is a clash of vibrant colour - the lush green of the courses surrounded by the clear azure of the coastline with black-silted beaches, and huge mountains overhead. Mount Teide is probably the best vantage-point to take in panoramas of the island, although closer to home there's the little fishing harbour of Las Galletas, perfect for a romantic promenade.
Culture
Holidays to Golf Del Sur wouldn't be complete without taking in some local culture, which you can do at the village of Abrigos, half an hour away, from some authentic Canarian seafood. Come here in February, Carnival Season, to witness a month of mayhem with street parades and dances, or in summer for festivals centred on art - specifically making sculptures out of sand!
Adventure
The name gives it away: Golf Del Sur is primarily famed for it's amazing 27 hole golf course, stretching verdantly over the resort. For non-golfers there's always the nearby beach watersports at Las Galletas, or the huge beach under 500 metres away. Travel into Las Americas to see the sights: zoos, museums and waterparks, or up the island to Mount Teide, the highest peak in Spain.
Nightlife
Golf Del Sur holidays mean peace and quiet, but relatively speaking: this is Tenerife, and that means a surfeit of charming bars and a range of seaside cuisine at restaurants serving British, Spanish and Chinese fare. For some famed Tenerife nightlife, venture into Las Americas and Los Cristianos, 15 minutes away by car, to explore the clubs and pubs on Veronica's Strip and dance the night away!
Book a Golf Del Sur Holiday now!
On The Beach is first choice for booking your Golf Del Sur holidays and accommodation! You are just a few clicks away from the deal of your dreams: but don't delay, there are amazing offers available now!