Read more about Sunny Beach
---
Lazy beach days, paintballing mornings, waterpark afternoons and unforgettable nights out under neon lights are standard on a Sunny Beach holiday.
---
Destination highlights
Great mix of party and family beaches
Budget-friendly hotels
Sunshine all year
Refreshing sea and mountain breeze
Jump to...
Beaches | Hotels | Nightlife | Food & drink | Events | Things to do | Weather | Important information | Reviews |
---
What are the best beaches in Sunny Beach?
Beach holidays in Sunny Beach are so popular because the surrounding seaside areas cater to lots of different tastes, from wild parties on the sand to blissed-out moments on calm shores. These are our favourite shores within easy reach of the resort to get you excited:
Sunny Beach – The resort's main beach has a whopping eight kilometres of golden sands, with a sociable vibe and activities for all ages on water and land.
Nudy Pláž – Another long stretch of coast favourited by tourists, with crystal-clear water and a peaceful nudist area at one end.
Rumba Beach - Soft sands, deep blue sea, and an excellent cocktail bar. What more could you want?!
Nesebar South Beach - A quieter beach with lots of loungers, and safe shallows for kids to play in.
Sveti Vlas - A calm place to hunt for shells and enjoy the dramatic coastal views, plus a huge pirate ship docks here!

What are the top hotels in Sunny Beach?
The first thing you'll notice is the incredibly low prices, but after that pleasant surprise you'll have a range of locations to choose from based on your holiday wants and needs. Here's a selection of the best:
Kavkaz Golden Dune Hotel - For fun holidays with friends, you'll want to head to this lively hotel with its own pool bar and a variety of nightly shows.
Bellevue - This seaside hotel is proof that you can have cheap all-inclusive holidays to Sunny Beach without missing out on anything, with its four-star rooms, tasty meals, and pools for all the family.
L&B - A friendly hotel close to the beach, with such amazing service and affordable rooms that people return year after year on cheap Sunny Beach holidays.
Jupiter - Our pick for relaxing breaks, offering spacious rooms and apartments set back slightly from the busy main beach.
Ivana Palace Hotel - A favourite for families looking for a cheap and cheerful break, offering a large pool and rooms close to the main beach
Sol Nessebar Palace - Families will love this five-star hotel! It offers its own waterpark, entertainment throughout the day for all ages, and a very well-equipped spa.
What's the food like in Sunny Beach?
Sunny Beach's coastal cuisine is all about seafood, and you'll find it prepared in every way imaginable. Yoghurt and cucumber also feature heavily, which is a great combo for hot days. Look out for these dishes:
Tsatsa - A popular seaside street food of little fish coated in a light batter and fried whole.
Tarama hayver - A creamy fish roe dip flavoured with lemon, often served as an appetiser.
Rapani - Local whelks, often served sliced up over salads.
Tarata - Refreshingly cold summer soup with cucumber, yoghurt, and walnuts.
Banitsa - The national dessert, layers of crispy filo pastry stuffed with soft cheese and yoghurt.
You won't need to go far from the shore to eat delicious food on your holidays to Sunny Beach, as there are loads of fab eateries like these within easy reach:
Marina Restaurant - Generous portions of fresh seafood dishes and stunning views, steps away from the main beach.
La Banana @ Emona - This friendly restaurant serves tasty meals at great prices, making it a favourite for family holidays in Sunny Beach.
Restaurant Bolero - Our favourite place for romantic nights out, with live music and refined traditional recipes on offer.
Hawaii Restaurant and Bar - While it's not strictly traditional, we couldn't leave out this buzzing beachside spot that brings people back year after year.
Where is the best nightlife in Sunny Beach?
Party animals will be kept happy on Sunny Beach holidays, as the resort has lots of nightclubs that cater to a young crowd. The sheer size of the beach means that there are also plenty of options for laid-back evenings if that's more your speed. These venues are always a hit after dark:
Cacao Beach Club - A pumping nightclub by the sands, often putting on live music and DJs.
Guava Beach Club - Our favourite cocktail bar right on the beach, taking you from chilled-out days to partying all night.
Iglika Bar - This friendly bar is a great place to down shots with people from around the globe.
Bar Mexo - Another melting pot of cultures, where you can dance to Latin beats on the sand.
Khan's Tent - A family-friendly dinner show that's always great fun, with traditional food and performances.

What events can I go to in Sunny Beach?
Whenever you book your 2022 holidays to Sunny Beach, the resort will have something fun for you to join in with. If you're happy to look slightly further afield, you'll also have access to some of Sunny Beach's unusual traditions, such as these:
Lazaruvane (April) - Across the country, parades of young women celebrate Easter by dancing through the streets in traditional costumes.
Sea and Memories (May) - A unique music festival in Varna where you can catch international acts sharing their love of the high seas.
Sand Sculptures Festival (July) - An ideal stop on a family day trip to Burgas, with the work of Bulgaria's best sand artists on display.
July Morning (July) - Inspired by an obscure British rock song, bonfire parties take place along the coast to mark summer freedom.
International Folklore Festival (August) - Nearby Burgas hosts this riotous display of colourful customs and performances.
Apollonia Arts Festival (August–September) - A season of exhibitions and events in Sozopol showcasing cutting-edge contemporary art.
Autumn Passages Festival (October) - A celebration of all things fishy in Nessebar, with plenty of fresh food and entertainment.
Things to do in Sunny Beach
Slip 'n' slide
The nearby Action Aquapark is a great day out for swimaholics and thrill-seekers of all ages. They've got tall slides to shoot through at great speeds, a lazy river to bob along at a leisurely pace, and loads of sunbeds to dry off and catch some rays.
For old time's sake
For fans of history and romance, the charming, cobbled streets of Old Nessebar are just a short jaunt along the coast. You can see thousands of years of human life reflected in the many ancient buildings, which is why the whole city is a UNESCO World Heritage Site. It's a gorgeous place to take a stroll and loads of pics.
Push the boat out
For a day of luxury with an affordable price tag, take a Catamaran Cruise out on the water. Not only will you be fed and watered as you sail away, there'll also be plenty of opportunities to dive in and even see dolphins up close.
Relax the day away
Lying on the beach all day can be tiring business! To take your relaxation to a whole new level head to the friendly Erma Spa Turkish Bath, where you can be scrubbed, steamed, and massaged to your heart's content.

What's the weather like in Sunny Beach?
The resort's climate is a big part of its charm, with an average of three hundred days of sunshine per year and fresh mountain breezes that keep humidity in check. The summer months are ideal for guaranteed hot weather, while spring and autumn offer milder breaks and a quieter resort. Rainfall isn't uncommon throughout the year, so make sure to check the forecast before booking any last-minute holidays to Sunny Beach.
| | | | |
| --- | --- | --- | --- |
| Month | Average temp. | Sea temp. | Hours of sunshine per day |
| Jan | 3 °c | 10 °c | 3 h |
| Feb | 4 °c | 9 °c | 3 h |
| Mar | 7 °c | 9 °c | 5 h |
| Apr | 12 °c | 11 °c | 7 h |
| May | 17 °c | 16 °c | 8 h |
| Jun | 21 °c | 21 °c | 8 h |
| Jul | 23 °c | 24 °c | 11 h |
| Aug | 22 °c | 24 °c | 10 h |
| Sep | 20 °c | 22 °c | 9 h |
| Oct | 17 °c | 19 °c | 6 h |
| Nov | 10 °c | 15 °c | 3 h |
| Dec | 5 °c | 12 °c | 2 h |
Important Information about travelling to Sunny Beach
How long does it take to fly to Sunny Beach?
It takes around three and a half hours to fly from the UK to Bourgas Airport, followed by a short transfer via car to Sunny Beach.
What's the time difference between the UK and Sunny Beach?
Sunny Beach is two hours ahead of the UK.
What currency do they use in Sunny Beach?
The official currency of Sunny Beach is the Bulgarian Lev (BGN).
What language do they speak in Sunny Beach?
Bulgarian is the official language, though you will find many English speakers in the tourist areas.
Do I need any vaccinations to visit Sunny Beach?
Please check with your healthcare provider for all up to date vaccination advice before booking your holiday.
Do I need to pay tax on my holiday to Sunny Beach?
Sunny Beach charges an overnight tax which varies depending on location and accommodation type. The rate ranges from 0.2 Bulgarian Lev to 3 Bulgarian Lev, per night.
Will Covid-19 affect my holiday to Sunny Beach?
We are currently closely following the Covid-19 situation and how it affects travel. You can find out the most up to date information about travel to Sunny Beach on the FCO website.
Do I need a visa to travel to Sunny Beach?
British passport holders don't need a visa to enter Sunny Beach. Holders of other passports are advised to check with their national embassy for any visa requirements.
Here's another destination you might be interested in...
---
Customer reviews
At On the Beach, we've sent many satisfied customers to Sunny Beach for a bit of sunshine. But don't just take our word for it, read some of their 5-star reviews below.
Keelle Stammers:
Have used this company for about 6 years now and have never been disappointed. They have been amazing even through covid. Thank you on the beach!
Tracy Edwards:
Very helpful and loved the hotel the staff where very helpful and lovely
Sharron Shewan:
So quick and easy, no hassle. Always kept up to date with any relevant information
View destination on a map
Sunny Beach Resorts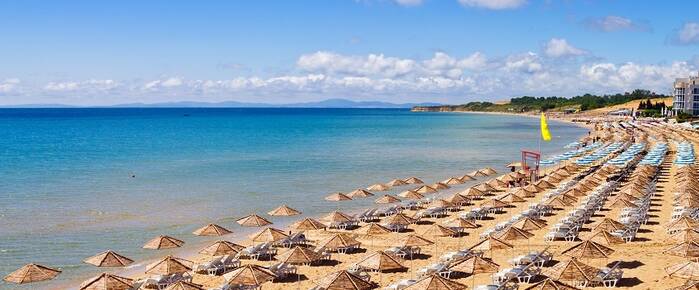 From wide, sweeping, golden sands to a small historic town perched on the peninsula, it's easy to see why Nessebar is often referred to as "the pearl…