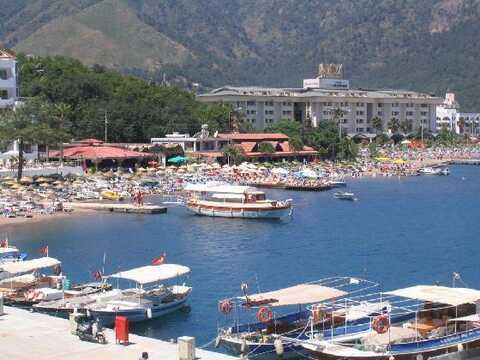 Situated next to the popular resort of Marmaris, Icmeler's quieter beach and friendly local life make it an increasingly popular place for holidays in Turkey. The small resort offers the perfect mix of traditional culture and tourist activity with luxury yachts floating in the bay and friendly bars dotted along the sea front.
The resort has a beautiful beach that offers a variety of watersports including sailing, scuba diving and waterskiing. You can also take a dip into the calm Mediterranean waters to cool off during the day when the temperature is at its highest.
If you want to truly explore what Icmeler is about, take a boat trip to Cleopatra's Isle – a small island beach covered in white sand. Also worth a visit is ancient city of Ephesus, reflecting centuries of history from Greece to the Roman Empire.
Although not as lively as its neighbouring towns, the nightlife in Icmeler is still not to be missed. Whether you fancy a spot of karaoke, an evening of live music or want to dance until the early hours, this quirky resort has something for everything.
Ramadan
Please be aware that the Islamic holy month of Ramadan will take place between 12/04/2021 and 11/05/2021. During this time, many cafes and restaurants will close during the day, restrictions on alcohol sales may be in place, and hotel dining for non-Muslim guests may take place in private rooms. Playing music, dancing, and eating in public areas may also be restricted during this time.
Visa and Entry Information
Passport Requirements: All passports must have 6 months validity from the return date of travel, two clear pages inside, and a valid return ticket. Visa Requirements: British tourists are no longer required to obtain a visa to visit Turkey.
View destination on a map
Icmeler Weather
Icmeler has scorching summer temperatures that regularly top 30° Celsius, perfect for topping up your tan. Although some winter days can be overcast and wet, even in December the thermometer rarely drops below 10°!
To get the best from holidays in Icmeler, visit between May and November for permanently blue skies and sun, sun, sun!
Landscape
Icmeler's golden sands overlook the intermingled turquoise waters of the Mediterranean and Aegean Seas as they meet one another below the bay. The shoreline, which is enclosed by rows of breathtaking, pine-covered mountain scenery, is less busy than most Turkish resorts.
Icmeler is renowned for golden sunsets on the beach as the sun drops into the Mediterranean. It's well worth the effort to make the short trip up past the lush greenery for a spectacular panorama, with the two great seas stretching out into the distant horizon.
Things To Do on Icmeler Holidays
For a change of scenery, hop on a ferry or bus to Marmaris, just three miles to the south, for a walk through the gorgeous town. There's enough there to keep anyone happy, whether you're trawling through the massive shopping centre, relaxing on the beach, being a culture vulture or trying out the fantastic fare at one of the many great restaurants.
Excursions to the ancient sights that are everywhere here, such as the House of the Virgin Mary at Ephesus and the beautifully kept museum inside the old castle, should be top of your list.
Culture
Icmeler is famed as one of the friendliest localities in the Turkish Riviera, and the people here are always keen to help you out with directions and boat rides. Be sure not to miss the market on Wednesday!
Why not also take a trip to the nearby seaside towns of Datca and Bozburun for a more authentic taste of Turkey? These quaint resorts house old villages which take pride in conserving the exotic plant-life and flora that are only seen in these parts. Both towns also contain apiaries selling some of the sweetest thyme honey and almonds anywhere in Europe.
Nightlife
One great thing about Icmeler Holidays, aside from the landscape, beaches, food, weather and people (as if that wasn't enough), is that it's close to the buzzing bars and clubs of nearby Marmaris. But you don't have to travel to Marmaris to have a great night as there are enough late-night bars and clubs here to keep anyone happy.
Whether you want to dabble in a little karaoke, dance the night away in a club or check out live bands, you'll be singing along well into the wee hours!
Book a Icmeler Holiday now!
On the Beach should be your first choice when it comes to booking cheap Icmeler holidays. Combine your cheap Turkey flights and accommodation using our live booking system for the perfect tailor made holiday in the sun! What's more, the earlier you book, the more you can save thanks to our low deposit scheme. Pay as little as £25pp deposit on flight deposits and just £1pp hotel deposits. What's to think about?!