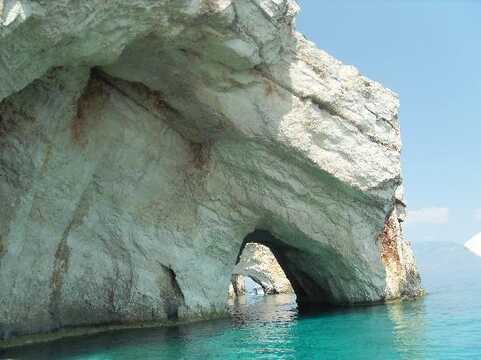 There's nothing quite like Zante holidays to lift your spirits and cheer you up when life seems a little, well, dull. A little bit of sun, sand and sangria is just the job when you're down in the doldrums. And the best bit is you don't have to have a bottomless purse to do it! Kypseli, on the northeast coast of the Greek Island of Zante, is the perfect place for two weeks of rest and relaxation. Fortunately for you, On the Beach has great deals on flights and hotels making it even easier to get away!
View destination on a map
Kypseli Weather
Kypseli has a Mediterranean climate which promises long hot summers and mild winters meaning it's the perfect place to visit to work up that sunkissed healthy tan! The best time for your Zante holidays is between April and September when the temperatures are at their zenith. Expect long, hot days and soothing nights made comfortable by the breeze off the Mediterranean.
Kypseli is perfect for anyone wanting time out from the real world. on their Zante holidays This traditional Greek village has remained largely unspoilt with winding streets and cute old-fashioned houses. A walk around the village is an attraction in itself and will really make you feel you're a world away from your every day worries. If you want to explore take a walk up the hill to the Charalambos Chapel and witness the stunning views.
Landscape
The area around Kypseli is known for the stunning landscape dotted with brightly coloured flowers and a scattering of olive groves that fill the air with their fragrance, reminding you you're in the heart of the Mediterranean. The village's beach is a stretch of white sand with clear blue water and is just a short walk from the centre of town.
Culture
The old-fashioned architecture in Kypseli is a stunning sight and the fact the village has maintained its traditional customs make it a culturally fascinating place to visit. Vardiola, one of Zante's only Fortresses, is also well worth a visit for an insight into the tapestry of history culture of Zante.
Nightlife
Kypseli is a sleepy village, known for its peaceful atmosphere so if you're expecting trendy nightclubs and heaving night life you'll probably be disappointed. What you will find here however are authentic Greek restaurants and tavernas with oodles of atmosphere. Kyspeli is ideal for couples seeking a romantic vacation or families looking to enjoy a child-friendly holiday.
If you do want a night out on the tiles then the place to visit is Laganas where you'll be able to let your hair down and have a fun night out in the clubs and bars that make this place famous.
Book a Kypseli Holiday now!
So what are you waiting for? If you're looking for relaxing Zante holidays and a chance to see the 'real' Greece, Kypseli is just what you're after!
On the Beach have the best deals around for Zante holidays so why not treat yourself to a little taste of bliss today. Customise your holiday today with our live booking system to combine your flights and hotels with ease.