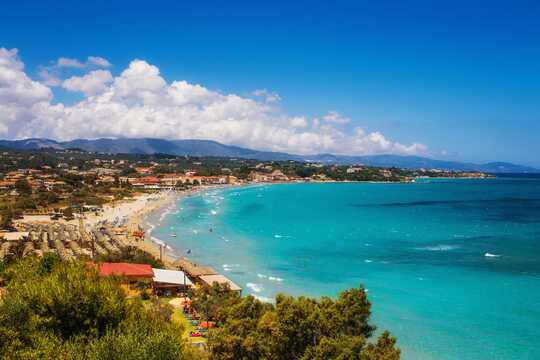 Growing in popularity, Tsilivi is slowly ranking as one of Zante's top holiday spots. A 2km sweeping beach, lively nightlife and plenty for families is firmly putting Tsilivi on the map. While growing in popularity this town still has its old fishing town charm with narrow winding streets, two small marinas and a laid-back Greek attitude.
Beaches
Tsilivi Beach is a long, sweeping, crescent-shaped beach which has been awarded Blue Flag status year after year – meaning it conforms to strict criteria and therefore making it safe, clean and accessible. There are plenty of sun loungers and parasols at one end of beach and a strictly towel-only section at the other end. There are restaurants and bars along the length of the beach to keep you refreshed and the waters are calm and shallow here meaning it is also suitable for children. To the north-west, and just past the small harbour, you will find Bouka Beach and then Gaidaros or Donkey Beach. Both of these beaches are quieter than Tsilivi Beach so there is tonnes of space to lie a towel on the warm sand and catch some rays.
Food & Drink
Olive oil plays a vital role in Greek cuisine, with olives produced locally and abundantly, you can be sure that the olive oil here is the best quality around. Other key ingredients used in a lot of Greek cooking include feta cheese, garlic, rabbit, lamb and aubergine. As Tsilivi is a coastal town there is also the benefit of fresh seafood daily. We recommend trying tyropitakia – puffed pastry stuffed with feta, or a classic Greek rabbit stew cooked with local wine.
Culture
Once a sleepy fishing village and now an up-and-coming holiday hotspot, Tsilivi is a picturesque town full of charm. The culture here is typical of a coastal town – laid-back and friendly with a focus on relaxation and enjoyment. Religion is important here and you will often see a lot of churches holding religious celebrations.
Nightlife
Unlike its rowdy neighbours, Tsilivi has a more relaxed nightlife but it is by no means quiet. Late night bars and neon lights are still available on the main strip but the atmosphere here is slightly more reserved around the edges. Think cosy live music venues, cocktail beach bars and traditional tavernas.
Important Information
Flight Time: 3.5hrsTime Difference: +2hrsCurrency: EuroOfficial Language: Greek
View destination on a map
Tsilivi Weather
Tsilivi enjoys long, hot summers with average highs sitting around 28°C in June and September and 31°C in July and August. Rainfall is minimal through these months and humidity is very low. Winter months see the temperatures drop to around 10°C with the coldest months being December to February.
Things To Do on Tsilivi Holidays
Visit the Venetian CastlePerched at the top end of Tsilivi Beach is the ruins of the once spectacular Venetian Castle surrounded by outbuildings and cannons. Take a wander here and you will also be greeted with superb views over Tsilivi bay and marina. Tsilivi WaterparkCatering to all ages, Tsilivi waterpark is a fantastic day out for families and groups of friends alike. There is a large pool dedicated to little ones with plenty of activities and slides to keep them occupied and having fun all day. For the more adventurous there is a number of adrenaline-fueled slides including the terrifying Black Hole and Turbolance – an inner tube ride with a twist!Mini Fantasy GolfFor a great family day out head to the Tsilivi Mini Fantasy Golf. Several courses for all abilities make their way through beautiful landscaped gardens, fountains, waterfalls and even an erupting volcano! The course is open late and there is even an on-site bar open until 2am which makes for a great evening out without the kids!Take a boat tourTsilivi is home to several boat tour companies offering a range of different excursions from private hire days with a personal skipper to self-drive boats. This is the best way to really experience the dramatic coastline here which is full of nooks, crannies and caves that are waiting to be explored.