The UK is now in lockdown. We will be in touch with affected customers in departure date order up to and including 14th February 2021. More COVID-19 information.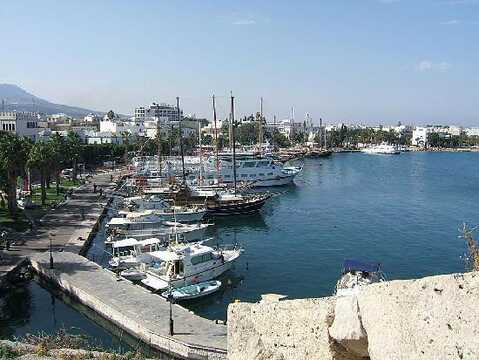 Any Greek Island holiday isn't complete without a trip to Kos Town. Rich with ancient history, Kos Town offers some of the most intriguing sights anywhere in the Greek Islands. Kos Town is the island's capital and houses some of the world's finest museums and archaeological finds. The hotels in Kos Town offer luxury accommodation fit for a king complete with all the modern amenities you've come to expect, and the local dining is simply magnificent. You won't have to worry about finding things to do either as the city is alive with people enjoying the sights, shopping, restaurants, bars and clubs. Drop into a seaside taverna to enjoy a glass of Retsina, a local wine drink, and a pizza or relax by the shore with a feast of dolmadakia, or stuffed grapeleaves. You can be sure that your holiday in Kos Town will be memorable!
View destination on a map
Kos Town Weather
The weather in Kos is sunny and warm year round. The average temperature is around 25° Celsius, with temperatures a little warmer during the peak summer months when most people go on their holidays to Kos. Plan to tan as this semi-tropical climate is ideal for relaxing by the beach or pool soaking up the rays.
Landscape
Kos is a stunning island, surrounded by the crystal clear waters of the Carpathian Sea. Her landscape is a feast for the eyes with a rich combination of fertile olive groves and rising plateaus. Set against a majestic mountain range, sunrise in Kos Town is not to be missed.
Things To Do on Kos Town Holidays
Kos Town is the centre of the island when it comes to things to do. Visit the Plane Tree where Hippocrates was said to have taught his pupils or visit one of the many museums nearby. If museums aren't your style, visit the Odeum, an ancient roman theatre built in the third century and excavated just within the last century.
If rare archaeological finds tickle your fancy, visit Ancient Town, where you will see some of the most fabulous ruins in Greece. An Hellenistic temple, once dedicated to Hercules, and a sanctuary of Aphrodite watch over the Town of Kos, now standing as a majestic reminder of ancient civilisation.
Of course, more modern attractions abound, as well, as Kos Town is full of plenty of shopping, restaurants, and nightclubs. Or you can enjoy some of the more popular water sports, such as water skiing, windsurfing and even scuba diving. Regardless of your tastes, there's something in Kos Town that everyone in your family can enjoy!
Culture
The centre of all activity on the island is Kos Town, and it is full of the life of its inhabitants. Spirits run high on the infamous 'Bar Street', and the spirits of the ancient scholars can be felt within the many museums, shrines, and castles that dot the area. A predominantly Greek Orthodox community, Kos Town also offers safe harbour for those of all walks of life.
Nightlife
Dance the night away in one of Kos Town's many nightclubs or discotheques. Or if you prefer a more traditional evening, join one of the many clubs offering traditional Greek step-dancing and kick up your heels. The nights in Kos Town are nearly as bright as the days; life in Kos doesn't end when the sun goes down! If the bars and clubs aren't your scene, take a leisurely stroll along the shore in the moonlight. The sea is particularly breathtaking when viewed in the night air, perfect for romantic couples.
Book a Kos Town Holiday now!
Holidays in Greece have never been more affordable, and On The Beach is just the company to help you plan the perfect holiday. Here at On The Beach you can book your fights and hotels at the same time to create your own customised holiday; so why not start planning your Greece holidays right away? There's never been a better time to take a holiday to Kos, so book now with On The Beach today!