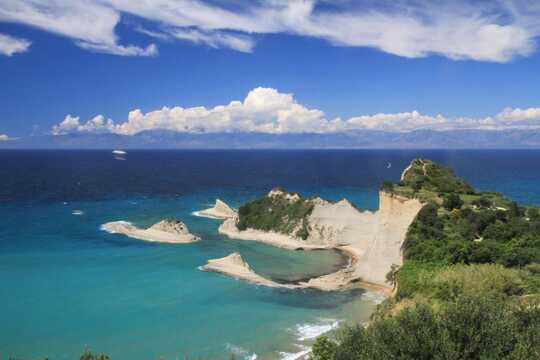 Natural beauty, family-friendly beaches and vibrant nightlife combine to make Sidari a hotspot for British sun seekers of all ages. Nestled in the northwest of Corfu, you'll find this resort between the sparkling Mediterranean Sea and the island's lush green olive groves. Perfect for a holiday with the kids, a romantic getaway or a mates escape, this Greek island gem is a rising star in the world of beach breaks.BeachesSidari Beach has everything you want for a beach day (or seven). The calm, shallow water is great for families and you can take part in some exciting watersports here. There are also plenty of restaurants and bars nearby for drinks, snacks and seaside dining. If you prefer a quieter sandy spot, make your way to Sunset Beach in Peroulades. This is one of the best places to swim in Corfu, and tends to be less busy than the resort's main beach.Food & DrinkDelicious local produce and fresh seafood is on the menu in Sidari. Look out for cheese and olive oil lovingly made in Corfu – it's good, even by the high standards already set by Greek cuisine. Head to Orchard Restaurant for an evening meal to remember. You can dine in the cosy taverna or outside in the pretty gardens. To eat like an islander, sample some stifado, a popular Corfu stew made with beef and baby onions, then toast to your holiday with a glass of fruity kumquat liqueur - a uniquely Greek tipple.CultureAlthough modern-day Sidari has grown into a bustling, popular tourist resort, Corfu's coastline is steeped in history, and is dotted with coves and caves that have inspired stories and legends for thousands of years. Hercules and Odysseus are among the country's mythical visitors, and Shakespeare is even said to have based Prospero's island in The Tempest on Corfu. The sparkling sea vistas of the Corfiot coast have also made it to Hollywood – scenes from the James Bond film For Your Eyes Only were shot here in 1980.NightlifeSidari's friendly, relaxed days transition into welcoming, lively evenings – there's plenty going on but it's more laid back than a typical party resort like Kavos. You'll find a great variety of entertainment here as the sun goes down, including tribute acts, karaoke and live music. Chic drinks can be had at The Vine, where prosecco, bellinis and cocktails are served by candlelight inside or outside on the sea view terrace. If dancing and DJs are more your style, check out the live acts and discos at Babylon Bar.Important InformationFlight Time: 4.5hrsTime Difference: +2hrsCurrency: EuroOfficial Language: GreekVaccinationsPlease check with your healthcare provider for all up to date vaccination advice before booking your holiday.VisaBritish Passport holders don't need a visa to visit Sidari. Holders of other passports are advised to check with their national embassy for any visa requirements.
View destination on a map
Sidari Weather
July and August are Sidari's hottest months, with average temperatures of 25°C and highs of up to 31°C. May-June and September-October are great times to visit too, especially if you prefer to travel outside of peak season, as the mercury tends to stay at 18°C or above on average at these times. If you're visiting in winter, expect fresh weather that rarely drops below 12°C.
Things To Do on Sidari Holidays
Canal d'AmourLooking for a holiday romance? Local folklore says that swimming along the Canal d'Amour will lead you to your soulmate. If you've already met your dream partner, this romantic cove is the perfect spot for a date or a scenic dip in the Mediterranean. The stunning waterway has been naturally carved into the sandstone, and leads up to a small, pretty beach. You could even bring a picnic or visit the clifftop restaurant nearby to make a day of it.Sidari WaterparkGrab your swim stuff for some splashtastic family fun at Sidari Waterpark. This hotel's swimming pools and waterslides are open to the public for a small fee, and you'll find six exciting slides and three swimming pools on site, as well as a bar, restaurant and some arcade games to play. A great day out for little ones and big kids alike!Boat TripGet on board with a boat trip along Sidari's stunning coastline. Setting sail from Sidari, you can island-hop to the beautiful, remote Erikousa Island or take a trip along the shore to Paleo, one of Corfu's most picturesque towns. Travel to nearby Kassiopi for a wider range of seafaring adventures, including an unforgettable trip to Corfu Town by starlight, or a Grand Island Tour.Explore the IslandWhy not discover the rest of Corfu? You'll find stunning hikes near Sidari, as well as plenty of opportunities to rent a bicycle. Hiring a car opens up the whole island - it would take just under three hours to drive the length of the island. Head just around the coast to Kassiopi for stunning beaches or down south to Kavos to experience the Corfu's party capital. You'll find olive groves, sweeping sea views and lush greenery galore however you choose to explore.