The UK is now in lockdown. We will be in touch with affected customers in departure date order up to and including 14th February 2021. More COVID-19 information.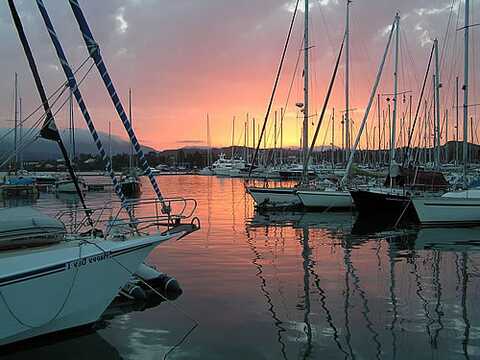 Located on Corfu's eastern coast, nestled in the spectacular Kommeno Bay is Gouvia, a fine town with beautiful beaches. Gouvia has a strong seafaring history and today is a favourite haunt of the yacht owning rich and famous. Upmarket hotels, great restaurants and some interesting historical sites lend the town a cosmopolitan air.
Gouvia is just 5km from Corfu Town, and the island's main airport so easy convenient to reach from the UK. On the Beach has amazing deals on flights and accommodation for the best Gouvia holidays!
View destination on a map
Gouvia Weather
If it's sun you wannt, then Gouvia holidays are for you! The Mediterranean climate means temperatures reach their zenith of 40° Celsius in the peak summer months, which is when most people go on holidays to Gouvia.
However, crowds can be an issue during summer so Gouvia holidays in the autumn are often a very good idea. There are fewer people around, the temperatures are still great and you get a much more authentic feel to the place.
Landscape
You can see why so many people choose to keep coming back on holidays to Gouvia. Kommeno Bay, in which Gouvia sits, is incredibly picturesque, with a mixture of shingle and sandy beaches lapped by the brilliant blue of the Ionian Sea. Activities at the main beach include paragliding, diving and other watersports, but if you want a secluded spot to simply soak up the sun on your Gouvia holidays then there are plenty of tranquil coves. The countryside that surrounds the town has a charming rural feel with verdant rolling hills, olive groves and citrus plantations. A day horse riding is a great way to explore the region's natural beauty.
Things To Do on Gouvia Holidays
Gouvia has many attractions to tempt holidaymakers. The quayside offers the opportunity to admire the yachts and rub shoulders with the rich and famous. This is Corfu's main marina, and it is possible to take boat trips to explore the bay and coastline.
A wander along Gouvia beach will offer you glimpse of the town's seafaring past. Beyond the beach and a small jetty are the remains of a Venetian shipyard with arches that were once the site of a busy boat-building industry. Across the bay from Gouvia is the white-painted Ipapanti Church, worth visiting on saints' days for the religious ceremonies.
Culture
Like the rest of Corfu, Gouvia is steeped in history and features heavily throughout Greek Mythology. Corinthians originally colonised Corfu in the 8th Century BC. As amazing as it may seem, Corfu was first established as a popular holiday destination during the Roman era.
It was during the Venetian era that Gouvia's shipyards flourished. War galleys that protected the Ionian Islands were repaired here in dry docks. The island was occupied by Italy during WW2, but since peace returned Gouvia has become established as Corfu's main marina and a top class holiday destination.
The centre of the religious calendar is Holy Week when celebrations take place in the villages around Gouvia. Saints' days are marked on 2nd February and 17th July at the Ipapanti Church. Lent is carnival season on the island, and you could head into nearby Corfu Town for the Venetian style Ta Karnavalia, guaranteed to end in dancing and partying.
Nightlife
Gouvia has a varied and lively nightlife. There are several great tavernas where you enjoy a delicious meal of traditional Corfiot cuisine and gaze out over the bay. Later you can join the fashionable crowd at one of the town's bars, and revel in the classy atmosphere.
For a night of partying then head to nearby Corfu Town or Dassia, grab something to eat and start to dance the night away!
Book a Gouvia Holiday now!
Gouvia is a fantastic town, with a little bit of everything to offer holidaymakers from the cosmopolitan quayside, family-friendly beaches, peaceful countryside and vibrant nightlife. On the Beach has the best deals on flights and accommodation, so book now for a sophisticated holiday in Gouvia that won't cost the earth!