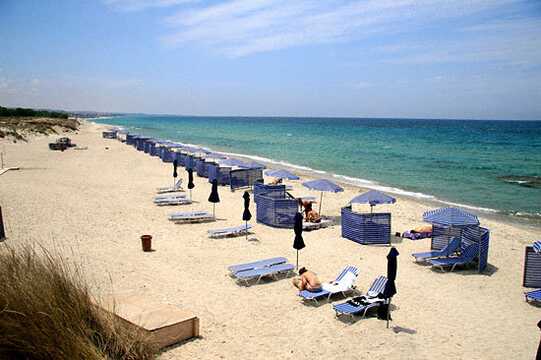 When planning Greece holidays, there's no place more beautiful than the lovely resort of Marmari. Located on the Northern Coast of Kos, Marmari is the perfect spot for your holidays. Made famous by the endless beach, Marmari is the perfect place for a quiet holiday away from the bustling tourist centre of Kos Town. Just a short jaunt from the UK, Marmari is an undiscovered wonder with some of the loveliest hotels in Kos.
View destination on a map
Marmari Weather
Dress for warmer weather, as the temperature in Marmari rarely drops below 25° Celsius throughout the day. Temperatures in the peak summer months can run as high as 30° Celsius, so be sure to bring plenty of sun cream. The wonderful climate in Marmari makes this area perfect for a holiday where you can really relax.
Landscape
The sandy shores of Marmari are graced by crystal blue Aegean waters, and the shore stretches as far as the eye can see. Kos is part of the Dodecanese chain of islands in the Carpathian Sea. Rich with fertile soil and farmland, and caressed by long, lovely beaches, Kos is renowned for a heady mix of culture, scenery, sand, sea and sun!
Things To Do on Marmari Holidays
Have no fears of finding nothing to do in Marmari, just because it is out of the way doesn't mean that there is a lack of activity. For the outdoors types, you can enjoy volleyball, tennis, and squash or watersports such as scuba diving and swimming. With inviting crystal clear water, and a sleek, sandy shoreline, Marmari is perfect for anyone who loves the sun and sand!
If you're looking for something quieter to do while on holiday in Kos, the many museums and ruins in nearby Kos Town offer a wealth of learning for people of all ages. Visit the Hippocrates Plane Tree and experience the rich history of the place where the ancient scholar is said to have taught medicine. Or take a tour through the Castle of Knights in front of which the Plane Tree sits.
Iif you prefer to stay in, the hotels in Marmari offer luxurious accommodation complete with all the amenities you would expect. The best of which offer fine dining, luxurious infinity pools, and bars where you can have a few quiet drinks overlooking the beaches and sea below.
Culture
Quiet and relaxed are the inhabitants of Marmari. Well off the beaten path, the general atmosphere here is much more laid back; which makes this resort the perfect place for a quiet and chilled out holiday. With a choice of high quality hotels, Marmari is the ideal place for the discerning traveller. If you'd like a taste of the local flavour, take a stroll through the market, and mingle with the local inhabitants of this treasured isle.
Nightlife
Nightlife in Marmari is just as relaxed as its daytime atmosphere. Clean local bars and nightclubs offer a wide array of musical choices with everything on offer from traditional Greek music to trance. You can dance the night away, or just enjoy a quiet drink with your spouse. The local restaurants come to life at night, offering gourmet local delicacies as well as fine drinks of the Greek variety, the perfect way to end your day!
Book a Marmari Holiday now!
A holiday to Marmari is just what the doctor ordered, especially when it comes to rest and relaxation. Here at On The Beach you can create your own customised break away by booking your flights and hotels in Kos, making it even easier for you to enjoy your holiday in Greece. With so much to look forward to, what are you waiting for?