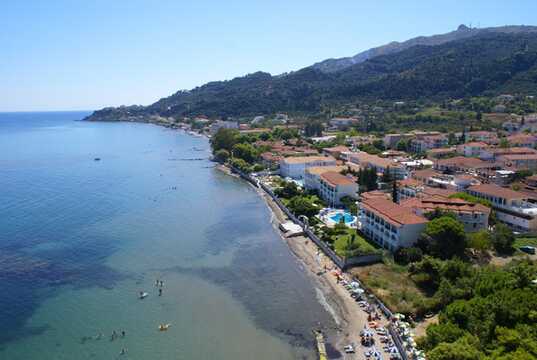 How do you pick the perfect holiday? You want a really good nightlife were you can have a few drinks and let your hair down but you also want somewhere you can chill out and recharge your batteries. You want great shops but you also want some culture. It's difficult isn't it? Actually no, not when you consider Argassi.
Argassi is one of the most popular resorts on the Greek Island of Zante. Quieter than it's fellow Zante resort of Laganas it manages to combine great nightlife with great attractions and is perfect for families, couples and groups of friends.
View destination on a map
Argassi Weather
As with all the resorts on Zante, Argassi has a Mediterranean climate with warm sunny summers and mild winters. If it is a bronzed tan that you want from your holiday, then the best time to go on holiday to Zante is any time from April to late September when the temperatures are high.
Should you wish to experience what Argassi has to offer minus the tan, then you're best time to visit is late autumn when it is still pleasantly warm, but not outrageously hot.
Landscape
The landscape in Argassi is simply breathtaking. The nearby mountain of Skopos reaches an altitude of 758 metres and offers stunning views of the rest of the island, the perfect spot for a memorable holiday photo. Then of course there's the beach. Argassi beach spans the length of the resort and provides plenty of space for everyone so you won't have to fight for a spot to sunbathe! When you see the combination of azure water, sandy beach and stunning mountainous backdrop you can see why so many come back year after year.
Things To Do on Argassi Holidays
There's plenty to do on Argassi with lots of great bars, shops and restaurants but the biggest attraction are the watersports. If you're a bit of a thrill seeker and don't fancy lazing around on a sun lounger all holiday then why not try some paragliding or jet-skiing. There are qualified instructors on hand to show you the ropes and then you're free to take to the water!
Culture
Argassi, like much of the island is big on culture and this is evident in it's celebrations of various religious and cultural festivals. Along with Feast of the Virgin Mary on the 15th August there is also the Wine Feast festival. It takes place in the capital of Zakynthos at the end of August and beginning of September and offers visitors the chance to sample some of best wines produced on the island.
Nightlife
Despite being a little quieter than Laganas there is still a lively nightlife in Argassi. There are plenty of English pubs and bars including a karaoke bar where you can sing your heart our until the early hours. Look out for quiz nights which are popular at many of the bars in the resort if you're a fan!
The locally owned tavernas provide a great combination of quality homemade Greek food and light entertainment with many laying on traditional live music and dance at night.
Book a Argassi Holiday now!
So what are you waiting for? Argassi offers stunning scenery, great bars and a festival where you get to drink wine all day! What more could you want? On the Beach offers great deals on trips to the Greek Islands so turn on your out of office reply, tell you're boss you'll be back soon and treat yourself to some much needed rest and relaxation.