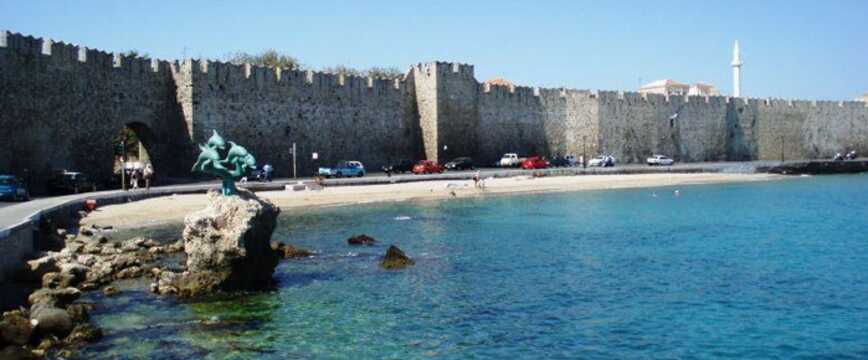 Read more about Rhodes Town
If you're looking for a Greek holiday that mixes the contemporary seamlessly with the past, you'll love Rhodes Town, one of the biggest municipalities on the island of Rhodes. Widely regarded as one of the most culturally important towns in the south-eastern Aegean, Rhodes Town eclectically combines three cities in one; a contemporary city with various bars and markets, a medieval city that has been declared a World Heritage Sight by UNESCO and an ancient city, which is viewable in the city's Archaeological Museum.
Located on the northeastern edge of the island, each unique location in Rhodes Town has something to fire the imagination of visitors whether old or young. With amazing architecture, an enticing and friendly atmosphere and not to mention a fabulous beach, a Rhodes holiday in the main city will be one you won't forget!
View destination on a map
Rhodes Town Weather
You're guaranteed all the sunshine you need for that sun-kissed look if you're visiting Rhodes Town in July or August when the maximum daytime temperature is a scorching 31° Celsius. During these times the island experiences around 13 hours of bright sunshine per day, so make sure you remember that sun cream when relaxing on the beach. During the summer months Rhodes Town receives only about 1milimetre of rain a month, while evening temperatures are a cool and comfortable 22° Celsius.
If you find this might be too hot for you, why not visit around October or November when the temperature drops to a more comfortable 24° Celsius during the day? You can expect more cloud around this time, so if you're not a sun-worshipper then going outside of peak-time may be for you!
Landscape
What with its fountains, churches, stores and bars, the landscape of Rhodes really has to be seen to be believed. But while the diversity of the architecture will have you admiring at every stop, you'll also enjoy the huge amount of natural beauty that the island has to offer. Unlike many cities, Rhodes Town contains a lot of greenery, so expect to see a lot of trees and fauna spotted around the city over trees and buildings, which the locals use as a quaint way of shading themselves from the sun.
The rugged magnificence of the mountains meanwhile, which loom awesomely in the distance, is an inspiring sight, especially at sunset. Try heading outside of town if you can too, where the areas are hillier. You'll be rewarded with a view of the coast, where the azure blue of the vast sea is matched in attractiveness by the dry and rocky areas that sit by it.
Things To Do on Rhodes Town Holidays
Be sure to take a map with you and be prepared for a fascinating day out as Rhodes offers an enormous amount of attractions and sights to see. Perhaps the most well known is the Colossus of Rhodes, which was destroyed by an earthquake around 300BC, and was one of the Seven Wonders of the Ancient World. There is also the ancient Hellenic acropolis of Rhodes, which sits on a hill in the western area of the city, and the Palace of the Grand Master of the Knights of St John in the old town.
A visit to the Archaeological Museum to view the ancient city is also a must, but if you find yourself wanting to indulge yourself, then finding a place for shopping will prove a greatly enjoyable experience. Shopping is one of Rhodes Town's best activities, and in the numerous markets you'll be able to find all manner of quirky gifts and Greek luxuries, which will make fantastic keepsakes.
Culture
Rhodes Town possesses thousands of years of history, the evidence of which visibly exists all around in the remarkable ancient ruins and medieval town. The city actually dates back to around 408BC, when the architect Ippodamos built the city. Soon after, Rhodes developed and become known as one of the richest cities in Ancient Greece, and still enjoys great economic power and importance in the south-eastern Aegean right up to this day.
Watch out for the various domed mosques you will see, which commemorate a time a hugely significant time in Rhodes' history; they were built when the Turkish Ottoman Empire invaded the island and established control in 1522.
Rhodes Town is the cultural centre of the entire island, and the amount of events and rituals in the calendar reflects this. Every day during summer you will have the opportunity to view the amazing Sound and Light show, which takes place at the Grand Masters Palace in the medieval town; this show tells the story of the battle between the Knights of Saint John against the Turkish Army.
If you're visiting in spring, why not visit the Medieval Town Carnival Day, which takes place on March 1st? This festival includes music, street theatre and Greek singing to entertain the thousands of attendees! Whatever time you visit, do make sure to check the local calendar, as there are events and rituals taking place whatever time you choose to visit!
Nightlife
One of the most enjoyable aspects of Rhodes Town is the sheer amount of things to do. Aside from the entertainment you'll get laid on at your hotel in Rhodes, you're spoilt for choice whatever your preference.
Young people might want to check out the famous clubs, while an evening stroll on the beach would be perfect for couples and elderly people looking to get away from it all. After this, try retiring to one of the many fantastic restaurants and bars Rhodes Town has to offer. Nearby Faliraki is a renowned hotspot for clubbing and late night parties.
Families are especially welcome, and the delicious food and exotic drinks on offer are reasonably priced and sure to satisfy all who try them - just don't expect to smash any plates! There are also three cinemas for movie-lovers called Metropole, Titania and Palas, and a fantastic casino, which will provide hours of entertainment for the debonair among us, meaning that no one will be short of fun!
Book a Rhodes Town Holiday now!
A holiday in Rhodes Town will provide you with a lifetime of fantastic memories, you'll want to come back again and again! With unique elements to the city - ancient, medieval and contemporary - and an amazing history and calendar packed full of cultural events to enjoy, Rhodes Town is ideal for all visitors.
With our convenient live booking system you'll be able to easily combine bargain flights and hotels for a holiday customised to your every need! Book now with On The Beach!