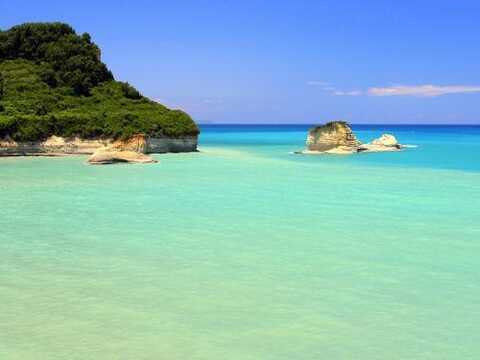 Acharavi is situated on the northern tip of the Ionian island of Corfu. One of the top resorts for people on holidays to Corfu, Acharavi has stunning scenery and beautiful beaches that are perfect for anyone that wants to get away and relax. It takes about an hour to get to from the airport but on the way you will pass through some beautiful mountainous terrain, so make sure you have your camera ready!
The island has plenty to keep you busy, from bars and restaurants to beaches which are perfect for topping up your tan. The weather is fairly good all year round but if you want to make the most of it, the summer months are the best time to visit. Acharavi is ideal for anyone as there are enough attractions to keep the little ones happy, but if you are looking for a fun holiday with friends this will also be perfect as the resort has a brilliant nightlife!
View destination on a map
Acharavi Weather
If you plan on beating the rush of people on holidays in Acharavi then May is the perfect time. Those looking for a quiet holiday will normally find the beaches deserted, although the weather may not always be just as stunning as those summer months. Expect temperatures in the lower 20's and perhaps a small chill at night but still pack the beach clothes as when it is sunny, you will still get a tan! June and July are the hottest and busiest months, so you can expect the place to be a bit more crowded. The autumn months of September and October may experience a bit less sunshine but nothing can taint the beauty of this island!
Landscape
Beaches are always one of the most important factors when deciding where to go on holiday and Acharavi has many! The main beach is a mix of sand and shingle and is perfect for the children as the depth of the water remains at waist height for around fifty metres from the shore. Water sports and snorkeling are very popular in the area. The scenery is excellent in this resort as you can see the neighbouring resort of Roda, the island of Erikoussa and the stunning mountains of Albania in the distance.
Things To Do on Acharavi Holidays
This resort has many attractions to choose from and if you are one for sight seeing, you cannot go wrong by visiting the Roman baths that are situated just outside the town. The remains of a temple said to be dedicated to Apollo are near Roda, which is the next town along from Acharavi. For thrill seekers looking for fun, the best place to visit is the Hydropolis water park; perfect in the warm weather, the water slides here make for a fun day out for everyone, young and old. There are giant slides and also a lazy river for those that have had too much fun for one day! The park also boasts a large range of sports facilities such as tennis, volley ball, aquafit and water games.
Culture
If you head to Corfu Town you will find the market full of different things to buy, undoubtedly you'll find something unique to take home with you. There are a number of little gift shops available where you will find traditional Greek gifts, specialist Greek food and a selection of traditional locally fermented wines.
Nightlife
There are plenty of bars to keep you busy and a few cocktail bars show films and some sporting events. If you fancy some British fun then the Planet Olivewood is perfect for you! It is a British family run bar situated in the centre, if you are missing your home comforts check this out. Most of the hotels in Corfu have their own restauants, but if you are looking for a little different why not head to one of the tavernas that serve snacks and also three course Greek meals with all sorts of local delicacies. You can find these situated on the main road or on the beach where you can have a lovely meal whilst watching the sunset.
Book a Acharavi Holiday now!
Acharavi offers plenty of attractions to keep you entertained on your holiday, whether you are with a group of friends or with family. On the Beach have great deals on flights and hotels in Corfu, so make sure you book now before you miss out on the best prices!