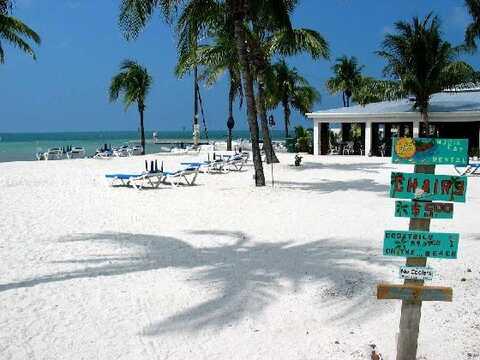 Of all Florida holidays, Key West is one of the most attractive and memorable. Key West is a city and an island of the same name near the southernmost tip of the Florida Keys in Monroe County. It may surprise you to know that Key West is actually closer to Havana than it is to Miami, in fact Key West is only 90 miles from Cuba.
Holidays to this beautiful island on the dividing line between the Atlantic Ocean and the Gulf of Mexico can be described as simply paradise. With miles of stunning white beaches fringed by palms swaying the tropical Caribbean breeze, you can quickly appreciate why Key West holidays are in such high demand!
View destination on a map
Key West Weather
Key West claims to be the only city in the lower 48 states never to have had a frost. This is due to the tempering effects of the Gulf of Mexico to the north and west. Key West has a notably tropical, maritime climate in which the average winter temperatures are only about 5° Celsius lower than summer zenith of approximately 35° Celsius.
Precipitation in Key West is characterised by wet and dry seasons, the wet being usually May through to October and the dry being November through to April. Rainfall is minimal and cloudy days are few and far between, Key West holidays are ideal throughout the year and especially Christmas.
Landscape
Key West is home to absolutely stunning sand beaches, where sunbathing and swimming are wonderfully luxurious. If you fancy a week or two basking in the glorious Floridian sunshine and lounging on a beach of powder white sand, then Key West holidays ought to be top of your list!
Things To Do on Key West Holidays
Many visitors rent a bicycle and explore the history and architecture of Old Town Key West. Walking tours, including a tour of the unusual Key West Cemetery, are available. The Sunset Celebration at Mallory Square is a daily spectacle for visitors and residents. Boat excursions and tours provide a great way to view Key West from the water.
Many famous people have come on holidays to Key West; it was home to Ernst Hemmingway for many years and visits to the Hemmingway house are an interesting day. Furthermore, it is rumoured that Tennessee Williams wrote his first draft of 'A Streetcar Named Desire' at the La Concha Hotel. With reef snorkelling, swimming with dolphins and countless festivals throughout the year Key West is an ideal holiday destination.
One of the biggest attractions on the island is a concrete replica of a buoy at the corner of South and Whitehead Streets that claims to be the southernmost point in the contiguous 48 states. The New Town offers countless shops and beautiful boutiques so a shopping trip is a must, and a great way to explore the newer parts of Key West.
Culture
With friendly locals and a strong Latin influence, due to its proximity to Cuba, Key West has an exciting cultural mix. Get the best of Florida with a dash of latin culture on your holidays in Key West.
Nightlife
The possibilities at night time in Key West are endless with plenty of bars, clubs and restaurants to explore. With a wide range of eateries for all budgets, a holiday to Key West is a culinary delight! Due to its proximity to Cuba, the influence may be seen in the food of restaurants such as El Sibonney, which offers delicious food at very reasonable prices. This is also where the locals go for their Cuban food - so a great way to learn more about the culture.
Book a Key West Holiday now!
On the Beach has a range of brilliant deals on flights and great hotels to stay in for your holidays to Key West! Come and revel in the beautiful beaches, crystal clear seas, blue sky, friendly locals, and the beauty of the island. Key West is in short, an incredible holiday!