The UK is now in lockdown. We will be in touch with affected customers in departure date order up to and including 14th February 2021. More COVID-19 information.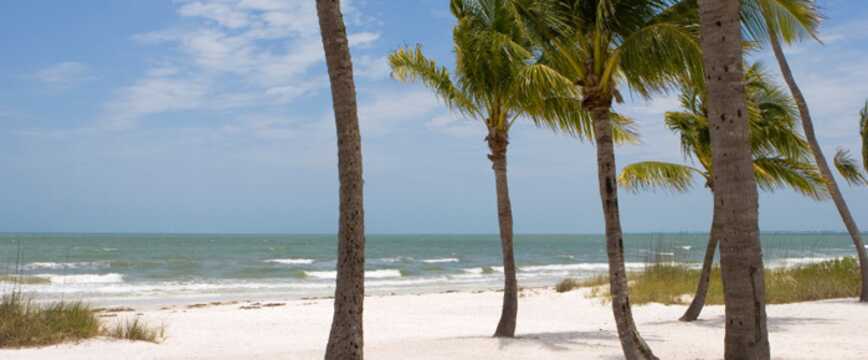 Read more about Fort Myers
Known as the City of Palms, Fort Myers is one of the most beautiful Florida Holidays. Easily accessible from Southwest Florida International Airport, Fort Myers is a tropical paradise, located 120 miles south of Tampa and stunningly situated on the point where the Gulf of Mexico and the Caloosahatchee meet.
Fort Myers holidays are a beautiful alternative to the hustle and bustle of Florida's wilder towns. With great weather and a casual feel, Fort Myers holidays are perfect for the whole family to enjoy!
View destination on a map
Fort Myers Weather
The weather is magnificent, as you would expect from Florida. High temperatures range from a mild 24° Celsius in January to a glorious 33° Celsius between June and September. The weather conditions are ideal for a wonderful holiday to Fort Myers any time of the year.
Landscape
Situated at the meeting point of two rivers. Fort Myers provides the perfect blend of sun, sea, sand and fun with the tropical climate and small town charm to create the perfect environment for your holiday.
Things To Do on Fort Myers Holidays
Fort Myers is only a few miles from Sanibel Island where you can find some of America's most attractive beaches, this is the perfect place to unwind and just relax. While it may be quiet, Fort Myers is still a lively and exciting town with plenty to keep the whole family occupied.
It is the commercial centre of Lee County Florida and so naturally a shopping trip is a must! If you tire of the comfort and safety of the beaches and the shops, why not take a trip to Babcock Wilderness adventures Ecoutor and take a life-changing trip to one of Florida's swamps and see the alligators. If the danger of the swamps and face-to-face meetings with the alligators is not your cup of tea then perhaps visit the animals at a more comfortable distance at J N Darling National Wildlife.
After the excitement or relaxation of the day make time to experience the excellent and varied restaurants especially the world famous seafood.
Culture
Established in 1886 Fort Myers is the historical, cultural, and political focal point of southwest Florida and so provides plenty of attractions for those cultural family outings. The highlights amongst these are the winter homes of Thomas Edison and Henry Ford.
Nightlife
Holidays to Fort Myers not only offer an exciting range of bars and clubs for the adults but also provides a nightlife suitable for all the family. Try the Seminole Gulf Railway Murder Mystery Dinner, where you can eat your dinner while solving a murder mystery that goes on around you.
Book a Fort Myers Holiday now!
On the Beach has a range of brilliant deals on flights and great hotels to stay once you're there! Come on holidays to Fort Myers and revel in the beautiful beaches, crystal clear seas, blue sky, friendly locals, and the array of museums and shops!