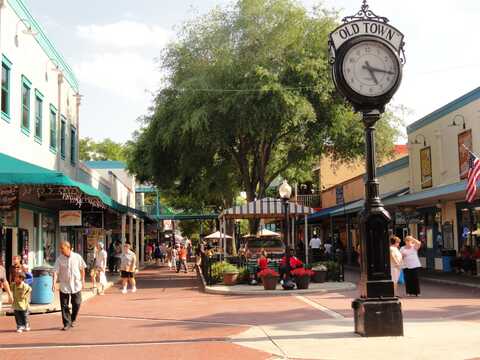 Read more about Kissimmee
If you're looking for Florida holidays but feel like staying outside of the most well known resorts like Miami, then a holiday to Kissimee will be a great alternative. Easily reachable from Orlando International Airport, the city is a popular central Florida destination located inside Osceola County on Highway 192, which means it's in close proximity to the Walt Disney World resort, as well as the neighbouring city of St. Cloud. As such, this means it's an ideal location for families who want plenty of fun in the sunshine, though that's not all Kissimmee offers; other attractions include fabulous museums, a charming 50's style centre of town, and unspoilt lakes, while its close proximity to Orlando means you'll never be short of a great day out.
There really is something to do for everyone; with great nightlife and plenty of shopping malls too, Kissimmee will certainly provide you with the sunny holiday in Florida that you've been dreaming of!
View destination on a map
Kissimmee Weather
If you're thinking of going on holidays to Kissimmee in the popular tourist months of July or August then pack plenty of sun cream, as you'll have fine weather. During this time temperatures will reach, on average, 30° Celsius, with 10 hours of sunshine a day. This is because Florida is located on the Gulf Stream, meaning it receives tropical weather. If that sounds a little too hot for you don't worry; in the summertime it also receives around 8 centimetres of rain a month, which has the effect of mediating the hot temperature.
Luckily, if you're planning a trip outside of this time, you'll almost certainly experience great weather whatever time you choose to visit. Any time between November and February, for example, will still be a warm, with a comfortable average temperature of around 23 or 24° Celsius because of Florida's tropical climate Florida, which means the state experiences dry winters with very little rainfall.
Landscape
Kissimmee has more than enough marvellous views to ensure your holiday makes a lasting impression. The Old Town is a charming and clean area that offers the best in quintessentially American charm; 1950's style restaurants are located on charismatic boulevards next to old style candy and clothing stores. This area is well constructed and easy to get around, which will help those with mobility problems. However, the best way to get around, as in much of Florida, is by car. The vast and sweeping roads meanwhile are well-worth trying, just to experience the thrill of an American highway!
Kissimmee isn't all urbanised though, and will offer landscapes to please nature-lovers. Kissmmee Lakefront, with its shimmering water and mighty trees, will provide fabulous unspoilt views, as well as plenty of opportunities for picnics and swimming - a great day out for the family - while Lake Tohopekaliga, the largest lake in Osceola County offers serene and picturesque natural beauty along with some of the best bass fishing in the state.
Things To Do on Kissimmee Holidays
Florida enjoys a reputation as one of the world's premier tourist resorts, which means it has plenty of scope to make your Kissimmee holidays truly memorable. Given its proximity to Orlando, you might want to begin with a day out at Cocoa Beach, one of Florida's finest beaches, where you'll be able to soak up the rays and indulge in some water sports too. After that, families will want to make time to visit Lake Buena Vista and the Walt Disney World resort to provide a truly memorable holiday experience.
Kissimmee has several attractions, including a venerable Old Town district that has classic car shows, delightful shops and restaurants and a free Ferris wheel for plenty of old town charm! Aviation lovers on a cheap holiday in Kissimmee will want to take a guided tour around the Warbird Air Museum, which repairs wartime planes to flying condition, while those who love to shop until they drop will love a day at The Loop; with hundreds of restaurants and stores, it's Kissimmee's largest mall, and will keep everyone bargain hunting all day!
Culture
Like most American cities, Kissimmee enjoys an intriguing history that reaches all the way back to the American golden age of the 1800s. Kissimmee was actually founded around 1850 after the American Civil War, and was originally known as Allendale. However, the name was changed in 1883 as the town was incorporated to city status by a developer; Kissimmee is a Caloosa Indian word that means 'Heaven's Place'.
Since then, the city has grown rapidly, expanding to support Florida's booming economy and tourism. Cattle ranching was an important cultural and economic activity, and in fact there are several still operating today, though that has since been supplanted by Walt Disney World and other tourist resorts, which have helped Florida to become the International attraction that it is now.
A Kissimmee holiday wouldn't be complete without taking time to enjoy the many cultural experiences the state has to offer, and luckily there is plenty to do all year round. If you're planning a visit in the New Year, be sure to visit Walt Disney World to watch the marathon, which takes place in the second week of January, and sees runners from all over the world competing in one of the most iconic places in the world!
The Silver Spurs Rodeo meanwhile has two seasons, in February and October, offering you the opportunity to experience the thrills of one of America's most famous sports.
Nightlife
As one of Florida's best resorts, it's no wonder Kissimmee enjoys such a brilliant nightlife, with a different place to suit everyone. Action-lovers will want to visit the Rodeo, a famous American tradition that'll really get everyone's heart pounding! The restaurants of the old town will come alive at night time, with more than enough live music, great food and American hospitality to please anyone; what better way to enjoy the evening than with a good meal, while classic cars cruise up and down the streets? There are also plenty of themed restaurants that provide entertainment during your meal; the Medieval Dining Experience for example offers the thrills a thrilling evening as men joust and race horses!
If you're looking for something a little outside of town, Orlando's close proximity will be useful, as the Universal Studio theme park offers night time entertainment too, while party animals will enjoy its many clubs; the Del Sol Night Club for instance, near the Orlando Sun Resort by Lexington, will provide a fantastic opportunity to sample the latest Latin rhythms! With so much evening activity, your Kissimmee holidays will certainly have you partying all night!
Book a Kissimmee Holiday now!
If Kissimmee holidays sound good to you, then book today with On The Beach. We have fantastic deals on flights from the UK that can be combined with accommodation for the perfect holidays in Kissimmee. It's easy, so don't delay and book now!