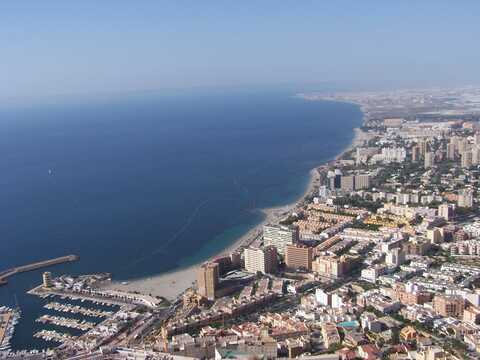 Read more about Aguadulce
Dreaming of golden sandy beaches, clear sparkling waters, cloudless blue skies and hours of glorious sunshine? Why just dream about it when all this, and so much more, is waiting for you in the wonderful resort town of Aguadulce.
Set around a modern and vibrant marina, Aquadulce has everything you could want from Costa Almeria holidays. So, whether it's scuba diving in crystal clear waters, a round of golf on a first class course, fishing along the rugged Spanish coast, a romantic dinner for two set to the soaring sounds of flamenco music, a day at the bullfights, an evening of culinary delights, a view from a hot air balloon or simply a lazy day by the pool to work on your tan, you will be certain to find whatever you want from your holiday here.
With On The Beach's wide range of handpicked accommodation you can be sure that Aguadulce holidays won't break the bank.
View destination on a map
Aguadulce Weather
Aguadulce has a fabulous Mediterranean climate, with pleasantly hot summers and mild winters. It is officially one of the driest regions in Europe, which means that rain during the winter months is extremely rare and almost totally unheard of in summer. The most marvelous characteristic of the climate in this area, however, is the glorious sunshine, with over 320 days of it each year.
Many people believe it is the long days filled with light that accounts for the cheerful personalities and hospitable nature of the people who are lucky enough to live here. If you want to recharge your batteries, the a holiday in Aguadulce is for you.
Landscape
Miles of broad, sandy beaches, dramatic rugged coastlines, blue Mediterranean Sea, dazzling sunshine, phenomenal scenery and cloudless skies all add up to a perfect Aguadulce holiday.
Things To Do on Aguadulce Holidays
Aguadulce's beaches, marinas, hotels and sports centres provide plenty to keep people on holidays to Aguadulce happy at any time of the year. Watersports such as sailing, windsurfing, water skiing or scuba diving are well catered for, and there are also find excellent facilities for horseback riding, golf, squash and tennis. If you have a head for heights, you might also want to try hang gliding, parasailing, flying ultralight aircraft or perhaps a tour in a hot air balloon. In case that's not adventurous enough, there's always rock climbing, cave exploration and motor sports. But if shopping is your idea of sport, there are artisan and craft shops galore. Look out especially for ceramic tiles, pottery, jewelry, leatherwork, weaving and embroidery.
For more traditional entertainment, you must experience the Spanish fiesta. There are festivals held throughout the year to celebrate springtime, harvest, patron saint's days and other religious occasions. During these events, the streets are a riot of colour, dancing, singing, carnivals, parades and good-natured celebrations. Bullfighting is also very important throughout this area, with sessions usually held to coincide with a festival.
Culture
The Costa Almeria has a long history, dating back some 4,000 years. Most of the great Mediterranean civilisations have been drawn to the area because of its natural beauty and strategic location and each have left something of themselves behind. The most noticeable influence is from the Moors, who arrived in 711 for an 800 year stay. They transformed the area with their agricultural techniques, scientific and botanical knowledge, architecture, poetry and intellectual developments.
The Costa Almeria region suffered during the next several centuries, when an economic downturn led to a sharp decrease in its population as most of its young people left to seek employment elsewhere. In recent times, however, there has been a major reversal of fortunes as more people have realised the potential of the area and the tourist industry has boomed. Development, however, has not been at the cost of the beauty that made the region so desireable to the Greeks and Romans, or to the local traditions and values of its people.
Nightlife
Aguadulce has a very lively nightlife, mainly centred around the marina. Tapas bars and restaurants are open well into the night, thanks to the Spanish custom of not sitting down to dinner until at least 9 or 10pm, serving the local cuisine. This is based on fresh fish but given an Arabic twist with the use of special spices and ingredients. Afterwards, enjoy a wide range of music, from traditional Andalucian to the latest pop. You can really experience Spanish life while on holidays to Aguadulce.
Book a Aguadulce Holiday now!
With easy flights from all over the UK and On the Beach's handpicked accommodation, an Aguadulce holiday have never been so easy or affordable. Come experience the glorious sunshine, brilliant temperatures, fabulous scenery and wide-ranging, modern facilities for yourself. So, for the holiday of your dreams at a price you can afford, book now and let On The Beach help you enjoy this little piece of Spanish heaven.