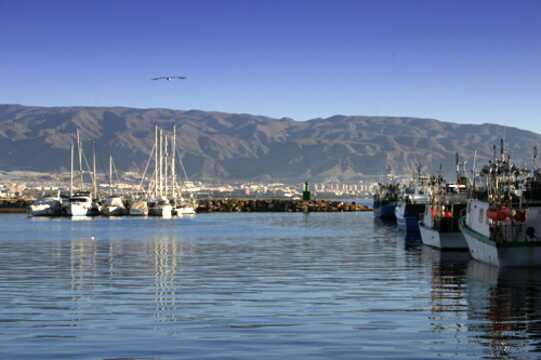 Read more about Roquetas De Mar
Dating back to Roman times, the once sleepy fishing village of Roquetas de Mar has grown into a vibrant holiday resort that attracts visitors year round with its beautiful beaches, first class golf courses, friendly people and, of course, brilliant sunshine. The town's Moorish past is still alive in its picturesque warren of narrow, winding streets and beautiful white-washed houses, while nearby On The Beach's wide range of handpicked hotels are waiting to provide you with everything you need for a fabulous Costa Almeria holiday.
So, whether it's playing a round of golf in the Spanish sunshine, horse riding along the blue Mediterranean Sea, bird watching in the local salt lagoons, dinner for two in a romantic beach-side eatery or simply lazing by the poolside, Roquetas de Mar holidays has it, and more, just waiting for you!
View destination on a map
Roquetas De Mar Weather
This gloriously sun-baked region enjoys absolutely superb weather, with 320 days of sunshine throughout the year and temperatures that will delight both sun worhippers and golfers alike on holidays to Roquetas de Mar. With the lowest amount of rainfall in Europe, Roquetas de Mar is a perfect place for your summer holiday at anytime of the year. So slap on the sunscreen and come discover this fantastic piece of Spanish heaven for yourself.
Landscape
A vista of sand dunes and glorious beaches, the beautiful Mediterranean Sea, brilliant blue skies, white-washed houses climbing the hillside and glorious sunshine are all waiting for you on your Roquetas de Mar holidays.
Things To Do on Roquetas De Mar Holidays
It may be hard to drag yourself away from Roquetas de Mar's beautiful, broad beach but those willing to do so are in for a treat, for this is a sports lovers' paradise. Activities on offer range from scuba diving to sailing, horse riding to a fabulous 18-hole golf course and, for those so inclined, even a specially designated nudist beach.
The Las Marinas salt marches attract bird watchers, flamingos, egrets and avocets alike, while those interested in history, can explore the medieval fortifications that can be found throughout the area.
Culture
Over the course of the Costa Almeria's 4,000 years of history, many great Mediterranean civilisations have left their mark on the culture of this area of Andalusia. From Phoenicians to Greeks and Carthaginians to Romans, they have been drawn by the area's natural beauty and strategic position. The Moors thrived here and the region still retains the north African flavour that they brought with them from across the Mediterranean.
In more recent times, tourism has created a massive boom for the area as more people have discovered its natural potential. But, despite the progress, the people have retained their pride in the local culture, and the romantic image of Andalusia is still very much a thing of the present.
Nightlife
Holidays to Roquetas de Mar offers you the chance to enjoy the nightlife the way the Spanish themselves do. There's a wide choice of restaurants, ranging from traditional Spanish tapas bars to more upmarket restaurants where you can sample the local cuisine, which is based on fresh fish dishes and local delicacies. And, then it's on to enjoy the local music at venues around the town.
For those seeking the ultimate in traditional entertainment, make sure to visit during September when Roquetas de Mar holds its annual fiesta and the old town becomes a riot of colour, music, dancing and good natured merry-making.
Book a Roquetas De Mar Holiday now!
Whether it's history, scenery or sunshine you are after, you can find it all and more with a holiday in Roquetas de Mar. No matter what time of year, the price is right and the sun is shining so come and enjoy the delights of this great Spanish paradise.