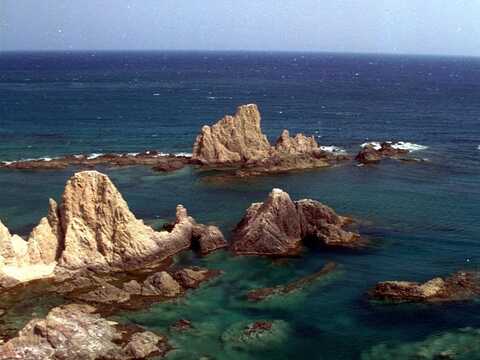 Read more about Cabo De Gata
A highlight of any Costa Almeria holiday has to be a visit to the spectacular Cabo de Gata peninsula, Andalusia's largest coastal nature preserve. This lunar-landscaped area of immense natural beauty lies just north of Almeria City and is a magical cocktail of jagged coastline, rugged cliffs, volcanic mountains, arid deserts, teeming wetlands, sandy dunes and small hidden coves.
Birdwatchers, mountain bikers, hikers and water enthusiasts of all kinds are drawn to this natural wonderland, which also encompasses historic ruins, quaint fishing villages, vast stretches of magnificent beaches and even a ghost town. This truly tranquil area makes a unique and wonderful destination for your Costa Almeria holiday.
View destination on a map
Top Cabo De Gata Hotels
Cabo De Gata Weather
Cabo de Gata enjoys some of the best weather in Europe, with year round sunshine and temperatures that range from a mild 20° Celsius in winter to a not-too-hot 30° celsius in summer. With the lowest rainfall in the Iberian Peninsula, Cabo de Gata holidays are great at any time of the year!
Landscape
Cabo de Gata is blessed with rocky headlands, sandy coves, pristine water, miles of isolated beaches, incredible scenery, brilliant blue skies, amazing Spanish sunshine and an extraordinary saltwater lagoon that attracts flame-coloured flamingoes and other wild birds. The physical spendour of the area makes it an absolute must-see destination on any nature-lover's holiday.
Things To Do on Cabo De Gata Holidays
Cabo de Gata holidays are a truly marvelous experience and nature lovers are absolutely spoiled for choice. The crystal clear waters off the peninsular are ideal for underwater photography, snorkeling, diving, kayaking, windsurfing and all manner of fishing. Mountain bikers and 4x4 enthusiasts can take to the hills, while walkers enjoy any one of the over 20 marked footpaths.
Visitors on holidays to Cabo de Gata can while away the hours in the charming fishing villages that line the coast, visit a ruined church perched atop fossilized sand dunes or roam the dramatic cliffs. For those seeking a more restful way to spend the day, there are always the wide, sandy beaches or cozy, isolated coves.
Nearby Mojacar is also well worth a visit to see how life is in a more rural Spanish village.
Culture
Arabs, Romans and Phoenicians were all attracted to Cabo de Gata because of the area's rich mineral deposits of salt, agate, jasper and, most importantly, gold. Later inhabitants included Barbary pirates, who sought refuge in this remote coastal area, although it is obvious from the dozens of lookout towers dotted around the landscape that they were not welcome visitors.
Much of the coastline is accessible only by foot, while the arid landscape of the interior made for harsh living conditions as recently as 50 years ago. But, in recent times, tourism has provided a boom to the area's economy as more people are discovering the area's amazing natural potential. This has meant an increasing numbers of hotels and holiday accommodations in the coastal villages, but the emphasis is still firmly on retaining the unique beauty of this area.
Nightlife
Cabo de Gata may not offer the vibrant nightlife that can be found in other resorts, but it does give holiday makers the chance to see how the Spanish really live. Late night tapas bars and restaurants abound throughout the area, serving wonderful fresh fish dishes along with traditional music and dance.
In August, there is the annual Almerian Fair that turns the streets of the nearby city into a riot of colours, music, dancing, parades, bull running and good natured merrymaking and general mayhem. This being Spain, there is never a fiesta too far away no matter when you come on holidays to Cabo de Gata.
Book a Cabo De Gata Holiday now!
What are you waiting for? With direct flights from airports all over the UK and Ireland to nearby Almeria and On The Beach's choice of hand-picked accommodation, Cabo de Gata holidays have never been so easy or affordable. Book today and discover this amazing natural wonderland for yourself!