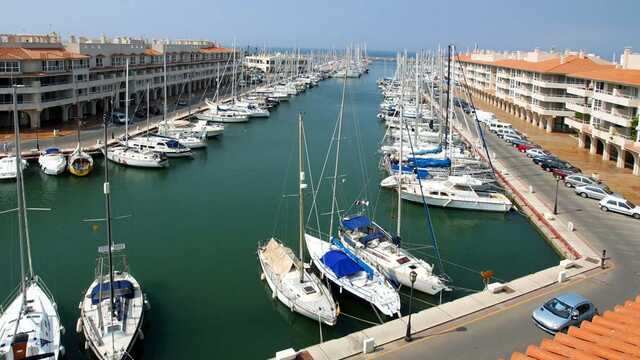 Read more about Almerimar
Almerimar is a modern, purpose-built coastal resort that has all the facilities and sunshine you require for a perfect Costa Almeria holiday. Blessed with the best climate in Europe and sitting beside the clear blue waters of the Mediterranean Sea, Almerimar boasts miles of wide, sandy beaches, a 1,000 berth marina, a yacht club and a fishing harbour. There's also a wealth of restaurants and bars, well-equipped hotels and shopping arcades and a lively nightlife.
Watersports, fishing and golf are just some of the activities on offer for visitors on Almerimar holidays, while those seeking a more restful way to spend the day can always laze by the pool and soak up the brilliant Spanish sunshine.
View destination on a map
Top Almerimar Hotels
Almerimar Weather
Enjoying a fabulous subtropical Mediterranean climate, Almerimar has the lowest amount of rainfall in Europe and guaranteed sunshine all year round. And yet, you can slap on the sun cream and lounge by the pool, while looking up at the nearby snow-capped mountain ranges that are visible all around the town. Warm or cool, the choice is yours as part of a wonderful Almerimar holiday.
Landscape
The resort is set on the beautiful Almerimar Bay, with its wide sandy beaches and beautiful blue Mediterranean waters. The local marina and fishing harbour provide a lively atmosphere and local colour, while the rugged and snow-capped Sierra Nevada mountain range looms in the distance to a height of some 2,000 meters above the sea.
Things To Do on Almerimar Holidays
The modern, holiday resort town of Almerimar has all the facilities you have come to expect from an On The Beach holiday destination. The first class 18 hole golf course is one of its main attractions, but water enthusiasts are also well catered for, with windsurfing, swimming, sailing, snorkeling and scuba diving all on offer.
For those looking for more of an adrenalin rush, the Sierra Nevada ski resort is a mere hour and a half's drive away, with rock climbing, hiking, mountain biking, canoeing and, of course, skiing all available. So, if you would like to spend the morning skiing on perfect mountain snow and the afternoon doing it in the warm waters of the Mediterranean, Almerimar holidays are perfect for you!
Culture
Almerimar is a modern resort town, set in the midst of the historic Costa Almeria. Over the course of its 4000 years of history, many great Mediterranean civilisations have left their mark on the culture of this southeastern part of the Iberian Peninsula. Phoenicians, Greeks, Romans, Moors and Barbary pirates have all walked the beaches here, but after the glory days of Moorish rule, the area fell on hard times and for centuries its young people were forced to leave in search of jobs elsewhere.
In recent years, however, the Costa Almeria has enjoyed an economic rebirth as more people discovered the natural beauty of the area and the tourist industry grew. Thankfully, development has not come at all costs and progress has not destroyed the tranquil beauty and breathtaking scenery for which it is rightly becoming famous.
Nightlife
Almerimar offers a lively nightlife with something for all tastes. There's a range of inexpensive tapas bars and good restaurants offering regional cuisine, with a strong emphasis on fresh fish dishes. As in the rest of Spain, people in Almerimar eat late, often not sitting down until 9 or 10pm, so you'll find the bars and restaurants staying open much later than elsewhere in Europe. After dinner, though, there's still plenty of time to enjoy some music, whether it's traditional Andalusian or the latest American blues.
Book a Almerimar Holiday now!
If you are looking for sun or snow, historic ruins or up-to-the minute entertainment, stress-free relaxation or an adrenalin buzz, Almerimar holidays have it all. With easy flights from all over the UK and Ireland and On The Beach's great deals on accommodation, it's never been easier or more affordable to go on holidays to Almerimar. So, pack your beach towel and don't forget those ski goggles. It's all there, and just hours away.