India is a country where ancient traditions sit comfortably alongside metropolitan cities. To us Brits, it's a place that feels invitingly familiar as well as excitingly exotic – after all, Indian restaurants are one of our nation's favourite imports. The shores of the Indian Ocean are a truly stunning place for a holiday and, if we had to pick, we'd choose Goa as our go-to backdrop for a beach break.BeachesAgonda Beach is the perfect example of everything a beach should be – covered in golden sand and fringed by clear, inviting water. A great place to unwind in peace, this beach also offers souvenir stalls and a great location in the south of Goa. For other slices of paradise alongside the Indian Ocean, seek out Anjuna Beach (there's a vibrant flea market here), Palolem Beach (lively and dotted with beach huts) or Galjibag Beach (a well-kept secret stretch of sand).Food & DrinkIndia is the perfect place to tickle your taste buds with new flavours – from tamarind to turmeric, and cumin to coriander, there's a whole rainbow of spices to sample. Although your favourite Indian takeaway no doubt hits the spot, authentic Indian cuisine is usually lighter and more fragrant than its British counterpart. To dine like the locals, peruse the menu for humman – fish curry and rice, or varan – a delicious recipe made from lentils, coconut and those all-important spices.CultureIndia is home to one of the New Seven Wonders of the World – the Taj Mahal. This incredible structure is just one of the country's stunning historic buildings that tell the story of India through the ages. The rest of the country exudes culture too, with diverse religions, languages and regions each playing a part to create a distinctly Indian approach to dance, music, art and more.NightlifeBeach parties, live music, vibrant DJ nights and more – India after dark is a clubber's paradise if you're in the know about where to go. Head to Goa, the country's party capital, and dance your way down the popular strips of Arpora and Vagator Beach. Tito's is a famous venue in Baga Beach - the ideal place to show off your moves and sip colourful cocktails.Important InformationFlight Time: 11.5hrsTime Difference: +5.5hrsCurrency: Indian RupeeOfficial Language: Hindi (although it has a total of 23 official languages)VaccinationsPlease check with your healthcare provider for all up to date vaccination advice before booking your holiday.VisaBritish Passport holders need to apply for a visa before traveling to India. Visit the Indian High Commission website for more information.
View destination on a map
India Weather
India has a varied climate, with tropical weather the norm along its coastal regions. Expect temperatures upwards of 25°C on average in Goa, where November-April are hot and dry, and May-October are typically warm and wet for monsoon season.
Landscape
Soaring mountains, densely-settled plains, vast deserts, golden beaches, tropical rainforests and steaming jungles - India has it all.
Things To Do on India Holidays
Latin Quarter
For an unexpected taste of the Mediterranean in India, Fontainhas is a must-see district of Goa. Also known as the old Latin Quarter, the streets here are filled with colourful buildings and interesting architecture. We recommend a heritage walking tour for some local knowledge and an insight into the rich history of the area.
Splashdown Waterpark
Looking for some family fun? Or are you a big kid yourself? The slides and rides at Splashdown Waterpark are the perfect way to spend a day in the Indian sun. This thrilling attraction is located close to the banks of Baga River, and offers a lazy river of its own, as well as swimming pools, cafes and snack bars.
Bollywood backdrop
Fancy following in the footsteps of Bollywood stars? The Chapora Fort was used as a filming location for a popular Hindi-language film called Dil Chahta Hai – it's even become something of a cult classic in India. This historic building is the perfect spot for a selfie, with an interesting story to go with it. Head to Bardez to find this coastal gem overlooking the Chapora River.
Spice up your life
Want to sample some real Indian food? Check out Tanshikar's Working Organic Spice Farm, a great place to learn about local ingredients (and taste them too) – we recommend the flavourful pineapple curry. Cookery classes are also available here, so you can think of your holiday in India whenever you reach for the spice rack back home.
Culture
Indian civilisation stretches back over 5,000 years and involves invasions and occupations from Greece, Central Asia, the Mongols and the European powers. Much of its history is dominated by the two main religions — Hinduism and Islam.
The oldest of the two is Hinduism, whose roots stretch back to 1,500 BC. The highpoint of Hindu civilisation came under the Emperor Ashoka in the 3rd Century BC when he united most of the subcontinent under his rule. Islam arrived in the 10th Century and shortly afterwards the descendants of Genghis Khan swept in from the East. The result was a largely Islamic country in the north but one which was dominated by religiously tolerant Mongols who allowed Hinduism to flourish.
The Mongols were absorbed into Indian culture and their Mughal Empire was in control when the first Europeans arrived in the 16th Century. Drawn by the spice trade and the country's precious stones, the Europeans fought over the disintegrating Mughal Empire. By the 19th Century the British controlled most of the country.
In 1947 the Indian sub-continent gained independence but after a bloody religious war divided it into Muslim-dominated Pakistan and Bangladesh and Hindu-dominated India. Today India, with its population of 1 billion, is the world's largest democracy.
Nightlife
India is a modern country in an ancient land so whether it's a dance-to-dawn club in Bombay, a simple meal and early-to-bed evening at a monastery or something in between, it's here.
Book a India Holiday now!
Come and discover for yourself this amazing country, where ancient civilizations, fascinating religions, breath-taking monuments and exotic cultures mix so easily with modern technology, facilities and outlook on life. Let On The Beach help you make your India holidays dream come true.
India Resorts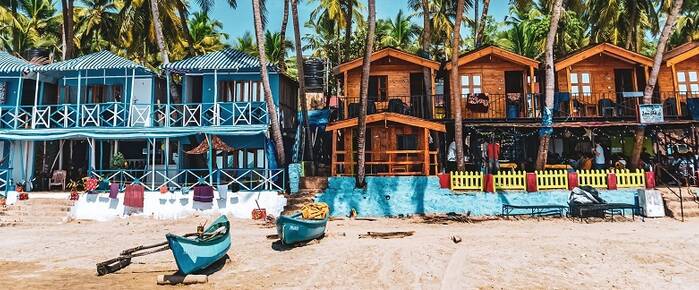 Sharing a coastline with dolphins and turtles doesn't sound too bad, does it? Instagram won't know what's hit it once you start posting your stories o…