India, with its head in the snow-covered Himalayas and its feet in the balmy Indian Ocean, is home to over one billion people. With a rich and exotic culture that dates back some 5,000 years, it is a mind-numbing mixture of climate and geography, traditions and languages, religious beliefs and ethnic origins, and yet it is a place in which the differences are celebrated and the people live together in peace.
No wonder a holiday to India means so many different things to so many different people. It is a land where modern skyscrapers sit side by side with ancient temples, where luxury cars drive around sacred cows, where ancient beliefs mix with modern mores. But, no matter where you go, you will be met by sights, sounds and experiences to stir the senses in a way that is uniquely Indian.
So, whether you dream about basking on a sun-soaked beach in Goa or finding enlightenment in a Himalayan ashkram, diving into an exotic and colourful bazaar in Madras or losing yourself at a monument to eternal love in Agra, embracing the vibrancy and sheer chaos of Delhi or reliving the days of the Raj in Shimla, watching traditional Indian dancing in Calcutta or the latest Bollywood flick in its hometown of Mumbai, it is all waiting for you here!
View destination on a map
India Weather
Like everything else in India, what you get depends on where you go. The climate ranges from hot and humid rainforests in the southwest, to desert in the west and alpine tundra and glaciers in the north. But, if that wasn't confusing enough, there are also major differences between different parts of the same region. In general, though, India has four seasons: winter (January and February), summer (March to May), a monsoon rainy season (June to September), and a post-monsoon period (October to December). So, whether you need sunscreen and hats or waterproofs and sweaters depends on when and where you go.
Landscape
Soaring mountains, densely-settled plains, vast deserts, golden beaches, tropical rainforests and steaming jungles - India has it all.
Things To Do on India Holidays
There's so much to see on India holidays that it's difficult to know where to start! The mountainous and beautiful north, home to hill-stations and religious retreats; the Hindu-heartland where millions wash in the sacred waters of the Ganga; the spectacularly beautiful Thar Desert; the colourful cities of Rajasthan; the historic temples of Tamil Nadu; the golden sands of Goa; the temple cities of Puri and Bhubaneswar; the tea gardens of the north east; the cosmopolitan cities of Bombay, Calcutta, Madras and Delhi; the tropical forests in Kerala; the Sikh Golden Temple in Amritsar; the cave monastaries of Ajanta; camel safaris in the desert or tiger-spotting in the jungles – the list of what to see and where to go in India is endless.
Culture
Indian civilisation stretches back over 5,000 years and involves invasions and occupations from Greece, Central Asia, the Mongols and the European powers. Much of its history is dominated by the two main religions — Hinduism and Islam.
The oldest of the two is Hinduism, whose roots stretch back to 1,500 BC. The highpoint of Hindu civilisation came under the Emperor Ashoka in the 3rd Century BC when he united most of the subcontinent under his rule. Islam arrived in the 10th Century and shortly afterwards the descendants of Genghis Khan swept in from the East. The result was a largely Islamic country in the north but one which was dominated by religiously tolerant Mongols who allowed Hinduism to flourish.
The Mongols were absorbed into Indian culture and their Mughal Empire was in control when the first Europeans arrived in the 16th Century. Drawn by the spice trade and the country's precious stones, the Europeans fought over the disintegrating Mughal Empire. By the 19th Century the British controlled most of the country.
In 1947 the Indian sub-continent gained independence but after a bloody religious war divided it into Muslim-dominated Pakistan and Bangladesh and Hindu-dominated India. Today India, with its population of 1 billion, is the world's largest democracy.
Nightlife
India is a modern country in an ancient land so whether it's a dance-to-dawn club in Bombay, a simple meal and early-to-bed evening at a monastery or something in between, it's here.
Book a India Holiday now!
Come and discover for yourself this amazing country, where ancient civilizations, fascinating religions, breath-taking monuments and exotic cultures mix so easily with modern technology, facilities and outlook on life. Let On The Beach help you make your India holidays dream come true.
India Resorts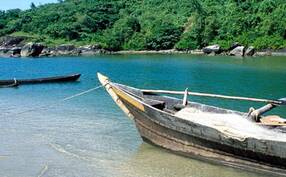 Known as the 'Pearl of the Orient', it's easy to see why Goa's white sands and laid-back atmosphere have been wowing people for years. Families, coupl…